Curriculum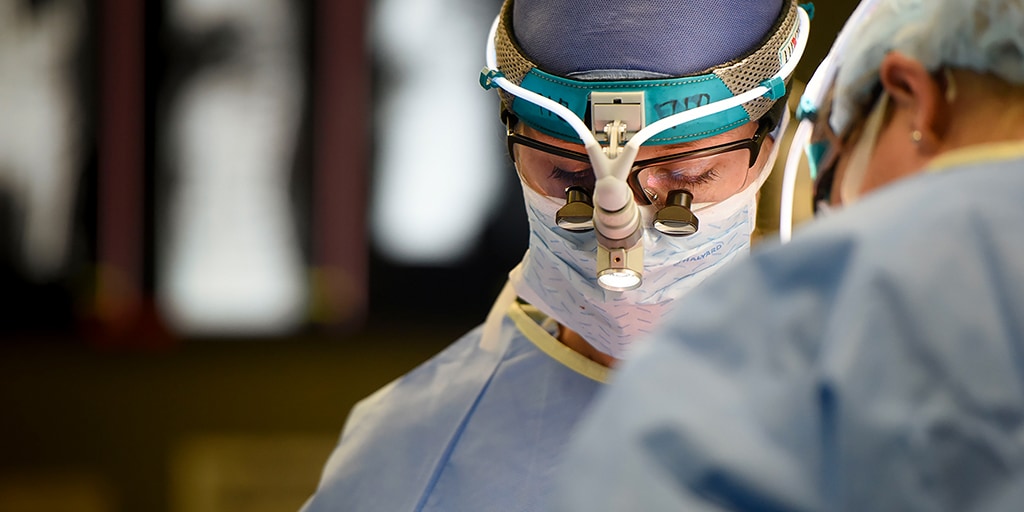 During the seven-year Neurologic Surgery Residency, you will receive advanced education in all aspects of neurosurgery, including both outpatient and hospital settings, with a full six months of dedicated intensive care unit (ICU) training. As a trainee, you will participate in the care and surgery of all neurosurgery patients as an integral member of the neurosurgical team.
Progressive responsibility and surgical experience under the direction of the neurosurgical faculty are assured throughout the residency. Each clinical rotation has specific competencies, goals, and learning objectives, in addition to the general departmental academic requirements.
Rotations focus on:
Stereotactic and functional
Peripheral nerve
Spine
Intra-axial brain tumors
Epilepsy
Pediatrics
Complex cranial
Complex spine
Cerebrovascular
Skull base
Endovascular
Call frequency
Call schedules vary by individual rotation. Mayo Clinic's Department of Neurologic Surgery follows the duty hour guidelines of the Accreditation Council for Graduate Medical Education (ACGME).
All residents share the in-house emergency call assignments equally during the time that they are assigned to clinical neurosurgery service, as well as during certain elective and basic science rotations. Therefore, the frequency of a resident being in the hospital overnight to cover trauma and the emergency room is modest.
Residents on clinical neurosurgery services are expected to respond to calls regarding their own patients throughout the day and night. In-hospital night call covering emergencies occurs on average one out of every 10 to 13 days, as does "backup call," which is typically taken from home. Residents are provided with meal allowance funds in accordance with call coverage.
Teaching opportunities
You will have the opportunity to teach Mayo Clinic Alix School of Medicine students and visiting students from other medical schools through bedside instruction, formal didactic lectures, and voluntary participation in the anatomy curriculum.
Additional training opportunities
Clinician Investigator
The Clinician Investigator Training Program is available to residents who wish to prepare for an academic career involving a significant research component. This competitive program provides support for an additional one to two years of research outside of the usual scheduled resident rotations.
Upon completion, a certificate in clinical investigation for a master's degree in neurosurgery is awarded.
Clinical Research Training Program
The Center for Clinical and Translational Science offers programs designed to train future investigators in clinical research through a curriculum focused on research methodology, complemented by mentor-based training in the research environment.
Options include a master's degree in clinical research or a shorter program awarding a certificate in clinical research.
Doctoral degrees
A formalized pathway is available to neurosurgery residents for obtaining a doctorate in molecular neuroscience, biomedical engineering, or molecular physiology, which requires a minimum of two to three years of study and research, culminating in a dissertation.
The in-residency doctoral program has been designed to maximize flexibility, allowing for an individualized curriculum, with appropriate oversight from an advisory and mentorship committee.
This program, offered in conjunction with Mayo Clinic Graduate School of Biomedical Sciences, should be strongly considered by neurosurgical residents interested in obtaining advanced basic science experience for a career in academic neurosurgery.
Career development
Residents are encouraged to meet formally and informally with the department chair, program director, and individual mentors on a regular basis to discuss career goals. The program director takes a sincere interest in tailoring a resident's training program to career objectives and actively participates in job searches on behalf of the residents.
Mayo Clinic neurosurgery residents have been highly successful in competing for both academic and private practice positions, consistent with their individual goals.
Evaluation
Performance is carefully monitored throughout the course of the Neurologic Surgery residency with an eye toward operative skill, clinical judgment, academic productivity, and career development. After each clinical rotation, you will be evaluated formally by your supervising faculty.
Additionally, you will meet individually with the program director on a semiannual basis to review your performance and discuss career goals in detail to dynamically individualize your training program.
You will sit for the American Board of Neurological Surgery written examination during your PGY-2 and PGY-3 years for self-assessment, and for credit during your PGY-4 year.
As part of our regular review of resident progression, and to help prepare for future oral boards, an annual oral examination in clinical neurosurgery and neurology is administered. The format mirrors that of the certifying oral examination given by the American Board of Neurological Surgery after completion of training. Feedback from the program director and director of resident education is provided.
 An electronic case log program tracks all resident operative cases, with salient details auto-populated from the operative report and prepared for review and submission to the ACGME case log. The case volume and mixture are carefully analyzed to ensure that each resident is obtaining in-depth expert training in all areas of neurosurgery. If areas of deficiency are identified, the resident's rotations are adjusted accordingly to provide an appropriately balanced education.
Take a virtual tour: Neurosurgery spaces
Click on the picture or tile to view the virtual space and learn more about the rooms, surgical spaces, and labs you may encounter as a neurosurgery resident.
Navigation tools: Use your mouse to click on the circles on the floor to move through the virtual tour. To advance directly into a specific room, click on the dollhouse icon (lower left corner). You may also use the mouse wheel to zoom in and out.