Curriculum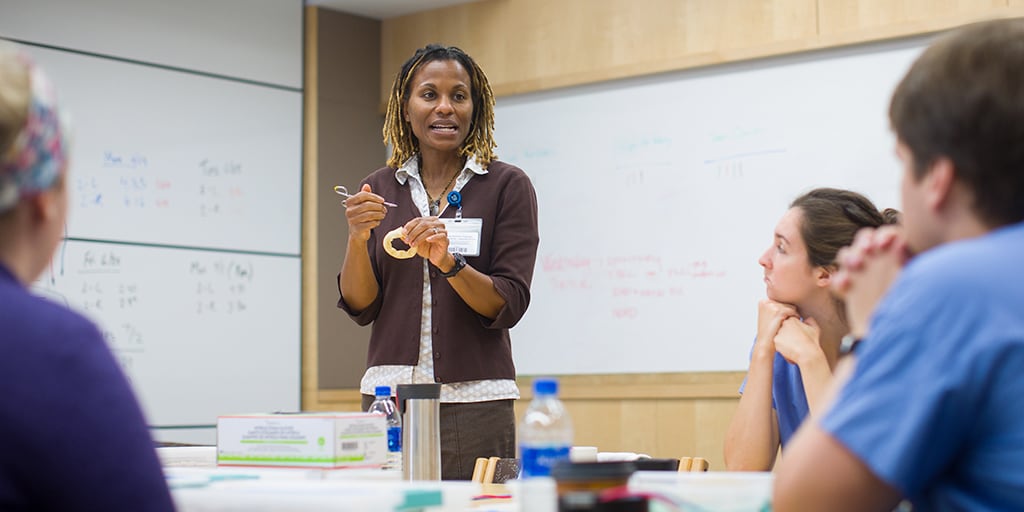 Mayo Clinic has one of the largest and most respected obstetrics and gynecology practices in the world, with specialists and subspecialists working in multidisciplinary teams to create individualized treatment plans for each patient.
As a trainee in our program, you'll gain experience treating the entire spectrum of patient complexity, and will be exposed to a wide breadth and depth of clinical teaching experiences. Our training programs include all major Ob/Gyn subspecialties, giving residents a robust experience in treating a wide variety of conditions.
Rotation schedule
This is a sample of the four-year program:
PGY-1
Quarter 1
Quarter 2
Quarter 3
Quarter 4

OB (2 months)

CNM (1 month)

Ultrasound/Breast Clinic (1 month)

OB (2 months)

Outpatient GYN (1 month)

GYN Oncology (2 months)

Mayo Clinic Health System (1 month)

Repro Endo (1 month)

Critical Care (1 month)
The first year is intended to be a gradual introduction to the various aspects of patient care. You'll learn fundamentals through rotations in obstetrics, gynecologic oncology, outpatient gynecology, reproductive endocrinology and infertility (REI), ultrasound, critical care/ICU, and breast clinic.
You'll spend time at a local Mayo Clinic Health System site learning about community-based obstetrics and gynecology care. On-call responsibilities are supervised extensively by residents with more clinical experience and staff.
PGY-2
Quarter 1
Quarter 2
Quarter 3
Quarter 4

MFM (2 months)

Outpatient GYN (1 month)

GYN Oncology (6 weeks)

Urogynecology (6 weeks)

OB

Minimally Invasive GYN Surgery (2 months)

Mayo Clinic Health System (1 month)
In the second year, you'll gain more experience in obstetrics along with rotations in gynecologic oncology, urogynecology, maternal fetal medicine (MFM), and minimally invasive gynecologic surgery. You'll spend a month in a Mayo Clinic Health System site gaining more experience in community-based care with generalist faculty. Continuity clinics begin in the second year.
PGY-3
Quarter 1
Quarter 2
Quarter 3
Quarter 4

GYN Oncology

REI (1 month)

OB-night float (1 month)

MFM (1 month)

OB-night float (2 months)

Urogynecology (1 month)

Elective (2 months)

Urogynecology (1 month)
During your third year, you gain more clinical management experience as the senior house-staff in the birth center at night. Surgical rotations emphasize more-advanced procedures such as minimally invasive hysterectomy. You'll also gain additional training in the MFM and REI subspecialties.
Two months of elective time can be spent on research and/or clinical electives, including international experiences.
PGY-4
Quarter 1
Quarter 2
Quarter 3
Quarter 4

GYN Oncology

Minimally Invasive GYN Surgery (1 month)

Outpatient GYN (2 months)

Urogynecology

OB
As a chief resident associate (CRA), you essentially have junior staff privileges. You participate independently in the operating room, labor and delivery, and the various outpatient clinics like colposcopy and hysteroscopy. Faculty is always available to provide needed consultation and assistance. This gives you the opportunity to function at the highest resident level of patient care.
A portion of this experience involves organizing and supervising junior residents to foster the team concept in health care.
Research training
The Department of Obstetrics and Gynecology is dedicated to teaching and exposing all residents to research in biomedical research. The research opportunities at Mayo Clinic are outstanding, and our residents are expected to complete a research project during their residency. This is useful as part of all residency training and is becoming increasingly necessary for those wishing to compete for top fellowship and academic positions after residency.
Projects can be clinical or basic science in nature, depending on the interests of the resident. As a resident, you're fully supported by the departmental research committee with appropriate mentorship, resources, statistical and publication support.
Protected elective time is provided during PGY-3 for this effort. It is anticipated that most projects will culminate in national presentation and publication, and the department fully supports trip and travel expenses for the purposes of presentation at national meetings.
Some examples of first-author publications performed during residency by recent graduating residents are:
Didactic training
A well-organized didactic program is available to residents in obstetrics and gynecology.
Comprehensive weekly conference for faculty and residents. This conference includes a morbidity and mortality conference and invited speakers on various topics. The format is generally one of active interaction of generalists, subspecialties in the department and residents. This conference is highly regarded as an opportunity to learn innovative techniques for diagnosis and management of interesting clinical scenarios. All clinical duties are blocked for this weekly conference for house officers and staff.
Weekly resident didactic conference on Monday afternoons, designed to provide a comprehensive "backbone" to the curriculum. Simulation and interactive activities are included in a majority of these didactic sessions.
Once-weekly resident core conference sessions for PGY-1 and PGY-2 residents are designed to teach the basics of obstetrics and gynecology.
Ultrasound conference is held twice a month and is available to interested faculty and residents. Selected topics, with ultrasound images, are presented. Diagnostics, management and other topics are discussed. Faculty includes maternal fetal medicine specialists and selected specialists, such as pediatric cardiologists and fetal echocardiologists (if the topic is fetal cardiac abnormalities).
Weekly conferences are held in gynecology oncology. Pertinent clinical topics and journal articles are critically evaluated for content, methodology and value to clinical practice. In addition, review of tumor histology and appropriate treatment is presented for active discussion.
In urogynecology, a monthly journal club features unique clinical cases, general discussion and more.
A resident journal club takes place monthly. During this time, pertinent journal articles in the specialty of obstetrics and gynecology are reviewed. Discussions are led by various faculty and the residents.
Interactive courses
Gross (surgical anatomy): PGY-2 and PGY-4 and fellows. Weekly sessions (four total) are taught by an anatomist and gynecologic surgeon. The female pelvis is dissected with pertinent anatomical landmarks and structures demonstrated to embrace the basic knowledge of the resident surgeon.
Ultrasound training: PGY-1 and PGY-2. Recently updated ultrasound facilities have provided a new expanded state-of-the-art facility with dedicated space and equipment for teaching this valuable skill. The junior resident has approximately one month of dedicated time to work with obstetrical ultrasound personnel to develop the skills to perform a basic obstetrical ultrasound scan. All images are stored electronically. An accessible file of stored ultrasound images is available for teaching, conferences or research project opportunities.
Simulation lab. A progressive surgical simulation curriculum is offered to residents early in their surgical experience. Learning the mechanics of laparoscopy, hysteroscopy, etc., enhances the actual clinical experience in the operating room. A "dry lab" is available in the department and is available at all times for residents to practice basic laparoscopic skills and suturing.
Visiting speakers. Visiting faculty, generally with national reputations of excellence, are invited to address the members of the Department of Obstetrics and Gynecology. This occurs approximately six times per year. On these occasions, time is generally set aside for interaction between residents and the invited speaker. The intent is to provide the opportunity to interact with individuals with expertise in specific areas and to provide unique perspectives at the level of resident interaction.