Meet The Faculty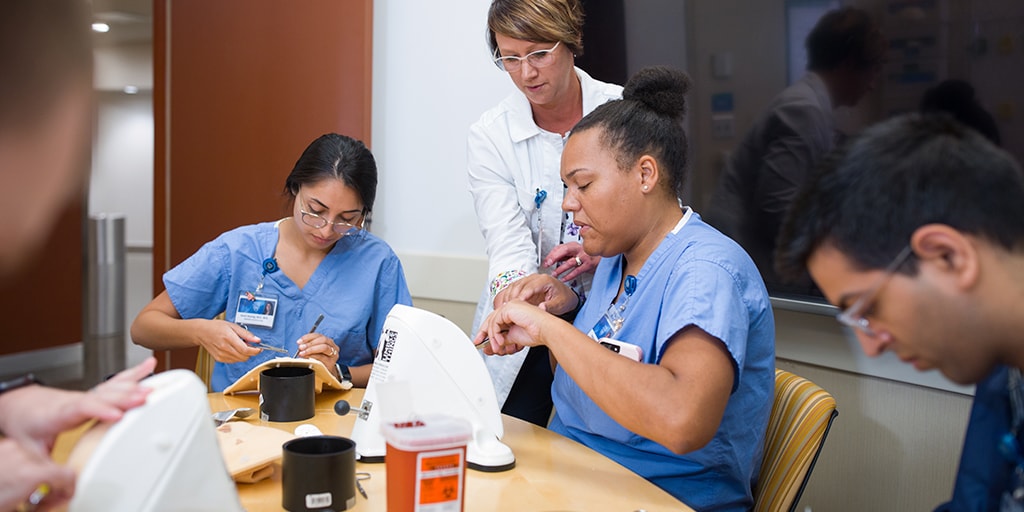 The Department of Obstetrics and Gynecology at Mayo Clinic in Rochester, Minnesota, offers comprehensive inpatient and outpatient services for women. There are 50 physicians on the staff of the department. Besides patient care, staff members are also involved in research and medical education.
Divisions
Obstetrics offers expert, personalized care for women before, during, and after pregnancy. Staff include obstetric hospitalists, geneticists, and general obstetricians providing comprehensive care.
Maternal and Fetal Medicine specializes in high-risk pregnancies, including preconception care, genetic testing, and integrated care for chronic conditions during pregnancy and obstetrical complications. Fetal surgery and interventional procedures are offered via a multidisciplinary team, using cutting edge techniques.
Gynecology treats disorders of the female reproductive and urinary systems. The division consists of board-certified obstetricians and gynecologists, and includes experts in minimally invasive gynecologic surgery. Specialty clinics including coposcopy, office hysteroscopy, chronic pelvic pain, and vulvar diseases are offered in the division.
Gynecologic Oncology consists of board-certified gynecologic oncologists who offer an integrated approach to the diagnosis and treatment of women's cancers, including cervical, uterine (endometrial), ovarian, vaginal and vulvar cancer.
Urogynecology is comprised of board-certified urogynecologists who evaluate and diagnose women with pelvic floor conditions such as urinary and fecal incontinence, pelvic organ prolapse, vaginal fistulas, and congenital uterine and vaginal anomalies (absence of a vagina or developmental defects of the uterus).
Reproductive Endocrinology and Infertility is composed of board-certified reproductive endocrinologists who manage complex problems related to infertility, fertility preservation, recurrent pregnancy loss, amenorrhea, endometriosis, polycystic ovarian disease, premature ovarian failure, and congenital uterine anomalies.
Faculty
The teaching faculty working in the clinics and hospitals are exclusively Mayo Clinic staff. Therefore, the Mayo patient population is available to provide an extensive learning opportunity and experience for resident education.
The teaching staff is dedicated to the three shields of Mayo's emblem: clinical medicine, education and research.
From the program director
Welcome to the Mayo Clinic Obstetrics and Gynecology Residency. Mayo Clinic is an outstanding place for medical graduates to learn and develop their skills.
The goal of the Mayo Clinic Obstetrics and Gynecology Residency is to train physicians who are clinically proficient to either enter practice or their selected fellowship. We strive to engender quality health care delivery with an efficient, compassionate, and evidenced-based approach — not only for today, but the foreseeable future.
Our program offers world-class gynecologic surgical training, alongside a rich experience in both normal and high-risk obstetrics. Residents receive unparalleled support for research through mentorship, dedicated time, and funding. As a result, residents present routinely at national meetings and publish their work in high-impact medical journals.
Mayo's obstetrics and gynecology team has a rich heritage in training residents and fellows in general obstetrics and gynecology, in addition to the subspecialties of maternal fetal medicine; reproductive endocrinology and infertility; gynecologic oncology; and female pelvic medicine/reconstructive surgery. Our graduates have contributed to the specialty in private practice and academic medicine as clinicians, educators, and researchers.
It is a pleasure to serve as the residency program director within a department that has a strong foundation in education. Since its inception, the Mayo philosophy has been predicated on continued education for new physicians as well as experienced clinical faculty.
As you consider your future in medicine, you are planning not just for a career, but for lifelong learning. The Mayo Clinic setting offers an exceptional opportunity for its trainees to become part of its family of physicians who share in the pursuit of excellence in practice, education, and research.
Gretchen Glaser, M.D.
Obstetrics and Gynecology Residency Program Director