Curriculum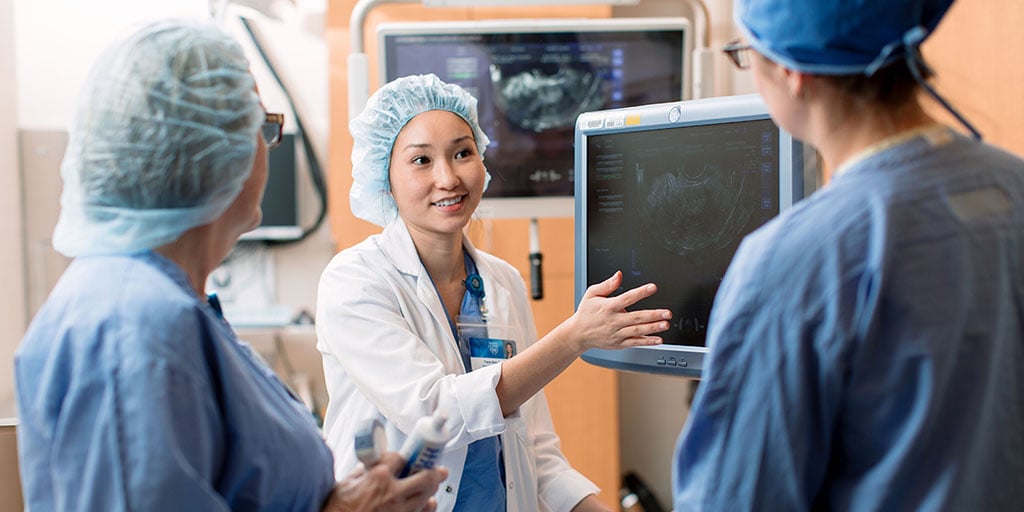 Clinical training
A key strength of the Renal Transplant Fellowship at Mayo Clinic's campus in Jacksonville, Florida, is your exposure to a large, wide-ranging population of kidney and pancreas and liver transplant recipients within a highly integrated, patient-centered clinical program. You train in inpatient, acute outpatient and long-term outpatient settings.
Throughout the year, you work closely with Mayo Clinic consultants in:
Transplant nephrology
Transplant surgery
Transplant critical care
Renal pathology
Transplant infectious diseases
Tissue typing and transfusion medicine
Renal radiology
You also interact regularly with specialists in endocrinology, cardiology, dermatology and psychiatry who have focused expertise in the care of transplant recipients. In addition, you have opportunities to share the care of multitransplant recipients with members of the liver and heart-lung transplant groups.
Specific areas of clinical and didactic teaching are:
Recipient evaluation and preparation for kidney and pancreas transplantation
Evaluation of the potential living kidney donor
The biologic basis of HLA and transplant rejection
Methods of tissue typing, cross matching and alloantibody measurement, and the clinical application of these methods
Pharmacology and clinical use of established and emerging immunosuppression for kidney and pancreas transplantation
Evaluation and comparison of different combinations of immunosuppressive medication in kidney and pancreas transplantation
Perioperative and early outpatient care of kidney and pancreas transplant recipients
Recognition of surgical complications of kidney and pancreas transplantation
Evaluation and management of acutely ill kidney or pancreas transplant recipients
Diagnosis and management of infections in transplant recipients
Long-term medical management of kidney and pancreas transplant recipients
Diagnosis, pathogenesis and clinical management of renal allograft dysfunction
The use of plasmapheresis, intravenous immunoglobulin and other techniques to lower or modify anti-HLA antibody in sensitized patients
Allocation of deceased donor organs for transplantation
Ethical considerations in organ transplantation
Rotation schedule
| Rotation | Length |
| --- | --- |
| Inpatient kidney and pancreas transplant (with 1 clinic session* a week) | 6 months |
| Outpatient clinic (8 supervised sessions* a week and one day for independent study) | 3 months |
| Research (combined with outpatient clinic) | 1 month |
| Tissue typing, transfusion medicine, apheresis, allograft biopsy, electives | 1 month |
| Transplant and organ procurement surgery | Ongoing |
*A "session" refers to a half-day of clinic.
Rotation descriptions
Kidney and pancreas transplant inpatient service
As a renal transplant fellow, you are part of an integrated medical and surgical hospital team consisting of transplant nephrologists and transplant surgeons, nephrology and transplant surgery trainees, and a midlevel provider.
The typical census for the hospital service varies between 10 and 20 patients, including recent living-donor and deceased-donor kidney recipients, recent pancreas transplant recipients, recent living kidney donors, as well as transplant recipients within one year of transplant with acute medical and surgical illness.
You gain extensive experience in routine post-transplant management, initiation and modification of immunosuppressive therapy, and management of a wide range of transplant-related complications. Fellows evaluate patients daily and coordinate diagnostic, management and dismissal plans with the inpatient and outpatient teams.
As part of the program, you share responsibility for general nephrology fellow and midlevel provider supervision with the attending physician and are primarily responsible for medical evaluation of all deceased-donor transplant recipients and transplant recipients with acute medical illness.
On-call duties are in accordance with Accreditation Council for Graduate Medical Education (ACGME) requirements for at-home call.
Kidney and pancreas transplant outpatient clinic
This clinic serves recently discharged kidney and pancreas transplant recipients, in addition to recipients requiring acute evaluation or ongoing management of medical and surgical complications. The clinic operates in a paperless environment with clinical documentation, laboratory results and radiological images available electronically.
The outpatient team consists of a transplant nephrologist, a renal transplant fellow, a nephrology fellow and a midlevel provider (advanced registered nurse practitioner or physician assistant), with consultation by transplant surgeons directly available. You are primarily responsible for generating diagnostic, consultative, therapeutic and follow-up plans with ample opportunities to discuss cases with supervising physicians and maintain continuity of care on individual patients.
You also evaluate many patients undergoing transplant biopsy for graft surveillance as well as for acute graft dysfunction. There are routine opportunities to personally review and discuss biopsies with a renal pathologist consultant. Potential kidney and pancreas transplant recipients and donors are also evaluated in the clinic, as well as patients presenting for annual update on the list.
Research
A broad range of research opportunities are available within the Renal Transplant Fellowship. Five months during the fellowship are devoted to one or more research projects.
Potential research projects are discussed soon after the fellowship starts to allow you to identify a mentor and an area of interest before the research rotation. Research projects are facilitated by the availability of excellent database and data analysis support. The fellowship also supports the preparation of manuscripts for publication and travel to national and international meetings to present research data.
Tissue typing, transfusion medicine, apheresis and allograft biopsy
Observational and didactic instruction in methods of blood and tissue typing, assays for cross matching and alloantibody measurement, and the use of therapeutic apheresis for conditioning and treatment of specific transplant patients is provided within the tissue typing and apheresis laboratories. These are coordinated by the consultant and technical staff of the laboratories.
Transplant and organ procurement surgery
To fulfill United Network for Organ Sharing (UNOS) certification requirements, you observe kidney and pancreas transplant surgeries, as well as living-donor nephrectomies. You also accompany the transplant surgery team on organ procurements.
Call frequency
The call schedule varies by rotation but does not exceed, and will frequently be less than, one in four weeknights for any rotation. A small number of weekends during the year — while on the inpatient service only — are required. Mayo Clinic follows the recommendations of the Accreditation Council for Graduate Medical Education.
Moonlighting
You may moonlight with program director approval. Moonlighting activities may be scheduled only during outpatient rotations. Moonlighting should not interfere with the required learning and must not violate the work-hour rules of the Accreditation Council for Graduate Medical Education or visa regulations.
Didactic training
The fellowship provides a wide range of didactic training, including:
Daily interactions with transplant nephrologists and transplant surgeons
Monthly Transplant Grand Rounds conferences with formal presentations on all aspects of transplantation from internal faculty and many visiting external faculty
Transplantation core curriculum lectures, which is a series of multidisciplinary lectures given by Mayo Clinic faculty that covers basic science and clinical topics relevant to transplantation
Monthly renal biopsy conferences with presentation and discussion of transplant and native kidney biopsies by renal pathology and nephrology groups
Journal club presented by fellows
Monthly morbidity and mortality conferences to discuss cases from the kidney-pancreas and liver transplant hospital services
Research conferences
Support for travel to the American Society of Transplantation fellows' symposium and for presentation of research projects at one major transplant-related conference
Evaluation
To ensure that you acquire adequate knowledge and develop the appropriate technical skills to meet program expectations, your performance is monitored carefully during the Renal Transplant Fellowship. You are formally evaluated by supervising faculty members on a regular basis and meet with the program director to review these evaluations. In addition, you regularly evaluate the faculty to confirm that your educational needs are being met.