History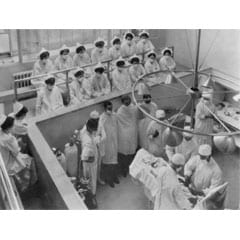 Saint Marys Hospital opened in 1889 with 27 beds. By 1906, two additions considerably increased the hospital's bed capacity, and the sisters could no longer keep up with the growing practice of the Doctors Mayo. Sister Joseph Dempsey decided to open a training school for nurses to give the hospital a constant supply of nurses.
Saint Marys Hospital Training School for Nurses opened as a two-year program with two students on Nov. 19, 1906, under the leadership of Anna Jamme. The school's motto was "Enter in to learn — go forth to serve."
In 1914, the school's program was lengthened to three years with Mary Ledwidge as superintendent of nurses. This made the school eligible for accreditation by the state of Minnesota. The initial approval was given on April 7, 1916.
Students
For obstetrics, pediatrics and contagious diseases, students affiliated at either the Illinois Training School for Nurses, Cook County Hospital in Chicago, or the City and County Training School in St. Paul, Minnesota. This practice continued until 1922, when a new surgical wing was added to the hospital and made adequate space for the affiliated areas.
Many graduates of the school, including the sisters, attended Columbia University in New York for advanced studies. This prompted the school to obtain accreditation from the Board of Regents of the state of New York. The school was formally registered on Dec. 29, 1921. Formal accreditation made it possible for graduates pursuing higher education to work while attending Columbia.
Curriculum
Under the direction of Sister Domitilla and faculty members with impressive credentials, the school curriculum maintained the highest standards. The first review by the National League for Nursing was in 1932 as accreditation standards were established. The school continued to respond to changes in nursing education and received favorable reviews from the National League for Nursing until the school's closing.
In 1963, the curriculum for the Saint Marys diploma program was planned from an educational point of view, and students were expected to pay for their nursing education. By 1967, all classes in the sciences were offered at Rochester State Junior College.
In that same year, the directors of Saint Marys School of Nursing and Methodist-Kahler School of Nursing, as well as Rochester State Junior College, announced that the diploma programs would cease to exist and that an associate degree program in nursing would be established at the college.
Closing
Saint Marys School of Nursing graduated its last class in June 1970. Throughout its existence, the school educated 3,865 graduates.