How to Apply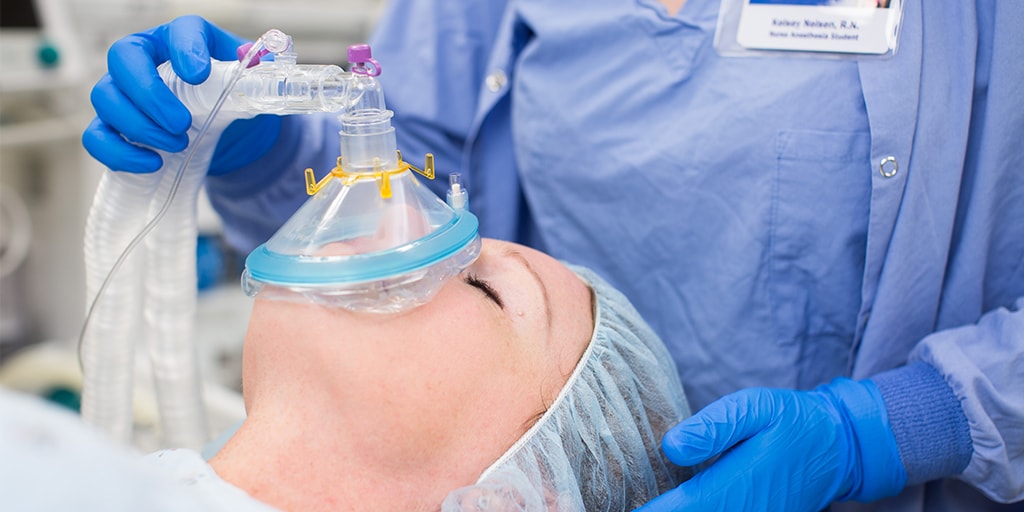 Admission requirements
Positions
Up to 26 students are accepted on a competitive basis each year for the Doctor of Nurse Anesthesia Practice (DNAP) Program at Mayo Clinic's campus in Rochester, Minnesota.
Prerequisites
For admission to the Mayo Clinic School of Health Sciences Doctor of Nurse Anesthesia Practice (DNAP) Program (a 42-month, continuous program), you must have:
A current valid Minnesota registered nurse (R.N.) license upon enrollment.
Received a bachelor's degree in nursing or an appropriate biological science from an accredited institution.
A minimum of one year of acceptable clinical experience as an R.N. in an intensive care unit (ICU) setting by your application date. Two or more years of ICU experience is highly preferred.
Taken the Graduate Record Examination (GRE). Mayo's GRE code is 5784.
Demonstrated ability in no fewer than 30 prerequisite basic- or advanced-science semester credits.
Completed undergraduate or graduate courses in:

Anatomy
Chemistry (organic chemistry preferred, but not required)
Physiology
Acceptance factors and criteria
During the application review process, you will be screened on the following criteria:
Overall academic performance
Demonstrated ability in science courses
Personal statement and additional essay question(s).
ICU and R.N. experience — two years or more of ICU R.N. experience is highly recommended
References: Three specific references required (nurse manager, ICU physician, and academic instructor)
GRE scores
Knowledge of the profession (nurse anesthesia shadowing experience recommended)
Successful applicants are not selected on grades alone. Their entire college or university cumulative GPA must be at least 3.0 (4.0 scale). Selected science GPA of greater than 3.0 is highly recommended. Graduate science coursework is given added weight.
Admission policies
California resident applicants
Though the Mayo Clinic College of Medicine and Science is a participant in the National Council for State Authorization Reciprocity Agreements (NC-SARA), the state of California is not. As such, the College is not authorized to provide distance education in the state of California, and it therefore does not accept students from California into its Doctor of Nurse Anesthesia Practice (DNAP) Program, unless they move to Minnesota for the entire 42-month program.
Non-U.S. citizen applicants
Please contact the program director before proceeding with the application process.
Applicants from outside the U.S. must have their educational transcripts translated (if they are not already in English) and evaluated for U.S. equivalency by an accredited credential evaluation service company prior to submission. Please refer to the National Association of Credential Evaluation Services for a list of qualified companies. The applicant pays for the examination and credential evaluation services. Applicants must also have a minimum of one year of ICU experience in the U.S. and at least one science course completed in the U.S.
Transfer policy
Please note, transfer credits are not accepted.
More information
See further Mayo Clinic School of Health Sciences admissions policy information.
Application process
Application timeline
The online application opens on May 1 the year prior to enrollment. Your application and all supporting documentation must be submitted and postmarked no later than July 1. Send supporting documentation via trackable shipping (for example, FedEx or UPS) for admission to the classes beginning in July of the following year.
Application instructions
Please follow the below instructions as you complete your application
1. Create an account. Prior to submission of an application, you must create an account. Note the following as you create an account and begin completing an application.
On the Create an Account page:

For School of Study → select School of Health Sciences
For Location → select Rochester, MN
For Area of Interest → select Doctor of Nurse Anesthesia Practice Program
For Start Date → choose date of program
For Entry Term → select term available

On the My Account page:

Scroll down to Next Steps → select start an application

On the Online Application page:

Verify that the program listed is Doctor of Nurse Anesthesia Practice Program
Click, 'Continue with Application Selected Above'

On the Application Listing page:

Select, 'Start a New Full Application'
2. Online application. The sections below are located in the application. You may complete them in order or click on the section you want on the left navigation.
Program of interest

Review populated data for accuracy
Complete reapplying and education completed questions

Personal information

Review populated data
Complete any other fields
If you didn't enter an address or phone number before, you will be required to enter it now

Demographic data
Education

Add education (do not include high school information)

Employment
Standardized testing

Please enter your Graduate Record Examination (GRE) scores
If you have or will be taking the GRE, please send an official copy of your scores to:
Doctor of Nurse Anesthesia Practice Program
Siebens 10-12
200 First St. SW
Rochester, MN 55905
Please note, Mayo Clinic's GRE code is 5784

Professional licensing and registration

Please list your nursing licenses and CCRN certifications

Essay

Please answer the questions within the application in 500 words or less

Signature and submit

Certify and sign your application
Submit your application
3. Submit your recommendations and supplemental items. After submitting the application, select 'Click here to upload program-specific supplemental item(s).'
CV/Resume and Challenge Statement. In one document, please include your CV/Resume and a statement addressing the following question:
Graduate school is often one of the greatest challenges that an individual may experience. Describe what has thus far been the biggest personal challenge in your life, and outline the strategies you employed to overcome it. What were the factors that served as support and how did you compensate for any personal weaknesses you identified or encountered?
Recommendations. Under the recommendation requests, enter email addresses for your recommendations. Three complete references are required and should be from the following:

Academic reference (e.g. one of your college instructors)
Work-related reference from a physician who knows your ICU capabilities (not a resident or fellow)
Reference from your current nurse manager
Once you enter an email address for the recommender, the recommender will receive an email to complete the recommendation. The recommender should complete the rating scale and attach a letter of reference to the recommendation. Both parts are required in order to consider the recommendation complete.
**If you do not complete the supplemental items or recommendations at the time of submission, please visit your 'My Account' page and navigate to your application for a link to complete.
4. Submit transcripts. Compile all college transcripts into one packet, and send packet via trackable shipping (for example, FedEx or UPS) to:
Doctor of Nurse Anesthesia Practice Program
Siebens 10-12
200 First St. SW
Rochester, MN 55905
Interview process
If you are considered for acceptance, you are asked to visit Mayo Clinic's campus in Rochester (at your own expense) for a personal behavioral interview with the program director and selected faculty.
Interviews are held in the fall. Final candidates for the program are selected after all interviews are completed.
Acceptance
Acceptance letters are mailed by November. Payment of a $250 (subject to change) nonrefundable slot-retention fee is required upon acceptance into the program.
Classes begin in mid-July. The traditional program is completed 42 months later in mid-January.