Curriculum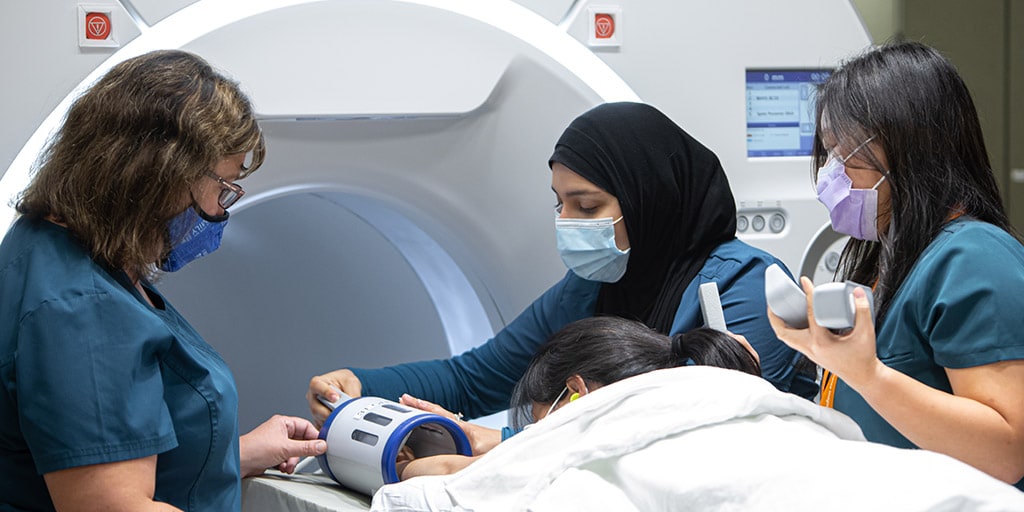 70%
time spent in a clinical setting
25%
time spent in classroom
Student experiences
The MRI Program is designed to provide a thorough foundation in MRI safety, physics, patient care, and procedures. Courses take place in a specific sequence, progressively building on your expertise as you advance throughout the program. Academic coursework is coordinated with clinical rotations to optimize student learning.
Classroom learning
The classroom portion of the program is spent learning the foundational knowledge and skills needed as an MRI technologist. You will be learning from some of today's best magnetic resonance practitioners.
Lab experience
You will have the opportunity to transfer your knowledge to practice through lab experiences. You'll gain hands-on experience and build confidence using magnetic resonance imaging equipment and lab simulations for a wide variety of MR examinations.
Rotations
Students will start working closely with experienced MRI technologists during patient exams by week six of the program! You'll rotate through a large variety of clinical rotations, including outpatient and inpatient settings. You'll clock 900 clinical hours and develop the skills necessary to become a competent, entry level MRI technologist.
Teaching faculty
Eric Ehman, M.D.
Medical Director
Dr. Ehman is a native of Rochester, MN. He attended Northwestern University in the Chicago, IL area before returning to Rochester to attend Mayo Medical School. He then completed his internship at Santa Clara Valley Medical Center in San Jose, CA, and his Radiology residency at the University of California, San Francisco, followed by fellowships in Gastrointestinal/Genitourinary Imaging at Mayo and Nuclear Medicine at Brigham and Women's Hospital/Harvard Medical School in Boston, MA before joining the Department of Radiology at Mayo Clinic. Dr. Ehman's research and education interests lie at the intersection of Abdominal Imaging and Nuclear Medicine, with specific interests in liver and prostate imaging and PET/CT and PET/MRI.
Jacqueline Burnes, RT(R)(M)(MR), M.Ed
Program Director
Jacqueline Burnes received a certificate from the MCSHS Radiography Program and an A.S. Degree in radiography from Rochester Community & Technical College in 2011. While working as a radiologic technologist and clinical instructor, Ms. Burnes later earned a B.A. in Health Care Administration from Concordia University – St. Paul in 2016. In May 2019, Ms. Burnes graduated from Colorado State University with a Master of Education (M.Ed.) in Adult Education and Training Specialization. Ms. Burnes has experience in a variety of radiology fields including general x-ray, mammography, and magnetic resonance imaging. Throughout her career, Ms. Burnes has worked with students in the clinical, lab, and classroom environments. In the classroom, she has instructed on a variety of topics including procedures, patient care, and professional development.
Jennifer Myers, RT(R)(MR), MRSO
Clinical Coordinator
Jennifer Myers received her A.A.S. Degree in Radiologic Technology from Northwest Technical College in East Grand Forks, MN, in 1998, and her B.S. in Applied Health from the University of Minnesota, Crookston in 2016. During her career in radiology, Mrs. Myers has worked in diagnostic radiology, dosimetry, and magnetic resonance imaging. She has been a clinical instructor for several colleges as well as an adjunct instructor for radiography and medical assistant programs.
Joel Felmlee Ph.D, DABR
Faculty
As a diagnostic medical physicist and researcher, Dr. Felmlee has been involved in MRI since 1982. He was fortunate to be involved in the early development of MRI and focused on the emerging clinical applications and technology development, with a special interest in motion phenomena. In the early 1980s, Dr. Felmlee was jointly responsible for the development of spatial pre-saturation as a method of suppressing flow, motion, and aliasing artifacts. During the late 1980s, his Ph.D. research developed the first motion correction techniques based on navigator echoes. Since that time Dr. Felmlee has concentrated on hardware issues in MRI, developing RF coils in support of high-resolution imaging. He also continues to develop MR Elastography techniques, MR safety, and interventional MRI methods.
Dr. Felmlee has mentored postdoctoral fellows and graduate students who have received their Ph.D. degrees in his program and gone on to careers as scientists in the industry as well as independent researchers at academic institutions. Dr. Felmlee was honored to receive a Teacher of the Year Award, from the Mayo Graduate School in 2000. He enjoys explaining MRI physics in ways that we can all understand and have routinely taught physics review classes for MRI technologists' board certification.
Andrew Fagan, Ph.D., DABR
Faculty
Dr. Andrew Fagan has worked as a medical imaging physicist for more than 25 years and has specialized in MRI since 2000. He studied physics at the University of Dublin Trinity College, Ireland (B.Sc., M.Sc.), and earned a Ph.D. in MR Physics at the University of Aberdeen, UK. Dr. Fagan completed his residency in medical physics at St. James's Hospital Dublin in 1997 and subsequently worked in academic and clinical roles in universities and hospitals in Ireland, UK, and the USA. He has extensive practical experience in MRI across field strengths from 1.5 Tesla to 7 Tesla. Dr. Fagan has experience teaching MRI physics and technology at both undergraduate and post-graduate levels.
Dr. Fagan was the Physics Advisor to the MR Technologist M.Sc. course "Medical Imaging: MRI" at Trinity College Dublin and served as Chief Physics Examiner for the Faculty of Radiology Fellowship Program at the Royal College of Surgeons, Ireland. His research interests include the development of clinical imaging techniques at 7 Tesla, radiofrequency coils for ultra-high field MRI systems, quantitative methods in MRI, and evaluation of safety. He has published over 85 peer-reviewed research articles and won significant grant funding for his research. He is board-certified in MRI by the American Board of Medical Physics and is an elected Fellow of the IOP and the IPEM.
Tzucheng Chao, Ph.D.
Faculty
Dr. Chao is an MRI physicist certified by the American Board of Medical Physics. He has worked in the MRI field since 2003. After receiving his Ph.D. diploma from National Taiwan University in Taipei, Taiwan, in 2009, he received post-doctoral training in the Department of Radiology of Brigham and Women's Hospital, Harvard Medical School in Boston, MA. He then became a faculty member in the Institute of Medical Informatics and in the Department of Computer Science at National Cheng Kung University in Tainan, Taiwan, from 2011 to 2019. He was also appointed as the chief MRI physicist of Mind Research and Imaging Center of National Cheng Kung University during the same period. Since 2019, he has been a research scientist in the Department of Radiology in Mayo Clinic. Over the past decades, Dr. Chao has been involved in several MRI-related projects, including fast imaging strategies, diffusion imaging, susceptibility imaging, fMRI, gradient system characterization, and deep learning in MRI.
Xi Peng, Ph.D.
Faculty
Dr. Xi Peng has worked as a physicist and researcher in the field of MRI for more than 10 years. Before joining Mayo Clinic, he was an associate professor in the Paul C. Lauterbur Research Center for Biomedical Imaging at Shenzhen Institutes of Advanced Technology and a research associate at the University of Illinois Urbana-Champaign. His research interests are mainly in developing and applying advanced imaging technologies, and computational and machine learning tools to enable non-invasive characterization and prediction of functional, metabolic, and physiological states of the brain. He has developed the world's first simultaneous metabolic imaging (such as MR Spectroscopic Imaging) and quantitative susceptibility mapping technology, fast 3D MR Elastography, and MR parameter mapping using advanced data acquisition and mathematic models. He has also developed deep-learning-based approaches for high-quality MRSI reconstruction and coil sensitivity estimation.
Dr. Peng has published more than 20 peer-reviewed scientific papers in the top journals in the field and won several research awards including the best paper award from MR Elastography Study Group annual business meeting, the ISMRM Summa Cum Laude Merit Award, OCSMRM Outstanding Research Award, and Magnetic Resonance in Medicine editor's pick. He is recognized as a distinguished reviewer of IEEE TMI, MRM, and serves as an associate editor of BMC Medical Imaging.
Facilities
Students are assigned to clinicals in the Mayo Clinic MRI Department, located in Rochester, Minnesota. Our campus includes an extensive outpatient complex, Mayo Clinic Hospital — Rochester, and substantial research and education facilities. Mayo Clinic is among the largest, most advanced medical centers in the world.
Course schedule
Hours
The majority of the classroom instruction is scheduled Monday through Friday between 8 a.m. and 4 p.m. Students will be required to attend non-regular laboratory sessions. Non-regular hours are defined as evening and weekend hours. Students will be given equitable amount of notice to coordinate with their schedules.
The clinical rotation schedule will primarily vary between the hours of 6 a.m. and 5 p.m., Monday through Friday. Students may be assigned to a limited number of evening rotations at the Mayo Clinic MRI Department, located in Rochester, Minnesota. Students will be given equitable amount of notice to coordinate with their schedules.
View the 2023-2024 Academic Calendar.
Course sequences
Summer semester I
| Course | Credits |
| --- | --- |
| Introduction to Clinical Magnetic Resonance Imaging | 2 |
| MRI Safety | 3 |
| MRI Physics I | 2 |
Fall semester II
| Course | Credits |
| --- | --- |
| Fundamentals of Imaging Sciences in Health Care | 1 |
| Medical Informatics | 1 |
| MRI Physics II | 2 |
| MRI Procedures I | 4 |
| Clinical Practicum I | 5 |
Spring semester III
| Course | Credits |
| --- | --- |
| Advanced Imaging Procedures | 1 |
| MRI Procedures II | 4 |
| MRI Registry Review | 2 |
| Clinical Practicum II | 8 |
Total credits: 35
Grading and evaluation
Students should be aware that failure to meet or maintain the academic or clinical standards listed may necessitate remedial work of subject matter, as well as possible evaluation for probation or dismissal. All such instances are handled according to the due process policies of the program and Mayo Clinic School of Health Sciences. A formal written warning is most often the first step in the process.
Mayo Clinic School of Health Sciences uses these evaluative tools:
Self-assessment exercises
Electronic formative and summative assessments
Individual and team-based assignments/projects
Demonstration of skills
Faculty reviews
Technologist evaluations
All courses taught by Mayo faculty are graded according to the methods developed by the MRI Program:
A – 93 to 100 percent
B – 85 to 92.99 percent
C – 78 to 84.99 percent
D – 75 to 77.99 percent
F – below 75 percent
Grade points of A = 4.0, B = 3.0, C = 2.0, D = 1.0 and F = 0 for each credit hour earned are assigned on the Mayo Clinic School of Health Sciences transcript.
Degree requirements
By the end of the program, all students who were seeking degree completion from an affiliated academic institution must have completed all of the graduation requirements of the affiliated academic institution. Failure to complete the requirements of the student's degree granting institution may disallow the student from receiving a certificate of completion from Mayo Clinic School of Health Sciences. Students who obtained an associate or bachelor's degree from an ARRT-recognized mechanism prior to beginning the program are also eligible for graduation.
Didactic requirements
In order to meet the didactic requirements for graduation, students must complete all courses listed in the program curriculum with a grade of C or above.
Clinical requirements
In order to meet the clinical requirements for graduation, students must complete all clinical competencies identified in the Clinical Competency Policy and required by the American Registry of Radiologic Technologists (ARRT).
Graduation and certification
After successfully completing the program, you will receive a certificate of completion from Mayo Clinic School of Health Sciences. Students seeking a degree from one of the program's affiliated academic institutions also receive a degree from their respective college university upon program completion.
Graduates are eligible to take the magnetic resonance imaging certification examination administered by the American Registry of Radiologic Technologists (ARRT) after they have successfully completed the Mayo Clinic School of Health Sciences MRI Program and earned an associate, baccalaureate, master's, or doctoral degree. The degree does not need to be in radiologic science and can be earned before entering or while completing this MRI program. Degrees must be granted by an institution accredited by a mechanism recognized by the ARRT. The degree must be completed prior to a candidate taking the examination.
This certification provides graduates with nationally recognized credentials for practicing magnetic resonance imaging and fulfills employment credentialing requirements in Minnesota. In addition to ARRT certification requirements, individual states may have additional licensure requirements.
To learn more about ARRT Certification and Registration and individual state licensing requirements, visit the ARRT website.
Contingency plan
If extenuating catastrophic circumstances (such as a mass casualty event, pandemic, or a natural disaster) impact Mayo Clinic operations, Mayo Clinic College of Medicine and Science operations, or student access to clinical environments at Mayo Clinic sites, the MRI Program may utilize the program contingency plan. For more information, review a copy of Mayo Clinic School of Health Sciences MRI Program's Contingency Plan.