How to Apply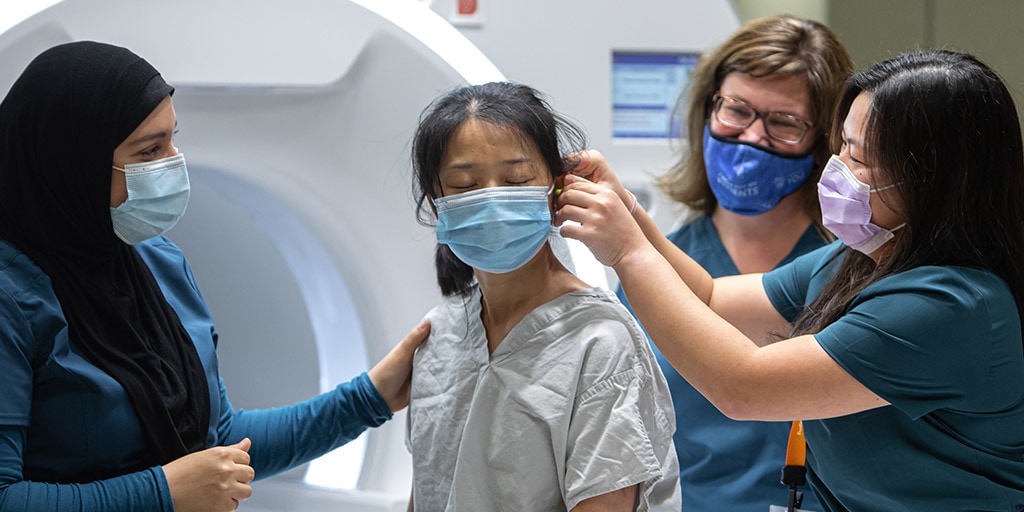 When it comes to applicants, we look at more than test scores and grades. While those numbers are important, we also care about your career aspirations and goals. We've designed this program to have three pathways to admission; an associate degree or bachelor's degree from an affiliated university, or a degree with completed prerequisite programs from another institution. Discover what comes next on your path to becoming an MRI technologist.
Enrollment options
If you have already completed an associate or bachelor's degree and the pre-requisites before the start of the program, you may be eligible to apply for the MRI Program.
Your degree must come from an institution accredited by an agency that ARRT recognizes. View a list of ARRT-Recognized Accreditation Agencies by visiting the ARRT website.
The certificate option will grant you a certificate of completion from Mayo Clinic School of Health Sciences and allow you to sit for the credentialing exam directly after completing the Magnetic Resonance Imaging Program.
Transfer student policy
Rochester Community and Technical College may accept transfer credit for previous general college coursework. Refer to those institutions to learn about their transfer policies. Transfer students from other MRI programs are not accepted. For more information, review the Mayo Clinic College of Medicine and Science credit transfer policy.
Admission requirements
Prerequisites
To be eligible for the Magnetic Resonance Imaging (MRI) Program, you must:
Have a minimum cumulative GPA of 2.75 on a 4.0 scale
Complete at least four hours of job shadowing in an MRI department (this can be done at Mayo Clinic or another health care institution)
Be currently enrolled at one of the program's academic affiliates and be on track for degree completion or have already earned an associate degree (or higher)
Complete the following prerequisite coursework with a C or higher prior to the program start date; pass/fail will not be accepted
Subject and minimum requirements
| Subject | Minimum requirements |
| --- | --- |
| English | One semester of college-level English composition |
| Mathematics | One semester of college algebra; a higher-level math course also satisfies this requirement |
| Anatomy and physiology | Two semesters of college-level anatomy and physiology with a lab component. This can be fulfilled by completing Anatomy & Physiology I and II OR Human Anatomy and Human Physiology courses. |
| Physics | One semester of college-level physics with lab component |
| Speech or interpersonal communications | One semester of college-level speech or interpersonal communications |
| Chemistry | One semester of college-level chemistry with a lab component |
| Ethics | One semester of college-level ethics or medical ethics |
In addition to the prerequisite courses listed above, some affiliates may have additional degree requirements or prerequisites.
Competitive applicants
Students will be most competitive if they meet the following criteria:
Have a GPA of at least 3.0 on a 4.0 scale, including courses in mathematics and sciences
Have completed the prerequisite coursework within five years of applying
Have previous patient care or customer service experience
Demonstrate genuine interest in the MRI profession
Safety information for prospective students
Students that are pursuing a career in MRI need to be fully aware of the magnetic fields that are used and also understand the consequences of not following safety guidelines. Students that are offered an interview during the admissions process will be required to undergo safety screening by completing the MRI Screening Form. Admission to the program is conditional upon the screening form being reviewed and deemed safe for the student to perform their duties in the MRI environment. Review the following information regarding MRI safety and the American College of Radiology Guidance Document on MR Safe Practices: 2019.
MRI safety policy
Our program is dedicated to providing safe clinical experiences for students. The MRI safety policy serves to define safe MR practices for students and reflects current American College of Radiology MR Safety guidelines to assure that all students are appropriately screened for magnetic field or radiofrequency hazards.
Technical standards
The MRI program is committed to diversity and educating students who will make the population of health care professionals a true representative of our diverse community. The MRI program technical standards are not intended to deter any candidate for whom reasonable accommodation will allow the fulfillment of the complete curriculum. Program applicants and admitted students with disabilities are confidentially reviewed to determine whether there are any reasonable accommodations that would permit the individual to satisfy the program standards. To seek exceptions to these standards, students accepted for admission must initiate a request at least six weeks before the program begins.
Application process
Application timeline
Application instructions
Complete the following steps to apply:
Create an account to begin the online Application for Admission

Select - Mayo Clinic School of Health Sciences
Select - Magnetic Resonance Imaging

Complete each section of the application and submit
After submission, view the required Supplemental Items and Documents
Upload each required item in the Supplemental Items section
Complete the Recommendation Request section
Additional required items
CV/resume: Upload your resume in the application system. Your resume is a chance to highlight your experiences and skills.
Complete the essay questions and upload them to the Supplemental Items section.
Two recommendations are required and must be completed in the Recommendation Request section. Each recommender will receive an email with a link to complete a form and upload a letter.

Academic: Choose a person familiar with your educational qualifications and your potential for success in the field of MRI. References may include current or former teachers or professors.
Professional: Choose a person familiar with your professional qualifications and your potential for success in the field of MRI. References may include employers, teachers, or supervisors.

Unofficial college transcripts may be uploaded in the Supplemental Items area for application purposes. Submit a transcript from every college and university you have attended. If appointed to the program, official transcripts must be mailed directly to Mayo Clinic School of Health Sciences from each educational institution.

Send your transcripts to:

Magnetic Resonance Imaging Program
Mayo Clinic School of Health Sciences
Siebens Building, 7th Floor
200 First St. SW
Rochester, MN 55905
Note: Incomplete applications or applications postmarked or electronically submitted outside the application window, may not be processed. Program information and application materials are updated each year and therefore are not valid for subsequent applications.
Any updates or changes to the published information that affect applicants for the next class are made on this website before the application window opens
Interview process
It has been determined that interviews will be conducted 100% virtually for the upcoming admissions cycle. All applicants who meet the minimum admissions requirements will be offered an interview.
Fluency in written and spoken English is essential for success in the program and to ensure patient safety. Applicants must demonstrate objective competency in English through the admission interview and may be required to submit results from the Test of English as a Foreign Language (TOEFL) examination or equivalent examination.
Multiple program applicants
MRI program applicants must determine their first and second choice program preference by Feb. 23, 2022, if they are also applying for another MCSHS allied health program.
Acceptance
For the 2022-2023 admissions cycle, the MRI program may accept up to 10 students. All acceptance letters are emailed in March. Your reply is required within seven business days. Acceptance is contingent upon successful completion of the occupational health review and background checks (federal and Minnesota). Students are responsible for the associated fee required to complete these requirements.
Enrolled students are required to be covered in a medical insurance plan throughout their educational program at Mayo Clinic. Students who do not have health care coverage should purchase a policy from an agency or company of their choice. Mayo Clinic School of Health Sciences does not endorse any particular plan or provider.
Admission policies
Non-U.S. citizen applicants
Admission to Mayo Clinic School of Health Sciences is open to U.S. workers in the four categories below. Therefore, visa sponsorship is not available.
U.S. citizens
U.S. nationals
Lawful permanent residents
Asylees and refugees
Applicants whose primary language is not English must submit results from the Test of English as a Foreign Language Internet-based test (TOEFL iBT). Scores from the speaking portion of the exam are given particular consideration in admission decisions. Learn more about the exam and register online at the Educational Testing Service.
The Mayo Clinic School of Health Sciences code for the TOEFL iBT is 5784.
Educational transcripts from schools outside the U.S. must be translated (if they are not already in English) and evaluated for U.S. equivalence by an accredited credential evaluation service company prior to submission. Please refer to the National Association of Credential Evaluation Services for a list of qualified companies. The applicant pays for the examination and credential-evaluation services.
Equal opportunity
Mayo Clinic School of Health Sciences upholds all federal and state laws that preclude discrimination on the basis of race, sex, age, religion, national origin, marital status, sexual orientation, disabilities, or veteran status. For more information, see the Office for Education Diversity, Equity, and Inclusion.
Learn more about Mayo Clinic School of Health Science admissions and tuition.