Student Stories
Student outcomes (a three-year, rolling average)
95%
licensure exam pass rate on first attempt (for past 3 years)
Nuclear Medicine Technology Program graduates: Where are they now?
Mayo offers the unique ability to extern at either Mayo Clinic-Phoenix or Mayo Clinic-Jacksonville along with other Mayo Clinic Health System locations in the MN/WI region. The Nuclear Medicine program at Mayo has proudly distinguished itself as one of the nation's most successful in board exam scores and time to employment post-graduation. At Mayo, you will be empowered to graduate with your C.N.M.T. certificate on your way to becoming a distinguished nuclear medicine technologist.
William Martini, C.N.M.T., PET
2016 graduate who is now a dual certified Nuclear Medicine/PET Technologist at Mayo Clinic in Rochester, MN
My training at Mayo Clinic prepared me in ways that other programs couldn't. With unique cases, research experience, ground-breaking therapies, radiopharmaceutical experience, and externship options, Mayo Clinic gave me a well-rounded understanding of nuclear medicine and molecular imaging. Academics and clinical training are taught in tangent to put our studies into practice! This is an amazing field with numerous avenues and Mayo Clinic gives you the opportunity to experience them all!
Claire Paul, C.N.M.T
2018 graduate who is now a Nuclear Medicine Technologist at Mayo Clinic in Jacksonville, FL
My favorite part of the program was getting clinical experience early in the program so we could apply what we were learning in the classroom to what we were seeing in the clinic. I also loved being exposed to a large variety of nuclear medicine studies that other programs might not have the opportunity to see.
Tavis Pugh, C.N.M.T.
2020 graduate who is now a Nuclear Medicine Technologist on a mobile unit in central Minnesota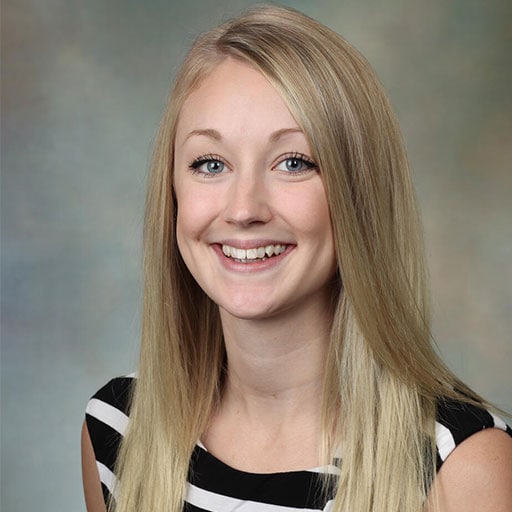 My favorite part of this program is the wide variety of procedures they have to offer. I was able to complete my internship in both Rochester and Eau Claire, which allowed me to meet many technologists and get the feel for both large and small patient volumes. This program also allows you to travel to several different externship sites including Arizona and Florida! My favorite part about nukes is PET/CT, which they also provide a program for after the completion of this program.
Brianna Johnson, C.N.M.T., PET
2020 graduate who is now a dual certified Nuclear Medicine/PET Technologist at Mayo Clinic in Phoenix, AZ
Advancement opportunities for nuclear medicine technologists
There are many ways you can advance within nuclear medicine. With additional training and experience, a nuclear medicine technologist could become a lead technologist, a research technologist, a radiochemist, and more. They could also move into a management, sales, medical physics, or an educational role. The possibilities for career progression are vast within Nuclear Medicine.
Technologists can also earn specialty certificates to increase opportunities for advancement such as in positron emission tomography.
Positron Emission Tomography Program
Mayo Clinic School of Health Sciences offers a 20-week program Positron Emission Tomography (PET) Program at Mayo Clinic in Rochester, Minnesota to those who graduate from the Nuclear Medicine Technology Program and are interested in specializing in PET. PET is a specialty modality of nuclear medicine that is used for diagnosis, staging, restaging, and evaluation of treatment response in patients with malignant disease and metastasis. It is also used for cardiovascular and neurological evaluation.