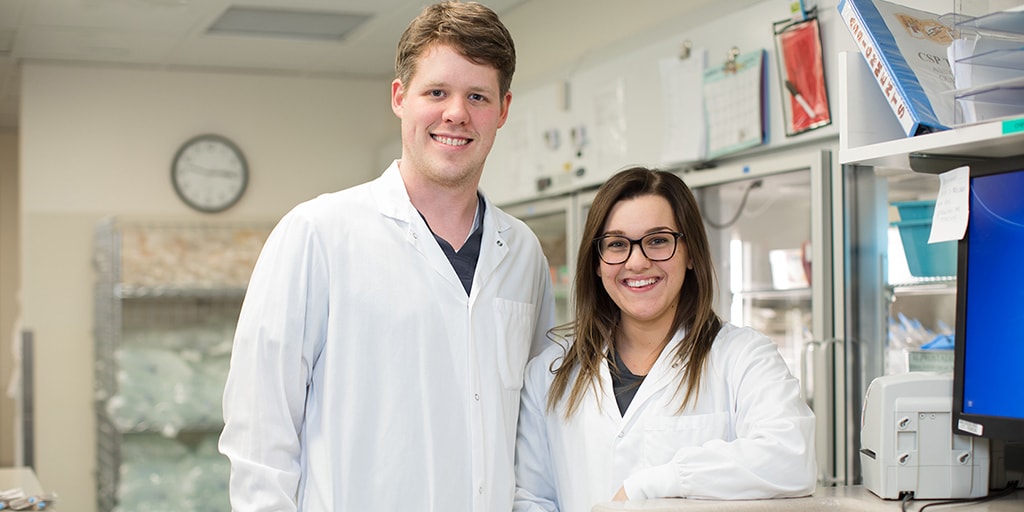 Department of Pharmacy (La Crosse)
The Department of Pharmacy at Mayo Clinic Health System — La Crosse employs over 60 individuals in the Southwest Wisconsin Region, including approximately 30 pharmacists, to provide comprehensive inpatient and outpatient pharmaceutical services.
Pharmacy services provided include:
Central pharmacy distribution
Clinical pharmacy decision-support software
Collaborative practice agreements
Computerized intravenous admixture and unit dose dispensing
Decentralized clinical pharmacy practice
In-service education and other scholarly activities
Medication reconciliation and discharge huddles
Outpatient distribution
Patient education programs
Perpetual inventory control
Pharmacist-led research and research support services
Pharmacist-managed anticoagulation services
Pharmacokinetic monitoring and management
Pharmacy informatics and technology support
Pharmacy, therapeutics and formulary committee support
Work areas
A broad range of pharmacy practice work areas are available at Mayo Clinic Health System — La Crosse. As a resident, you are afforded a variety of acute care training experiences that focus on medication management and monitoring along with countless learning and teaching opportunities in a resource-rich environment.
Inpatient practice
Mayo Clinic Health System in La Crosse, Wisconsin is a Joint Commission-licensed, 331-bed, community hospital, and is part of the Southwest Wisconsin Region of Mayo Clinic Health System. Six additional communities make up the Mayo Clinic Health System — La Crosse Southwest Wisconsin Region, including a location in Sparta, Wisconsin that provides transition of care services to the region. In the hospital environment, pharmacists work collaboratively with the interdisciplinary health care team to optimize patient outcomes. Pharmacists, residents, and students are long-standing, integral members of a collaborative team that continually works to better serve patients in the region while providing the highest quality service possible.
Outpatient practice
Mayo Clinic Health System — La Crosse has a large outpatient pharmacy practice that dispenses approximately 775 prescriptions a day. Patients are afforded comprehensive pharmacy from a team of trusted pharmacist and pharmacy technician experts.