How to Apply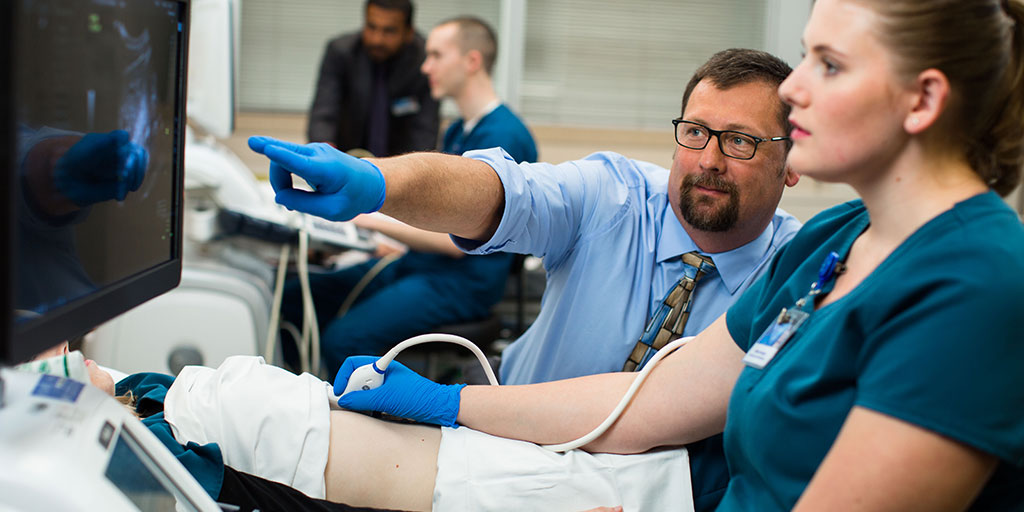 Enrollment options
While test scores and grades are important, we also care about why you want to enter the field and your career goals. We've designed this program to have two pathways to admission. Discover what comes next on your path to becoming a sonographer.
Affiliated bachelor's degree option
Students seeking a bachelor's degree are eligible to apply to the Sonography Program after first completing the required coursework at one of the affiliated academic institutions listed below. We've worked with these institutions to ensure you get the exact prerequisite education you need to be a strong candidate for our program.
Once you complete the required coursework, you'll apply for the Sonography Program. Typically, students will apply during their sophomore year.
If you have existing college credits from an institution not listed as an affiliated institution, you must first transfer your credits into UMR. This is to ensure all coursework prerequisites are met. Refer to the affiliated university transfer policies for details.
If you have an existing associate or bachelor's degree and meet the prerequisites, you may apply for the certificate option.
Certificate option
The certificate option will allow you to sit for the credentialing exams. If you have already completed an associate or bachelor's degree and meet the prerequisites, you may be eligible to apply for the certificate option.
Non-U.S. citizen applicants
Application for admission is open to U.S. workers. Visa sponsorship is not available for this program. U.S. workers are those who are authorized to work in the United States.
A World Education Services International Credential Advantage Package course-by-course evaluation of foreign academic credentials is required for all applicants with foreign academic credentials. Visit the World Education Services website to learn more about the process.
Before you apply
Learn what you need to have completed and what requirements you need to meet before applying to the Sonography Program.
Prerequisites
Subject
Prerequisites

College algebra

A minimum of one semester of college algebra is required; a higher-level math course also satisfies this requirement.

Anatomy and physiology with lab

A minimum of two semesters of college-level anatomy and physiology with a lab are required (virtual or online labs are not accepted).

Speech or public speaking

A minimum of one semester of college-level speech or public speaking is required.

English

A minimum of one semester of college-level English is required; two semesters are preferred.

Medical terminology

One medical terminology course is required; it must be an official academic course resulting in a grade on a school transcript. Courses are available from community and technical colleges or online.

Medical ethics or ethics

A minimum of one semester of college-level medical ethics (preferred) or ethics is required.

Physics with lab

A minimum of one semester of algebra-based, college-level introductory physics with a lab is required (virtual or online labs are not accepted).

Certified nursing assistant or other health care certification, Licensure or registry

These certifications meet the prerequisite requirements for patient care:

Certified nursing assistant (C.N.A.)
Registered medical assistant (R.M.A.)
Registered nurse (R.N.)
Licensed practical nurse (L.P.N.)
Certified EMT
Respiratory therapist
Radiologic technologist R.T.(R) or senior radiography student
Competitive applicants
Applicants are most competitive if they have:
A GPA of at least 3.0 on a 4.0 scale
An ACT composite score of 20 or higher
Previous patient care experience
Observed sonographic procedures
Prerequisite coursework that is less than 10 years old
A bachelor's degree or are enrolled in the UMR, Saint Mary's University in Winona, or University of Wisconsin - River Falls bachelor's degree programs
No more than two courses in progress at the time of interviews (mid-March)
Technical standards
Candidates must meet the technical standards (with or without reasonable accommodation) necessary to acquire or demonstrate competence in health professions as outlined in the Sonography Program technical standards.
To seek exceptions to these standards or reasonable accommodations, students accepted for admission must initiate a request with the program director at least six weeks before the program begins.
Application process
Approximately 12 students are accepted on a competitive basis each year to the Sonography Program. Ten student positions are located at the Mayo Clinic campus in Rochester, Minnesota, and two student positions are located at the Mayo Clinic campus in Jacksonville, Florida.
Application process for the BSHP degree option at UMR
Students pursuing the Bachelor of Science in Health Professions (BSHP) degree option should complete the University of Minnesota Rochester application for admission. BSHP students are jointly admitted to UMR and Mayo Clinic School of Health Sciences and do not need to separately apply for admission to Mayo Clinic School of Health Sciences.
Application process for certificate option, SMU bachelor's degree, or UWRF bachelor's degree option
Students pursuing the certificate option or a bachelor's degree through SMU or UWRF should refer to the below Mayo Clinic School of Health Sciences application instructions to apply for the Sonography Program.
Having this page available while completing the online application is helpful, as these directions are specific to the Sonography Program.
Application instructions
1. Create an account. Prior to submission of an application, you must create an account. Note the following as you create an account and begin completing an application.
On the Create an Account page:

For School of Study → School of Health Sciences
For Location → Rochester, MN or Jacksonville, FL
For Area of Interest → Sonography Program
For Start Date → Choose date
For Entry Term → Select term available

On the My Account page:

Scroll down to Next Steps → Start an Application

On the Online Application page:

Verify that the program listed is what you want
Click Continue with Application Selected Above

On the Application Listing page:

Select Start a New Full Application
2. Complete the online application. Once you have created an account, you will be able to continue with the application. The sections below are located in the application. You may complete them in order or click on the section you want using the navigation menu on the left.
Program of interest:

Review populated data for accuracy
Complete Reapplying and Education Completed questions

Personal information:

Review populated data
Complete any other fields
If you didn't enter an address or phone number before, you will be required to enter it now

Demographic data:
Education:
Employment:
Standardized testing:

Please input information regarding the ACT, SAT, and/or GRE as they apply to you. Please check your program website to see if these are required.

Professional licensing and registration:

Enter any professional licenses you hold

Essay:

Refer to the questions in the application for the essay. The essay should be 300 to 500 words.
Please include in your essay if you're applying for the Minnesota or Florida campus

Signature and submit:

Certify and sign your application
Submit your application
3. Complete the recommendations. Two professional references are required. References should be individuals who are/were an authority figure in your current/previous schooling or place of employment (i.e. supervisor, teacher). Please follow the guidelines in the online application carefully.
Enter email addresses for recommendations under the Recommendation Requests section
**If you do not complete these at the time of submission, please visit your "My Account" page and navigate to your application for a link to complete.
4. Submit transcripts. Submit official transcripts of all high school, college and university credits. Transcripts must include the embossed school seal and should be sent in the original unopened envelopes.
Send the required materials that are not completed online to:

Sonography Program
Mayo Clinic School of Health Sciences
Siebens Building, 11th Floor
200 First St. SW
Rochester, MN 55905
Interview process
Applicants considered for an appointment are invited to visit Mayo Clinic's campus in Rochester, Minnesota, or Jacksonville, Florida, for a personal interview with the admissions committee. Only the top-ranked applicants are invited for an interview. Interview expenses incurred by the applicant are not reimbursed.
Applicants invited for an interview will be asked to provide contact information for two references: one professional (job or volunteer service supervisor) and one personal (teacher, mentor, instructor or clergy, but not a family member).
Acceptance
Admission letters are mailed by the end of April. Your reply is requested within two weeks.