Curriculum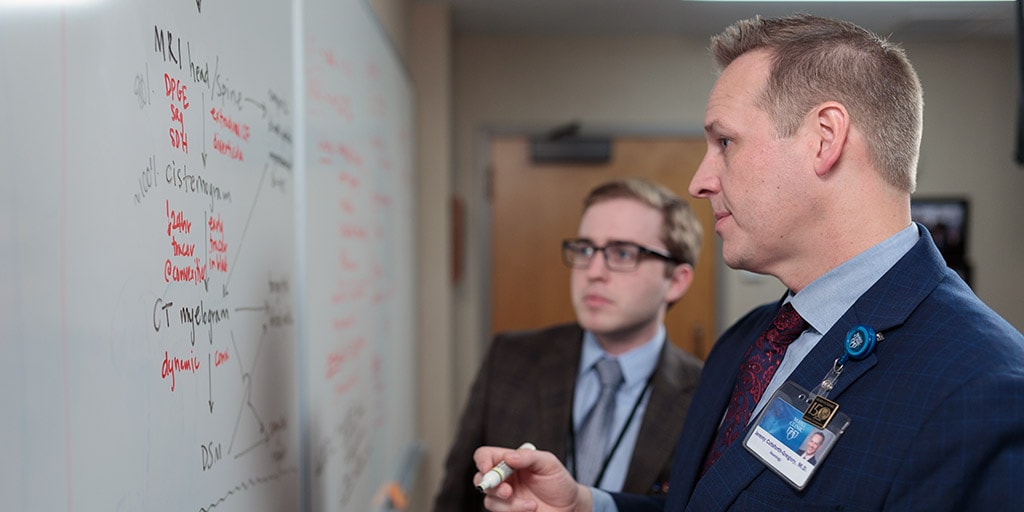 Mayo Clinic's Adult Neurology Residency is divided into two parts: one initial year (PGY-1) of graduate medical education in internal medicine followed by three years (PGY-2 through PGY-4) of residency training in adult neurology.
The guiding principle of our training program is graduated responsibility culminating in independent practice at an extremely high level of clinical competence.
Clinical training
PGY-1
The American Board of Psychiatry and Neurology (ABPN) requires that you spend one year in an accredited internal medicine program in the United States or Canada, or in a transitional program that has been approved by the Accreditation Council for Graduate Medical Education (ACGME) and that includes at least six months in internal medicine. No neurology residency credit will be given for time spent in a residency program for another medical specialty. The requirements for the PGY-1 year can be found on the ABPN website.
Mayo offers both categorical and advanced programs, with six categorical slots and three advanced slots. In general, no separate interview with the Department of Internal Medicine is required for those interested in the categorical program. Because we have six categorical slots and nine residents each year, we cannot guarantee a categorical position for all nine trainees.
If Mayo Clinic's campus in Rochester, Minnesota, is high on your list, it is best to rank both the categorical and advanced programs, and have a backup PGY-1 year planned. A separate interview is necessary if you are interested in Mayo Clinic's campuses in Phoenix/Scottsdale, Arizona, or Jacksonville, Florida, or a non-Mayo Clinic medical facility.
PGY-2, -3, -4
You begin your Adult Neurology Residency (PGY-2) with hospital and outpatient experiences. Early in your training, you spend an outpatient month working closely with faculty in the Department of Neurology's Section of Education, refining your skills of neurological examination, history taking, presentation, and differential diagnosis.
Hospital-based rotations include:
General neurology
Stroke and cerebrovascular disease
Neurology critical care
Emergency neurology
The first two (of three) months of child neurology are also completed during the PGY-2 year. You have one month of psychiatry, as is required of all neurology residents by the ABPN.
Elective time is available to residents during every year of training. Most of your PGY-3 year is spent in clinical neurophysiology, neuropathology, elective rotations, and outpatient subspecialty rotations in four different areas. You also have two months in the Neurology/Neurosurgery Intensive Care Unit and one month leading the hospital consult service.
In the PGY-4 year, you serve as a senior resident at the hospital and outpatient clinic with greater responsibility in all clinical settings. During hospital assignments, you supervise and teach junior residents and medical students, see and manage routine and emergency admissions, and provide consultations for other inpatient services.
As your experience increases through residency, you are given greater responsibility for patient management. Our residents have found the mix of clinical responsibilities, staff supervision, and teaching to be ideal.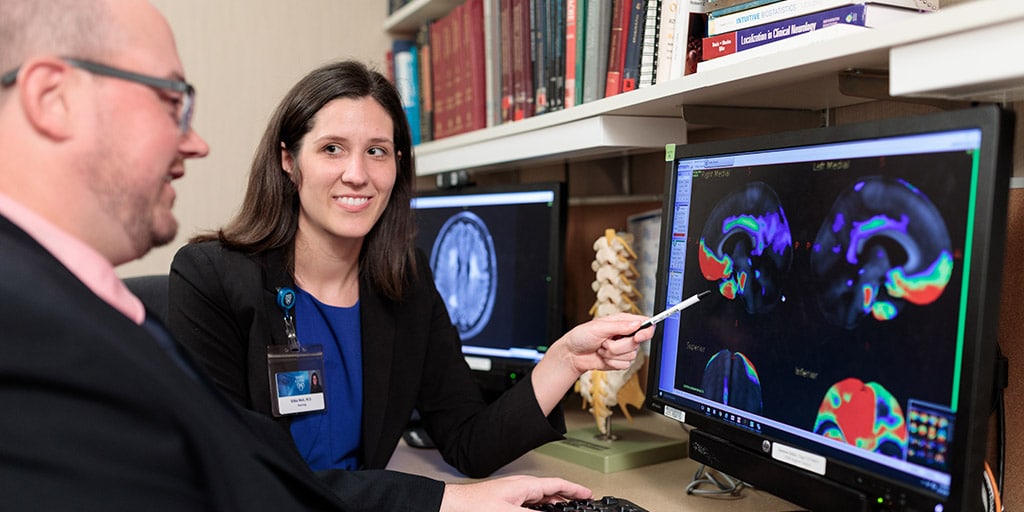 Didactic training
There are many didactic opportunities associated with the Adult Neurology Residency. Clinical conferences, seminars, small discussion groups, journal clubs, didactic courses, and one-on-one instruction are all integral parts of the program.
Formal didactic courses are also required during your residency and include core clinical and emergency neurology, basic neuroscience, neuroanatomy, and neuroradiology.
Teaching opportunities
Neurological education as a career track has a long history of support in our program. Teaching opportunities abound at Mayo Clinic and in the Adult Neurology Residency. You can teach Mayo Clinic Alix School of Medicine students and visiting students from other medical schools through bedside instruction and formal didactic lectures.
A major senior resident responsibility is teaching junior neurology residents as well as residents from internal medicine, psychiatry, and neurosurgery who rotate on the neurology services. Senior residents have the opportunity to join the faculty to teach the pre-clinical neuroscience course at Mayo Clinic Alix School of Medicine. All residents complete a teaching skills course in the PGY-2 year so that they have the necessary skills to educate others.
Conferences
Departmental and multidisciplinary conferences occur essentially every weekday morning and at noon. In addition to the regularly scheduled departmental conferences, there are resident-only conferences on Tuesdays. Residents direct a series of child and adult neurology case vignettes and participate in an evidence-based medicine journal club. Visiting professors lead small group discussions with the residents.