Meet The Faculty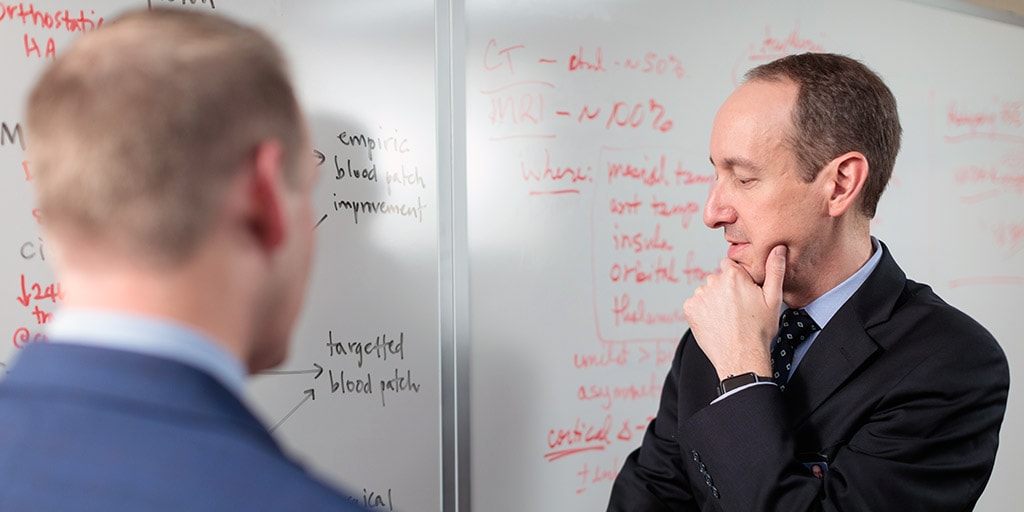 The Department of Neurology at Mayo Clinic is a highly integrated, collaborative department of adult and pediatric neurologists who specialize in the diagnosis and treatment of more than 500 conditions and diseases affecting the nervous system. Virtually all subspecialties of neurology are represented among our department's faculty members, many of whom are international leaders in their respective fields.
Faculty
The Adult Neurology Residency faculty is composed of Mayo Clinic neurologists who are committed to patient care, education, and research in their daily practices. You have direct access to these individuals throughout your training.
Each of our more than 100 faculty members at Mayo Clinic's campus in Rochester, Minnesota, belongs to a section of neurological subspecialists who supply unique clinical, education, and research services to patients and colleagues. Included in these groups is a Section of Education, whose members have devoted career interests in neurological education. These subspecialty groups cross geographical boundaries, working closely with staff neurologists at Mayo's campuses in Jacksonville, Florida, and Phoenix/Scottsdale, Arizona.
Mayo Clinic's neurological clinical opportunities are rich and varied, offering you the opportunity to see both common and unusual neurological and neurosurgical problems.
Advisers and mentors
A staff adviser provides you with comprehensive educational advice and personal support throughout your training program. Your adviser also serves as a contact point, introducing you and your family to Rochester and the Mayo Clinic system.
You also select a research mentor during your training and can take advantage of a diverse, accessible faculty who are available for questions when you have them. Learn more about the Neurology Research department here.
From the director
The mission of any leading neurology residency program is to help you learn the art and science of neurology, so you can provide the best neurological care to every patient, every day.
Our program's vision has been to go a step further: We are here to train the future leaders in clinical neurology, neurological education, and neuroscience research.
The Adult Neurology Residency at Mayo Clinic's campus in Rochester, Minnesota, has a large faculty with extraordinarily diverse clinical, research, and education interests. Our faculty has a rich heritage of dedication to resident education and mentorship, dating to our first neurology resident in 1919.
We offer an unparalleled didactic curriculum, plenty of patients to see with common and uncommon neurological disorders, a strong belief in graduated resident responsibility, and many opportunities to teach and do research.
With our extensive elective time, our program is flexible and allows you to begin your career as a clinician, clinician-educator, or physician-scientist.
Thank you for your interest in our Adult Neurology Residency.
Lyell Jones Jr., M.D.
Adult Neurology Residency program director