Curriculum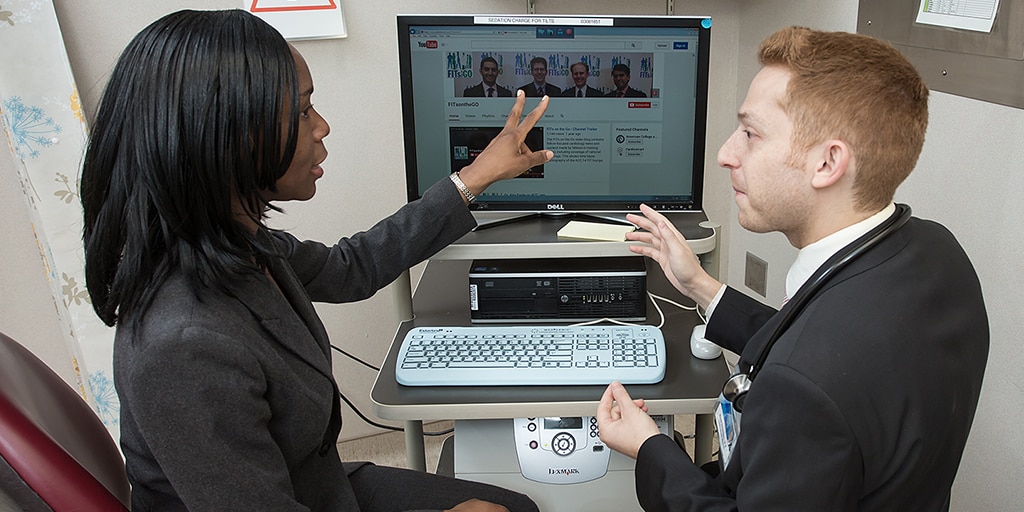 Clinical training
The accredited Interventional Cardiology Fellowship is 12 months, during which time trainees spend four days a week in the Cardiac Catheterization Laboratory and one to two half-days a week in the outpatient Coronary Artery Disease (CAD) Clinic.
Second-year fellows spend a half day to one day a week in the Transcatheter Aortic Valve Replacement (TAVR) and CAD clinics, with the remainder of their time in the Catheterization Laboratory.
You are responsible for pre-procedural patient evaluation, informed consent, and post-procedural care in conjunction with the attending physician. Initially, you assist the attending physician with interventional procedures. But as your skill levels increase, you advance to primary operator.
In the fourth quarter of the first year, you have increased autonomy and have the opportunity to be the primary operator of a catheterization suite with a technician. The attending physician is present in the control room to assist as needed. Also during the fourth quarter, as a first-year fellow, you start to become involved in TAVR procedures and participate in the TAVR clinic.
As a second-year fellow, you have similar patient care responsibilities and, in addition to your structural cases, participate in limited night and weekend call to maintain your percutaneous coronary intervention (PCI) numbers. During the fourth quarter, as first-year fellows begin their involvement with TAVR procedures, second-year fellows participate in the daily PCI case rotation.
The outpatient clinic consists of new patient evaluations as well as follow-up of previously-seen patients. You perform any indicated procedure on these patients in conjunction with the attending physician.
Routine procedures
First year
Intracoronary stenting
Rotational and laser atherectomy
Saphenous vein graft intervention
Primary and rescue PCI for acute myocardial infarction
Left ventricular assist device placement, including Impella, TandemHeart, and intra-aortic balloon pump
Chronic total occlusion revascularization, including dissection re-entry and retrograde approaches
Intravascular ultrasound
Fractional flow reserve, instantaneous wave-free ratio, and coronary flow reserve
Optical coherence tomography
Peripheral artery balloon angioplasty and stenting
Complex invasive hemodynamic studies, such as exercise and assessment for constriction
Transseptal catheterization
Second year
TAVR
Percutaneous valve in valve in multiple sites
Percutaneous repair of mitral valve regurgitation (MitraClip)
Percutaneous repair of paraprosthetic regurgitation
Closure of patent foramen ovale and atrial septal defect
Left atrial appendage closure
Pulmonary vein stenting
Balloon mitral valvuloplasty
Balloon aortic valvuloplasty
Percutaneous pulmonary valve implantation (Melody)
Atrial septostomy
Moonlighting
During the second year, fellows with appropriate visas and licensure may be eligible to moonlight as interventionalists at Mayo Clinic Health System sites in the region. This provides an opportunity for autonomous practice while also offering supplemental income.
Didactic training
Educational opportunities include participation in the weekly catheterization conference and morning conferences with the cardiovascular fellows rotating through the catheterization lab.
First-year fellows run a monthly morbidity and mortality (M&M) conference, and second-year fellows put on a quarterly M&M structural conference. You also become members of the standing catheterization committees, which include education, clinical practice, and research.
Conferences
A number of standing weekly conferences provide didactic experiences to enhance your education. These conferences exceed Accreditation Council for Graduate Medical Education standards.
Interventional case review. To reinforce learning, you meet weekly as a group with an expert interventional cardiologist to review interventional cases performed during the previous week. This activity is mandatory.
Vascular conference. This conference is presented and attended by vascular specialists from a variety of disciplines throughout Mayo Clinic, including surgery, radiology, and cardiology.
Core curriculum. The mandatory curriculum includes didactic lectures and morbidity-mortality review specifically designed for the interventional trainees and fellows rotating through the Cardiac Catheterization Laboratory.
Cardiac Catheterization Laboratory Conference. This mandatory conference is presented by faculty and fellows in the Cardiac Catheterization Laboratory for the Division of Cardiovascular Diseases.
Cardiovascular Grand Rounds. Hosted by Mayo's cardiovascular division, this conference provides education on a broad range of topics for cardiovascular professionals and features both internal speakers and visiting faculty.
In addition, interventional and structural trainees participate in a journal club that is hosted once every three months.
Research training
Research is an important component of this interventional training program, and each trainee is assigned a research mentor at the beginning of the fellowship. Historically, our fellows have averaged approximately two publications and one presentation at a national meeting per year.
Teaching opportunities
Opportunities are available for teaching Level-1 fellows.
Evaluation
To ensure that you acquire adequate knowledge and develop the appropriate technical skills to meet program expectations, individual performance is monitored carefully during the Interventional Cardiology Fellowship.
You are formally evaluated by supervising faculty members on a quarterly basis and meet with the program director to review these evaluations. This is accomplished using the MedHub evaluation system, available through any Mayo Clinic workstation or via remote access.
Completed faculty evaluations are immediately available to you electronically in the MedHub system. In addition, you have the opportunity to complete an evaluation of faculty following each rotation, as well as an evaluation of the program on an annual basis, to confirm that your educational needs are being met.