Department and Faculty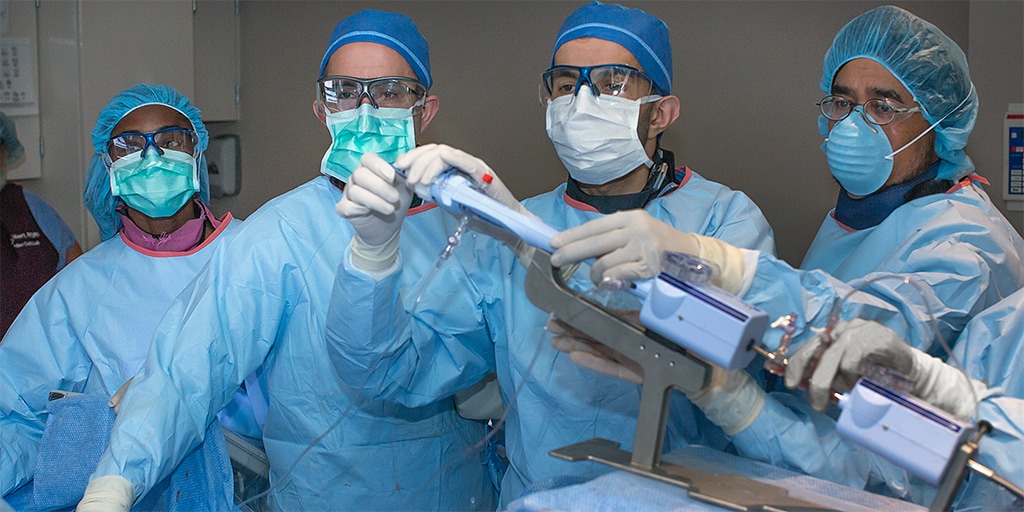 More than 160 physicians make up the Department of Cardiovascular Medicine at Mayo Clinic's campus in Rochester, Minnesota. Cardiologists provide the best possible care to patients with disorders of the heart, arteries, veins, and lymphatic vessels in a highly integrated and cooperative group practice.
Members of the department care for approximately 60,000 patients annually. Supported by many laboratories, subspecialty clinics, preventive health programs, basic and clinical research programs, and by continuing education programs, cardiologists offer patients the latest in new diagnostic techniques, drugs and interventions.
Facilities
The Mayo Clinic Cardiac Catheterization Laboratory is a state-of-the-art facility with six rooms dedicated to interventional cardiology as well as two hybrid operating room suites. The lab is staffed by 22 adult and pediatric cardiologists. Over 7,000 diagnostic procedures and 1,600 percutaneous coronary interventions are performed annually in addition to over 600 noncoronary and valvular procedures.
Faculty
In addition to caring for patients in clinical practice, Mayo Clinic's faculty is committed to teaching and facilitating the growth of medical knowledge. Many of our faculty members have published and lectured extensively and are highly regarded in their fields.
You have direct access to these faculty members throughout your training in the Interventional Cardiology Fellowship, giving you the opportunity to learn from experienced practitioners.
Advisers and mentors
Faculty advisers are available to provide comprehensive educational advice and personal support. You meet with your adviser periodically throughout the program to review your progress and career goals, and ensure that your educational needs are being met. Also, your adviser may serve as a contact point for introducing you and your family to Rochester, Minnesota, and the Mayo Clinic system.
You also are assigned a research mentor to pursue and publish clinical research, a requirement for program completion.
Visiting professors
Many prominent professors visit Mayo Clinic each year. They present their work during lectures, participate in hospital rounds, and have informal discussions with trainees. You are encouraged to take full advantage of these educational opportunities.