Curriculum
The Dermatology Residency is a unique program that offers trainees graduated autonomy culminating in a hands-on senior resident associate (SRA) year.
Clinical experience offers exposure to common dermatologic diseases through service to the local community. Experience in the management of more-complex diseases is also ensured by the many international patients who seek care at Mayo Clinic.
Rotation schedule
A typical Dermatology Residency rotation schedule includes:
First year (PGY-2)
Rotation
Length

Inpatient dermatology and consultation services

Mayo Clinic Hospital — Rochester, Methodist Campus: Includes phototherapy

6 weeks

Outpatient dermatology

Gonda 16: Work with consultants following their unique interests and referral patients

Continuity clinic scheduled weekly at Mayo Family Clinic Northwest except when on hospital service

18 weeks

Dermatopathology and immunodermatology

Participate in daily readout of biopsies

4.5 weeks

Dermatologic surgery

Basic dermatologic surgery under the guidance of consultants or senior resident associates

6 weeks

Pediatric outpatient dermatology

Northwest clinic, Gonda 16, and Vascular Malformation Clinic

6 weeks

Research

1.5 weeks

Specialty outpatient

Individualized schedule in various specialty clinics including patch testing, light therapy, wart clinic, medical genetics, and Mayo Clinic Health System

3 weeks

Community dermatology at Mayo Family Clinic Northwest

Community-based patients seen with a team including resident, consultant, and nurse

3 weeks

Resident continuity clinic

Scheduled weekly at NW clinic (except when on hospital and Northwest rotations)

1/2 day every week
Second year (PGY-3)
Rotation
Length

Dermatopathology and immunodermatology

Participate daily in readout, with opportunity to correlate immunofluorescent, monoclonal antibody, and histochemical studies

6 weeks

Outpatient dermatology

Gonda 16 assignment with consultant

8-9 weeks

Senior Resident Association (Sub-SRA) experience

Resident assigned patient calendar, with consultant supervision

6 weeks

Pediatric and outpatient dermatology

Northwest clinic, Gonda 16, and vascular malformation clinic

6 weeks

Dermatologic surgery

Intensive one-on-one outpatient dermatologic surgery care, with exposure to Mohs micrographic surgery and advanced cutaneous surgical procedures (such as laser, cosmetic, and reconstructive procedures)

6 weeks

Dermatology consultation service

Inpatient dermatologic consultations at Mayo Clinic Hospital — Rochester, Saint Marys Campus

6 weeks

Community dermatology at Mayo Family Clinic Northwest

Community-based patients supervised by consultant

3 weeks

Research

3 weeks

Elective (optional)

Clinical or laboratory research experience or outpatient rotation as approved by education committee, or outpatient dermatology rotation at Mayo Clinic's campus in Arizona or Florida

3-4 weeks

Resident Continuity Clinic

Scheduled weekly at NW clinic (except when on hospital and Northwest rotations)

1/2 day every week
Third year (PGY-4)
Rotation
Length
Senior resident associate (SRA)Outpatient dermatology

Independent outpatient clinic on Gonda 16 with daily supervision by the Mayo Clinic consulting staff
Community and pediatric clinic at Mayo Family Clinic Northwest on a rotational basis

Dermatopathology

One half-day a week in the Dermatopathology Laboratory. Residents have the opportunity to review biopsies from their cases seen in the outpatient practice and stay fresh in preparation for their board examinations

Dermatologic surgery

Weekly dermatologic surgery procedure clinic

11-12 months
Elective (optional)

Outpatient dermatology at Mayo Clinic's campus in Arizona or Florida

1 month
Rotation descriptions
Clinical dermatology
Training in clinical dermatology includes outpatient and inpatient experience.
Outpatient PGY-2. Outpatient training includes care for community-based patients with straightforward and common dermatologic disease at Mayo Family Clinic Northwest. Evaluation of more-complex and rare dermatologic patients referred to Mayo Clinic for tertiary care occurs in the Gonda Building, 16th Floor.

First-year residents spend approximately one month in the dermatology department at Mayo Family Clinic Northwest, where they work with the consultant and a trained nurse team to care for common dermatologic problems. Residents also have a continuity clinic scheduled at the northwest clinic throughout their first two years. Continuity clinic participants are allowed to schedule patients for follow-up visits.

First-year residents also spend time on Gonda 16 working with the consultants in their respective subspecialties.

Outpatient PGY-3. Second-year residents spend six weeks in the dermatology department at Mayo Family Clinic Northwest, where they have steadily increasing autonomy in the care of community patients. Participants continue to experience outpatient care for more-complex patients on Gonda 16, working with all consultants to gain experience in subspecialty work-up clinics.

Outpatient PGY-4. Third-year residents, or senior resident associates (SRAs), are based on Gonda 16. SRAs have their own prescheduled outpatient calendars, with oversight from a supervising consultant.
Hospital and inpatient dermatology
First-year residents gain nearly four months of inpatient dermatology and consultation service experience at Mayo Clinic Hospital — Rochester, Methodist Campus. The consult service provides assistance to many surgical specialties, the hematology inpatient service, and obstetrics and gynecology.
Consultations may vary and include:
Evaluation of incidental skin lesions and minor rashes
Conditions seen in pregnant patients and neonates
Severe graft-versus-host disease, cutaneous T-cell lymphoma and life-threatening dermatoses seen in hematology/oncology and transplant patients
Inpatient training at Mayo Clinic Hospital — Rochester, Methodist Campus, is complemented by training in the phototherapy unit and the opportunity to participate in three of many unique selective opportunities, including:
Extracorporeal photophoresis
Hyperbaric oxygen
Exposure to the wound care center
Lymphedema clinic
Compounding pharmacy
While on inpatient service, residents care for an average of four patients and take call at home via pager for admissions or consultations. Participants learn to care for patients with serious, acute, and chronic skin disorders and associated systemic problems. Upon completion of inpatient rotations, residents are prepared to manage patients with serious dermatologic problems.
Hospital practice PGY-2. First-year residents also cover the day hospital in addition to the inpatient service, which provides the Mayo-developed Goeckerman protocol to patients with psoriasis, as well as limited wet dressing therapy, ulcer care, and scalp treatment.
Hospital practice PGY-3. Second-year residents spend approximately two months at Mayo Clinic Hospital — Rochester, Saint Marys Campus, where they provide consultative care to numerous medical, intensive care and surgical units, and the emergency room. The scope of dermatologic cases ranges from lesion evaluation to toxic epidermal necrolysis (TEN) and other rare dermatoses.
Dermatopathology
The laboratory dermatology rotation exposes residents to pathologies ranging from basic to complex and challenging dermatoses. The high case volume allows trainees to build necessary histopathologic interpretive skills. The lab practice is centrally embedded to allow frequent dialogue between the lab and clinical practice, particularly for challenging cases seen in floor conferences.
In this rotation, residents learn to use clinical, pathologic, and immunopathologic correlation to solve challenging clinical and surgical cases. A large, searchable pathology database can be queried to answer relevant clinical questions. Fully integrated use of digitally scanned pathology slides for educational conferences and private study are available to residents.
The enthusiastic laboratory dermatology staff reflects broad interests and a firm commitment to teaching.
Surgery
The surgical training offered through the Department of Dermatology is an incremental step-structured program that encompasses three years of residency.
The first year is an apprentice training experience. First-year residents learn the nuances of excellence in basic procedural dermatology from senior residents participating in the senior resident procedure clinic.
Second-year residents spend time learning more-complex procedural dermatology, including Mohs surgery and cosmetic procedures. Participants spend one-on-one surgical training time with one of the seven Mayo Clinic Mohs surgeon consultants. Participants are expected to take call during this rotation.
Third-year residents are assigned their own procedure clinic for the entire year. They teach first-year resident apprentices, who work with them throughout the year. As the three years of residency progress, residents are given increasingly more autonomy and responsibility regarding procedural dermatology.
Pediatric dermatology
The pediatric dermatology experience at Mayo Clinic is continuous and progressive. Three pediatric dermatologists represent a broad range of special expertise, including:
Connective tissue disorders
Childhood nevi and malignancies
Dermatoses of pregnancy
Genodermatoses
Vascular birthmarks
Attendance at a monthly didactic curriculum of lectures and textbook reading is required.
Residents are assigned to the pediatric dermatology rotation for one month during both the first and second years of training. This comprehensive experience includes evaluation of complex medical patients, a community practice, a subspecialty referral clinic, and procedures such as laser and excision.
Hospital consultations expose residents to the complex medical issues of neonates and children, including intensive care patients. The service is also commonly involved in the care of pregnant women with dermatoses and the subsequent management of the dermatosis in the newborn if present.
Second-year residents serve as an integral part of the inpatient pediatric dermatology service while performing their hospital consultative months. Third-year residents have their own pediatric patients to care for. Supervision and guidance are available from the pediatric dermatology staff.
Extra training in pediatric dermatology is available as an elective rotation upon request.
Call frequency
Call schedules vary by individual rotation. Mayo Clinic follows the call recommendations of the Accreditation Council for Graduate Medical Education (ACGME).
Teaching opportunities
Residents have the opportunity to teach Mayo Clinic Alix School of Medicine students and visiting students from other medical schools through bedside instruction and formal didactic lectures. Other teaching opportunities are offered through the Service and Professionalism Project.
Career development
Residents meet periodically with various faculty members, administrators, and the program director to discuss professional goals. Mayo Clinic recruits many of its staff physicians from its own training programs.
Evaluation
To ensure that residents acquire adequate knowledge and develop their technical skills, performance is monitored carefully throughout the Dermatology Residency. Residents are evaluated formally by supervising faculty members. Residents also evaluate the faculty regularly to ensure that educational needs are being met. The evaluation process assesses the ACGME core competencies.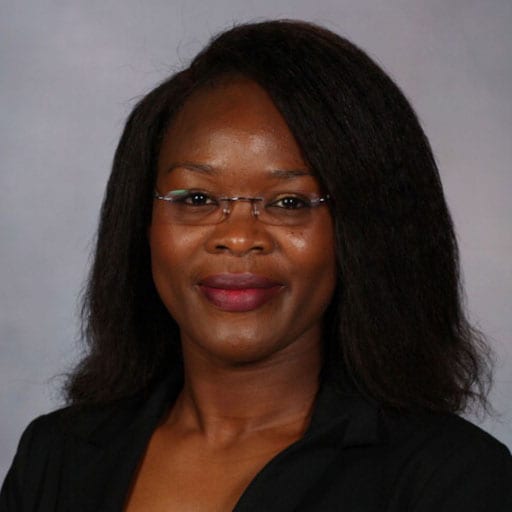 The support I have gotten thus far is overwhelming. There are so many opportunities here from research to clinical work to teaching to leadership. Regardless of your path, the team here is willing to work with and help you achieve it.
Eucabeth Mose, M.D.
PGY-2 Dermatology Resident