Meet The Faculty
From the program director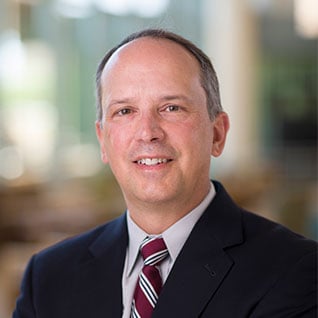 Welcome to the Mayo Clinic Diagnostic Radiology Residency in Arizona! I am excited that you are interested in our program.
The Department of Radiology at Mayo Clinic's campus in Arizona has approximately 50 faculty, many with national and international reputations, that are dedicated to education, research, and world-class patient care. Our favorable faculty-to-resident ratio allows for strong mentorship relationships to develop and continue beyond your training. Many of our faculty have also been program directors at other nationally recognized programs which provides for a diverse educational experience.
Specially designed curriculum, tremendous educational resources, and solid academic instruction are hallmarks of our program. In addition, abundant elective time is allowed in your R-4 year to pursue specific clinical and research interests to include Global Health activities funded through the Mayo International Health Program.
Mayo Clinic's campus in Arizona has modern facilities with state-of-the-art equipment in both Phoenix and Scottsdale. Our Phoenix campus is undergoing a massive expansion at as part of the Arizona-Bold-Forward initiative which will only further enhance your educational experience. Both Phoenix and Scottsdale are wonderful places to live with excellent weather, abundant outdoor activities, and plenty of amenities and conveniences.
Every faculty member in the radiology department at Mayo Clinic's campus in Arizona is fully committed to our program and to you. Our goal is that you become a highly qualified radiologist ready for the joys that a career in radiology has to offer.
Michael Fox, M.D., M.B.A.
Diagnostic Radiology Residency Program Director
Associate Professor of Radiology
From the associate program director
Welcome to Mayo Clinic in Phoenix, Arizona! I am excited to be part of and contribute to the growth of our future generations of radiologists. I was born in Myanmar, raised in Southern California, and am a transplant to Phoenix, AZ. We are in an exciting time for Radiology with the rise of AI technology, online educational content, crowd-sourced online communities, and hyper-connected networks. I believe the residency training experience constitutes a formative period in our careers and lays the foundation for our lives. We at Mayo Clinic believe in training the next generations of outstanding radiologists, agile in thought and mindful of forces of our contemporary fast-moving world. We have AI collaborative initiatives with Arizona State University, MedTech Accelerator Program in addition to enterprise-level priorities to address population health, and regenerative medicine. We pride ourselves on the diverse group of outstanding clinical care, educators, and scientific & thought leaders because we believe that diverse thinking will help us solve current and future problems of our highly interconnected world and the challenges facing healthcare. We take a value-driven systems-level perspective with an integrated practice and work together towards our Mayo brothers founding primary value of "the needs of the patients come first." Our learners and trainees constitute an integral part of this vision. We strive to recruit from diverse backgrounds and training because we believe diversity brings value through novel and unique perspectives which will improve patient care as our campus expands. In addition to our patient care goals, we strive to integrate life and work. We strive for a training program that balances personal and professional goals. Outside of work, Phoenix offers outdoor activities, as well as stellar eateries, and plenty of activities for young professionals, families, and individuals from all corners of life.
Nelly Tan, M.D.
Diagnostic Radiology Residency Associate Program Director
Associate Professor of Radiology
Department
The Department of Radiology at Mayo Clinic's campus in Arizona provides subspecialized, high-quality, and comprehensive imaging and interventional care to patients. The department consists of over 40 radiologists, all of whom have completed subspecialty fellowship training.
The department is organized into eight subspecialty divisions:
Abdominal imaging
Breast imaging
Cardiothoracic imaging
Vascular and interventional radiology
Musculoskeletal imaging
Neuroradiology
Nuclear medicine
Ultrasound
Faculty
In addition to caring for patients in clinical practice, Mayo Clinic's faculty is committed to teaching and facilitating the growth of medical knowledge. Many of our faculty members have published and lectured extensively and are highly regarded in their fields. You work closely with the radiology faculty throughout your training in the Diagnostic Radiology Residency.
Notably, the department has been put together by combining faculty who have spent their entire career with Mayo Clinic along with others who were recruited after spending time as faculty, and in some cases residency program directors, at other academic institutions, including:
Cleveland Clinic Foundation
Duke University
Emory University
Harvard, Brigham and Women's Hospital, and Massachusetts General Hospital
Johns Hopkins University
Mallinckrodt Institute of Radiology
Mayo Clinic in Rochester
University of California, San Francisco
University of Colorado
University of Illinois at Chicago
University of Iowa
University of Florida
University of Michigan
University of Pittsburgh
University of Texas, Health Science Center at Houston
University of Utah
University of Virginia
There is an extensive diversity of experience among the faculty, enabling the department to draw from the best practices in the field to create an excellent residency experience.
Advisers and mentors
The small size of the residency program fosters a nurturing community atmosphere amongst the residents; existing residents routinely serve as contact points for introducing you and your family to the Phoenix area and the Mayo Clinic system.
Visiting professors
Many prominent professors visit Mayo Clinic each year. They present their work during lectures, participate in hospital rounds, and have informal discussions with trainees. You are encouraged to take full advantage of these educational opportunities.