Curriculum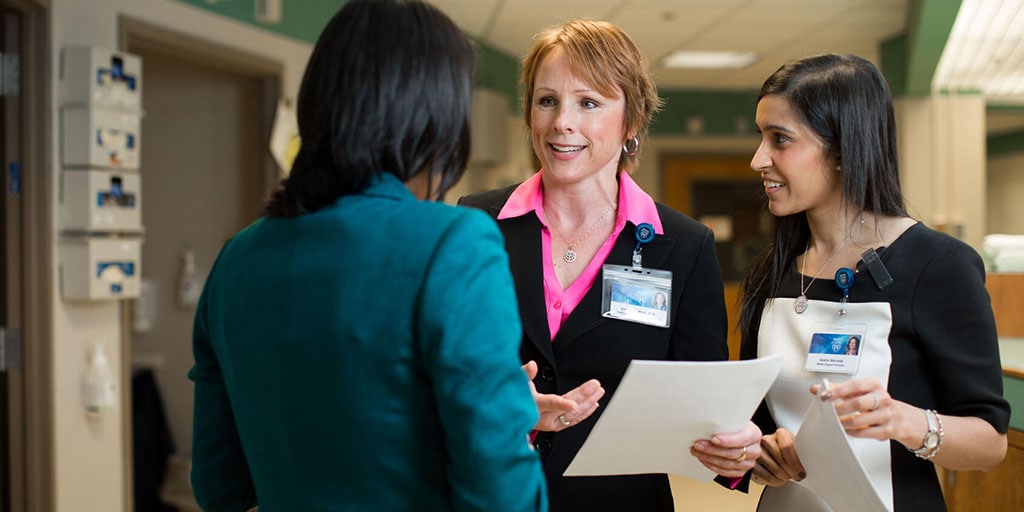 Clinical training
The curriculum for the Gastroenterology Fellowship varies depending upon whether you choose the Clinical Scholar Track or the National Institutes of Health (NIH)-Sponsored Track. However, all clinical training includes patient care, procedures, elective rotations, didactic training, and teaching opportunities.
Patient care
Several rotations in ambulatory and inpatient care are mandatory for all fellows. For example, on the gastroenterology hospital service, you serve as a first assistant to the staff and learn how to manage many types of cases, from the straightforward to the complex.
You are expected to serve in a junior faculty-type role, directly supervising and guiding medical residents on the team, together with the staff physician. These resident physicians are responsible for most direct patient care (such as note writing, orders and dismissal summaries), which frees your time for supervision and teaching.
You also participate in gastrointestinal consultations and perform procedures on hospitalized patients. These experiences help you learn pragmatic and scholarly approaches to a wide array of inpatient diagnostic and therapeutic gastrointestinal problems. Your assignments include several specialty areas that are largely hospital based, including nutrition and liver transplantation.
During the outpatient department rotation, you rotate through most of the subspecialty clinics (such as pancreas, motility and inflammatory bowel disease), where you work directly with expert staff gastroenterologists. In the outpatient practice, the same focus on pragmatic and scholarly approaches to diagnostic and therapeutic gastrointestinal problems exists. In all rotations, you work directly with a supervising staff gastroenterologist.
Procedures
All procedures are performed under the direct supervision of Mayo Clinic staff gastroenterologists. Procedural training includes upper endoscopy, esophageal dilation, esophageal and anorectal manometry, esophageal pH readings, small bowel enteroscopy (including capsule enteroscopy), paracentesis, percutaneous endoscopic gastrostomy placement, colonoscopy, and endoscopic retrograde cholangiopancreatography.
Your endoscopic experience also includes exposure to therapeutic endoscopy, which includes electrocoagulation, hemoclip application, variceal banding, and various stenting procedures. You also have opportunities to learn about gastrointestinal motility, the dynamic assessment of pancreatic, hepatobiliary and gastrointestinal function, and other procedures.
Elective rotations
Several elective rotations are available, including rotations to Mayo Clinic in Jacksonville, Florida, Mayo Clinic in Phoenix/Scottsdale, Arizona, and some Mayo Clinic Health System sites, such as Eau Claire, Wisconsin, and Mankato, Minnesota, among others.
You may also spend elective time pursuing additional clinical or endoscopic experience at smaller private practices near Rochester, Minnesota; within the Division of Gastroenterology and Hepatology; or in other Mayo Clinic departments, such as surgery, radiology or pathology.
Research training
The Division of Gastroenterology and Hepatology is known internationally for the breadth and depth of its research activities, with expertise in practically every area of these fields. As a result of our research efforts, we have had 2,028 articles, editorials, and reviews published by trainees and faculty over the past five years. See our fellows' publications.
Basic science support is provided in physiology, biochemistry and molecular biology, pharmacology, microbiology, genetics, immunology, cell biology, epidemiology, statistics, and other areas.
At Mayo Clinic, your research mentor closely supervises protocol development, the conduct of the study, data analysis, and final manuscript preparation. Our division's statistician is available to review methodology and statistical considerations. Critical peer and institutional reviews at each stage help ensure high quality. Most Mayo fellows present their work at national meetings and publish several papers.
The integration of basic and clinical research into practice is one of the division's strengths. Over the past five years, we have had 162 reviewed and approved patient-oriented protocols in the Division of Gastroenterology and Hepatology.
Some major areas of research include:
Barrett's esophagus
Celiac disease
Chronic liver disease
Colorectal cancer (prevention and early detection)
Endoscopy (development of new procedures)
Enteric neurosciences
Fecal microbial transplant
Inflammatory bowel disease
Liver and biliary cancers
Liver transplantation
Pancreatic cancer
Viral hepatitis
Current new initiatives within the division include epigenetics, microbial ecology, proteomics and genomics, clinical trials, and obesity.
The divisional research activities are coordinated through the Gastroenterology and Hepatology Research Committee, which meets once a month. Research findings are presented at a weekly research conference.
Didactic training
Clinical conferences, seminars, small discussion groups, journal clubs, formal coursework in the Center for Clinical and Translational Science (CCaTS), and one-on-one instruction are integral parts of the Gastroenterology Fellowship. You work one-to-one with staff gastroenterologists during all aspects of your training. Bedside instruction and other informal teaching methods also are part of the fellowship.
Conferences
A variety of conferences are held each week in the Division of Gastroenterology and Hepatology. Fellows may also find topics of special interest in other conferences sponsored by the departments of Internal Medicine, Surgery, Oncology, Radiology, and Laboratory Medicine and Pathology.
The weekly schedule includes:
Monday — Gastroenterology research conference
Tuesday — Core curriculum for hospital residents,* core lecture for fellows, journal club
Wednesday — Various interest group conferences,* medical grand rounds
Thursday — Gastroenterology and hepatology grand rounds
Friday — Various interest group conferences*
*Fellows make presentations at these conferences.
Teaching opportunities
You have the opportunity to teach Mayo Clinic Alix School of Medicine students, visiting students from other medical schools, and medical residents through bedside instruction and formal didactic lectures. At the beginning of the Gastroenterology Fellowship, you are taught how to give effective presentations, and feedback is provided after most presentations.
Evaluation
To ensure that you gain proficiency and develop the corresponding technical skills, your performance is monitored throughout the Gastroenterology Fellowship. You are formally evaluated by supervising faculty members after completing each clinical rotation and then meet with the program director to review these evaluations. In addition, you regularly evaluate the faculty to ensure your educational goals are being met.