Curriculum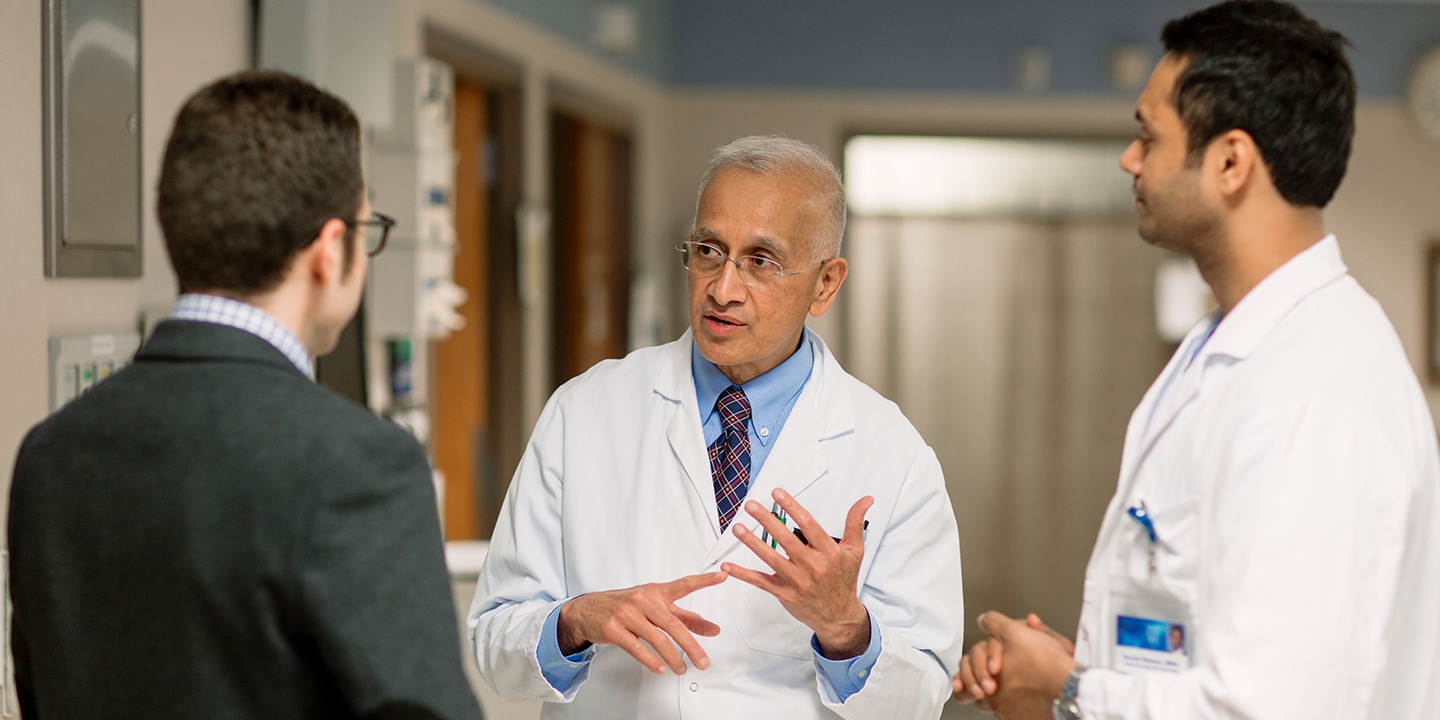 Mayo Clinic is an exciting place to learn and practice. Here are some highlights of our program, learning environment, and care community, which gives you insight into what makes Mayo a world leader in medical education, research, and health care.
Fellowship highlights
33%
of our fellows' time is dedicated to research
25%
of our fellows' time is spent performing procedures
23%
of our fellows' time is spent in the inpatient setting
13%
of our fellows' time is spent in the outpatient setting
5%
of our fellows' time is spent in elective rotations
There is no in-house call is required on any rotation. There are 3.5 months of home call and six months when fellows need to be available by pager at night for infrequent questions by residents or teams requesting consultations, during the three-year fellowship.
Elective opportunities (with travel and housing provided) are available at the Mayo Clinic campuses in Arizona and Florida as well as in community practices at Mayo Clinic Health System sites.
There are rotations in the viral hepatitis clinic within the standard curriculum, with elective time available in the HIV clinic.
There is a dedicated bleeding team and emergency endoscopy rotation.
There is an opportunity for one year of dedicated mentored research time in an area of interest to the fellow.
An annual research retreat allows fellows to meet with the Division of Gastroenterology and Hepatology faculty researchers.
Trip allowance: 10 days a year for presentations; one attendance-only trip during fellowship; yearly attendance for the regional meeting.
Opportunity for attendance at Mayo Board Review Course during the second and third year.
Mayo Clinic offers many excellent advanced fellowship opportunities in Gastroenterology and Hepatology.
Elective rotations
Several elective rotations are available, including rotations to Mayo Clinic campuses in Jacksonville, Florida; Phoenix/Scottsdale, Arizona; and some Mayo Clinic Health System sites in Eau Claire, Wisconsin, and Mankato, Minnesota, among others.
You may also spend elective time pursuing additional clinical or endoscopy experience or you may take advantage of new elective opportunities including endobariatrics/obesity, endoscopic therapies for Barrett's esophagus, and endoscopy innovation, to name a few. Career development electives are also available on clinical trials, artificial intelligence, health care delivery, and leadership/quality improvement.
Teaching opportunities
You have the opportunity to teach Mayo Clinic Alix School of Medicine students, visiting students from other medical schools, and medical residents through bedside instruction and formal didactic lectures. At the beginning of the Gastroenterology Fellowship, you are taught how to give effective presentations, and feedback is provided after most presentations.
Evaluation
To ensure that you gain proficiency and develop the corresponding technical skills, your performance is monitored throughout the Gastroenterology Fellowship. You are formally evaluated by supervising faculty members after completing each clinical rotation and then meet with the program director to review these evaluations. In addition, you regularly evaluate the faculty to ensure your educational goals are being met.