Curriculum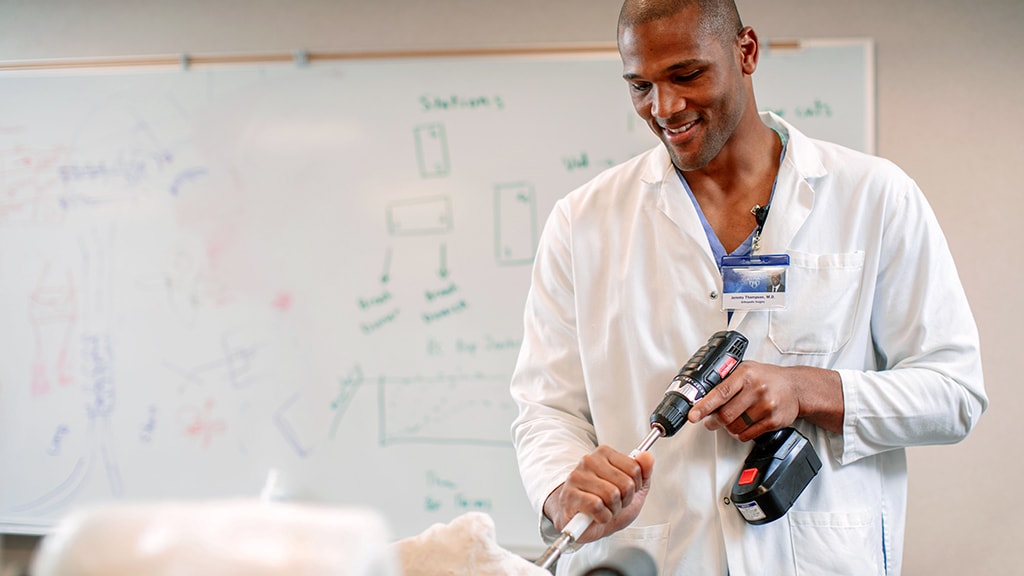 Clinical training and experience in the field
The five-year Orthopedic Surgery Residency includes didactic and research training, along with extensive clinical experience. You gradually assume increasing responsibility for patient care and participate in trauma management throughout the entire residency.
Your clinical training covers all subspecialty areas of orthopedics, including:
Adult reconstruction and knee surgery
Foot and ankle surgery
Hand surgery
Microvascular surgery
Orthopedic oncology
Orthopedic trauma
Pediatric orthopedics
Shoulder and elbow reconstruction
Spine surgery
Sports medicine
During your residency, you serve as a team physician for one of the local high schools or the junior college. You participate in all aspects of care for the athletes, including pre-participation examination, training, decision-making about continuing play, evaluation and treatment of injuries, and rehabilitation.
Call frequency
Your call schedule varies by rotation. Mayo Clinic follows the schedule recommendations of the Accreditation Council for Graduate Medical Education.
Mayo provides exposure to the entire breadth of orthopedics while also providing excellent training in each separate subspecialty. Because Mayo serves as a referral center for difficult problems, I have been exposed to a large number of complex cases within each subspecialty, while also seeing a high volume of 'bread and butter' orthopedics.
John Weston, M.D.
Orthopedic surgery resident
Rotation schedule and program descriptions
PGY-1
During the intern year, you have six months in non-orthopedic rotations and will be involved in a curriculum that focuses on orthopedic knowledge and surgical skills development. There will be protected time in your schedule to allow for ample time to develop these foundational skills.
During the six months on orthopedic rotations, you'll rotate through adult reconstruction, foot and ankle surgery, orthopedic oncology, shoulder and elbow surgery, spine surgery, and sports medicine.
Rotation
Length
General surgery/trauma
1 month
Surgical critical care
1 month
Plastic surgery
1 month

Physical medicine and rehabilitation

Spinal cord rehabilitation
Amputee clinic

1 month
Emergency medicine
1 month
Neurosurgery
1 month
Orthopedic surgery
6 months
The ability to practice my surgical skills in the cadaver lab throughout my residency is an invaluable opportunity not seen at other programs. As an intern, I've already been able to perform a knee scope and total knee arthroplasty with a senior resident. Having the opportunity to become familiar with the basics of orthopedic surgery in an environment such as the lab is extremely beneficial to my learning.
Alexis Matrka, M.D.
Orthopedic surgery resident
PGY-2
During PGY-2, you spend six months on basic science, three months on the Orthopedic Trauma Service, and three months as a senior resident. Your assignments vary somewhat according to your needs and prior experience.
Through these rotations, under staff guidance, you'll become increasingly familiar with orthopedic literature, care of orthopedic inpatients, surgical techniques, and the evaluation of outpatients — both in the clinic and the emergency room.
The six-month Orthopedic Knowledge and Skills basic science course includes didactic lectures presented by orthopedic staff members and faculty from allied fields, laboratory sessions, extensive reading, clinical conferences, and the opportunity to perform clinically relevant research.
Lecture topics include a broad spectrum of science related to the musculoskeletal system, such as:
Anatomy
Biochemistry
Biomechanics
Immunology
Infectious diseases
Microbiology
Microvascular surgery
Molecular biology
Orthotics
Pathology
Physiology
Prosthetics
Rheumatology
These topics are reinforced with laboratory experiences such as anatomy (cadaver dissection), motor skills and microvascular surgery laboratories. You also learn about orthopedic tools, instruments, and implants, and how they are used in trauma and reconstructive surgery.
| Rotation | Length |
| --- | --- |
| Orthopedic surgery/basic science course (junior resident) | 6 months |
| Orthopedic trauma service (junior resident) | 3 months |
| Senior resident | 3 months |
One of my favorite components of the program is our Orthopedic Knowledge and Skills curriculum (a.k.a. Basic Science). Every afternoon is protected for lectures and cadaver labs where we go through the entirety of orthopedics — learning about every orthopedic subspecialty and performing surgeries on fresh frozen cadaver specimens. I was able to improve my knowledge and surgical skills to a high level at an early time in my residency.
Joseph Statz, M.D.
Orthopedic surgery resident
PGY 3-5
During the final three years of residency, you'll be a senior resident on all orthopedic specialty rotations. With graduated independence, you consult with orthopedic patients and participate in preoperative decisions, surgical procedures and postoperative management at the hospital and outpatient clinics.
You'll rotate in all of the subspecialty areas:
Foot and ankle surgery
Hand surgery, including microsurgery
Hip and knee reconstruction
Orthopedic oncology
Orthopedic trauma
Pediatric orthopedics
Shoulder and elbow reconstruction
Spine surgery
Sports medicine
You'll also have the opportunity to do elective rotations in your desired area of focus.
In addition, as a senior resident you'll have the opportunity to spend three or more months on an off-campus rotation. Your options include:
Mayo Clinic's campus in Jacksonville, Florida — gain experience in sports medicine and arthroscopy
Nemours Children's Clinic within Wolfson Children's Hospital at Baptist Medical Center in Jacksonville, Florida — a large, academically oriented pediatric practice that provides experience with both trauma and elective orthopedics
R. Adams Cowley Shock Trauma Center at University of Maryland Medical Center in Baltimore, Maryland — exposure to a large academic trauma center
Mayo Clinic funds the authorized additional expenses for your travel, housing, car rental and licensure fees. Our residents consistently rate these rotations very highly.
Didactic training and visiting professors
Clinical conferences, seminars, small discussion groups, journal clubs, and one-on-one instruction are an integral part of the Orthopedic Surgery Residency. You're encouraged to attend four or more of the 14 orthopedic conferences that are available for residents each week.
Many prominent professors visit Mayo Clinic each year. They present their work during lectures and case-based discussions. You're encouraged to take full advantage of these opportunities.
Advisers and mentors
Mayo's mentorship model is commonly cited by residents as one of the top reasons they chose this program, and by alumni as one of the things they appreciated most about their training experience.
In this model, you're paired with a consultant surgeon for each rotation. You keep the same clinical and operative schedule as the surgeon, working one-on-one with him or her for the duration of each rotation (typically 13 weeks). Not only does this provide you with the best training experience, it also facilitates more rapid advancement of surgical skills during a rotation and a higher ceiling for learning. It also allows you to develop more meaningful and lasting relationships between other residents and staff.
Research training
Orthopedic research laboratories are established in biomechanics, biochemistry and cell biology, cartilage metabolism, microvascular surgery, and molecular biology. During your residency, you learn research methodology and complete at least one research project. Statistical support is available on the orthopedic floor and through the Department of Health Sciences Research.
Master's Research Program
If you choose to participate in the Master's Research Program, you exchange six months of clinical training during your second year for basic laboratory training under the guidance of a full-time orthopedic surgery staff member and a Ph.D.-level researcher. This allows you to earn a master's degree within the five-year residency program without having to extend your training. The degree requirements include preparing and carrying out a research project, writing a thesis, and passing written and oral examinations.
Clinician-Investigator Training Program
The Clinician-Investigator Training Program is an integrated, comprehensive educational experience for trainees interested in pursuing a research-based career within a robust clinical practice.
Clinical and translational research training
Mayo Clinic provides a variety of services to all Mayo investigators and study teams. Learn more about opportunities in the Center for Clinical and Translational Science (CCaTS).
Evaluation
To ensure that you acquire adequate knowledge and develop your technical skills, your performance is monitored carefully during the course of the Orthopedic Surgery Residency. You're evaluated formally by your supervising faculty member after each clinical rotation. In addition, you regularly evaluate the faculty to ensure that your educational needs are being met.
Mayo's mentorship model is the best way to train. Working consistently with one consultant (attending) at a time allows you to maximize your education and build rapport. I've been able to gain deep insights into complex problems and orthopedic thought processes as well as master operative techniques due to the relationship and trust I've been able to build with my consultants.
Joseph Statz, M.D.
Orthopedic surgery resident