Application Process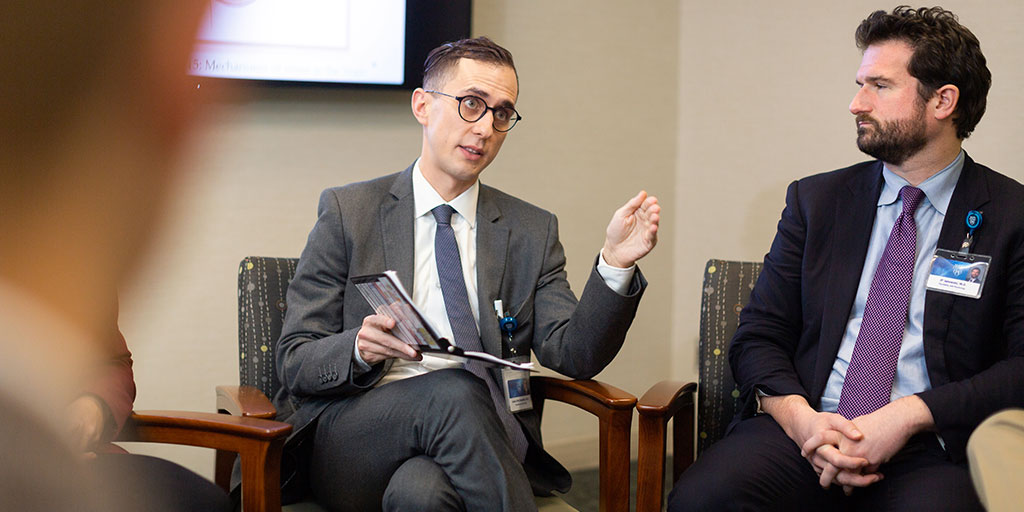 Positions
There are typically 11 positions available each year on a competitive basis.
Qualifications
To apply to Mayo Clinic's Psychiatry Residency, you must have successfully completed medical school training. Appointments at the first-year level are made through the National Residency Match Program (NRMP). However, candidates who are eligible for admission outside the NRMP also are given consideration. Occasionally, there are openings at the PGY-2 level; candidates for these positions are welcome outside the NRMP.
Application process
You must apply through the Electronic Residency Application Service (ERAS). International medical graduates should contact the Educational Commission for Foreign Medical Graduates (ECFMG) for information on how to apply using ERAS.
Applications for each academic year should be completed by Nov. 15 of the year preceding the program start date.
To apply to the program, visit the ERAS website. All applications to Mayo Clinic School of Graduate Medical Education programs must include these application materials. Also, note that:
USMLE scores must be provided with the application in order for it to be considered.
If you are transferring from another training program, one of your letters of recommendation must be from your current program director.
Three original Letters of Recommendation are required. Each letter should include the writer's opinion of your professional, academic, and personal qualifications, as well as an opinion of your potential success in the field for which you are applying.
Appointments for PGY-1 positions are made through the NRMP. All PGY-1 candidates must register through the NRMP website.
Applicants considered for an appointment will be invited to interview with the program director and selected faculty. Interviews are conducted Monday-Friday during November and December.

If selected for an interview, applicants will be notified by email.

Note: Due to COVID-19, all interviews will be conducted virtually.
Frequently asked questions (and answers)
Is there anything I can do to strengthen my application?
We are looking for colleagues who will first contribute to our learning community, and then to our field of psychiatry as a whole. We read all applications in an effort to understand who you are as a person, how you approach the process of your education, and what your career goals might be.
Do you have a USMLE score requirement?
We do not. Scores are evaluated within the larger context of the overall application. USMLE/COMLEX transcripts must be included with your ERAS application. Because our program participates in the NRMP match, we require that IMG candidates sit for the Step 2 CS PRIOR to December 31, 2021, in order to be considered for a position at Mayo in 2022.
How are applications processed?
All applications are accepted through ERAS and must meet ERAS standards. We strongly recommend applications be submitted by the date ERAS opens as those are prioritized over applications that arrive later in the recruitment season. Interviews are by invitation only and will be conducted November 2021-January 2022. We receive over 900 applications for 11 spots and this year we will offer 120 interviews. We review all applications that meet our minimal standards, and offer interviews to those candidates who we think can meet our rigorous academic requirements and who show potential to contribute to our learning community and to the field of psychiatry.
Does Mayo Clinic or the state of Minnesota have any unique requirements?
The Mayo Clinic School of Graduate Medical Education requires that all residents be licensed by the end of their PGY-2 year. In order to be licensed in Minnesota, the Minnesota Board of Medical Practice requires that each step of the USMLE must be passed within three attempts. If you have taken any one USMLE exam step three or more times without a passing score, you will not be eligible for licensure in Minnesota and your application cannot be considered.
The Minnesota Board of Medical Practice requires that USMLE Step 3 be completed within five years of passing Step 2. (e.g. If someone passed either Step 2 in 2007, they will need to pass both Steps 2 and Step 3 by December 2012 or they can never be licensed in MN.)
For international students, see information regarding visas.