Curriculum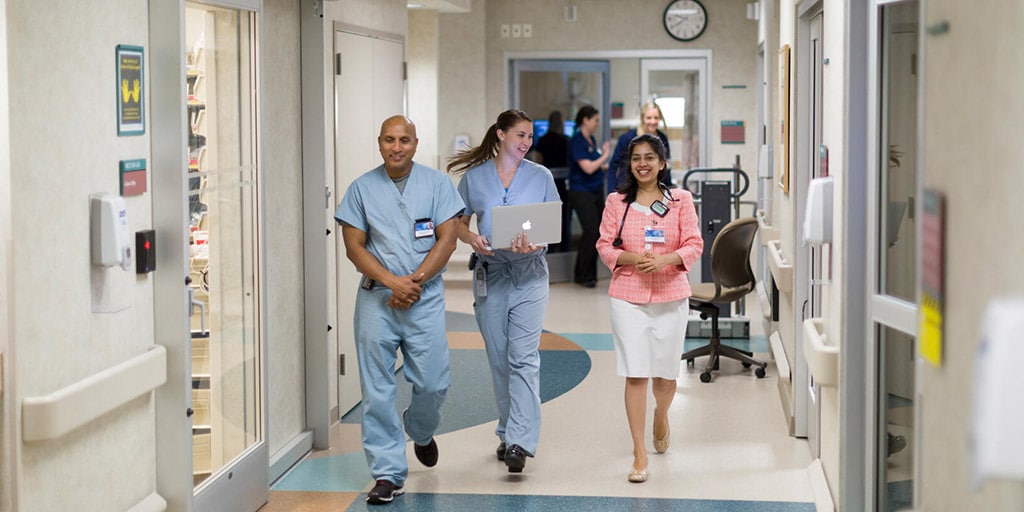 Clinical training
A key strength of the Renal Transplant Fellowship is the exposure to a large, wide-ranging population of kidney and pancreas transplant recipients within a highly integrated, patient-centered clinical program.
This high volume of transplant procedures provides you with an excellent experience in managing kidney and pancreas recipients in both inpatient and outpatient settings.
1000+
transplant kidney biopsies annually
Despite the high volume, the program is structured to maximize the learning of the fellows with an excellent balance between learning and clinical service. This is possible due to the exceptional support from the advanced practitioners and allied staff. The role of the fellow is to work at the level of a junior faculty. The advanced practice providers are responsible for the documentation including all H/P, discharge summaries, and most progress notes, and placing all orders in the primary inpatient service. In the inpatient consult service, the consult notes and progress notes are also performed by the advanced practice providers. The fellow supervises and provides the recommendations in conjunction with the attendings.
Renal Transplant fellows train in inpatient and acute outpatient and long-term outpatient settings.
Throughout the fellowship, you work closely with consultants in transplant nephrology, transplant surgery, renal pathology, transplant infectious diseases, HLA and tissue typing, renal radiology, and transfusion medicine. You also interact regularly with specialists in endocrinology, cardiology, dermatology, and psychiatry who have focused expertise on the care of recipients with transplants. In addition, you have opportunities to share the care of multi-transplant recipients with members of the liver, heart-lung, and bone marrow transplant groups.
Rotation schedule and descriptions
| Rotation | Length |
| --- | --- |
| Transplant nephrology primary service (inpatient) | 13 weeks |
| Transplant nephrology consult service (inpatient) | 13 weeks |
| Transplant nephrology clinic (outpatient) | 12 weeks |
| HLA laboratory (outpatient) | 3 weeks |
| Pathology (outpatient) | 4 weeks |
| Transplant infectious disease | 1 week |
| Research | 4 weeks |
| Elective | 1 week |
As a fellow, you are part of an integrated medical and surgical hospital team that consists of transplant nephrologists, transplant surgeons, nephrology fellows, transplant surgery fellows, general surgery residents, and a physician assistant.
There are two inpatient services:
Primary service. The typical census is 7-17 patients including recent recipients of living- or deceased-donor kidneys, recent pancreas transplant recipients, recent dual organ transplants (simultaneous liver-kidney, heart-kidney), and recent living kidney donors, as well as transplant recipients with acute medical and surgical illness within one year of transplant.

You gain extensive experience in routine post-transplant management, initiation, and modification of immunosuppressive therapy, as well as management of a wide range of transplant-related complications. You evaluate patients daily and coordinate diagnostic, management, and dismissal plans with the inpatient and outpatient teams.
Consult service. The typical census is 10-18 patients. The team consists of the transplant nephrologist, the fellow, an NP/PA, and on occasions, a resident. The team provides consults on patients who have had a kidney or pancreas transplant more than a year ago. Consultants are also provided for any other solid organ transplants (heart, liver) with acute or chronic kidney issues. You gain extensive experience in routine post-transplant management, as well as management of a wide range of transplant-related complications.
You evaluate recently discharged recipients of living- and deceased-donor kidney and pancreas transplants, as well as recipients requiring acute evaluation or ongoing management of medical and surgical complications. The clinic operates in a paperless environment with clinical documentation, laboratory results, and radiological images available electronically.
The outpatient team consists of a transplant nephrologist, a renal transplant fellow or nephrology fellow, and a physician assistant with transplant surgeon consultation directly available. You are primarily responsible for generation of diagnostic, consultative, therapeutic, and follow-up plans with ample opportunities to discuss cases with supervising physicians and to maintain continuity of care on individual patients.
You evaluate many patients undergoing transplant biopsy for graft surveillance, as well as for acute graft dysfunction. Opportunities are routinely available to review and discuss biopsies with a consultant renal pathologist.
Recipients of kidney and pancreas transplants who have had their transplants for one year or longer are seen annually for a detailed review of graft function, immunosuppressive therapy, and related medical issues. Long-term graft recipients with acute or subacute medical illness are also evaluated.
The clinic is staffed by a transplant nephrologist, a renal transplant fellow or nephrology fellow, and transplant nurse practitioners.
You are primarily responsible for comprehensive care of the patients and gain experience working with midlevel providers specializing in long-term care of transplant patients, as well as in the design and application of management protocols for hypertension, bone disease, hyperlipidemia, cardiovascular disease, obesity, and chronic renal allograft dysfunction.
Potential recipients of kidney and pancreas transplants and potential kidney donors are evaluated. You conduct initial evaluations with the supervision of a nephrologist who has expertise in the evaluation of potential donors and recipients. You participate in the weekly multidisciplinary review of candidates and in the formal selection conference meetings.
You are assigned on the inpatient transplant infectious disease service. Exposure includes a wide variety of pathology among recipients of kidney, pancreas, liver, heart, and bone marrow transplants.
You have four weeks of dedicated renal pathology training, which involves working closely with the renal pathologist reviewing biopsies and receiving one-on-one didactic training. Mayo Clinic's campus in Phoenix, Arizona, performs protocol biopsies on all kidney and pancreas transplants (approximately 700 are reviewed each year).
As part of this fellowship, observational and didactic instruction in methods of blood and tissue typing, assays for crossmatching and alloantibody measurement, and the use of therapeutic apheresis for conditioning and treatment of specific transplant patients are provided within the tissue typing and apheresis laboratories, coordinated by the consultant and technical staff of the laboratories.
To fulfill UNOS certification requirements, you observe kidney and pancreas transplant surgeries and living-donor nephrectomies. You also accompany the transplant surgery team on organ procurements.
Moonlighting
You may moonlight with program director approval, but only during outpatient rotations. Moonlighting should not interfere with the required learning and must not violate the duty-hour rules of the Accreditation Council for Graduate Medical Education (ACGME) or visa regulations.
Teaching opportunities
Along with Transplant Surgery fellows, you share responsibility for resident supervision and teaching on the inpatient service. You also present at conferences, including Grand Rounds, and journal club. You have an opportunity to participate in teaching second year medical students during Mayo Clinic Medical School "renal block."
Evaluation
To ensure that you acquire adequate knowledge and develop the appropriate technical skills to meet program expectations, your performance is monitored carefully during the Renal Transplant Fellowship. You are formally evaluated by supervising faculty members after each clinical rotation and meet with the program director to review these evaluations. In addition, you regularly evaluate the faculty to confirm that your educational needs are being met.