Overview
The Renal Transplant Fellowship at Mayo Clinic's campus in Phoenix, Arizona, provides outstanding clinical and research experience in kidney transplantation, as well as the opportunity to develop expertise in pancreas transplantation. The Phoenix campus of Mayo Clinic offers a rigorous academic environment and comprehensive training in all areas of transplant nephrology.
Educational goals for the Renal Transplant Fellowship include:
Proficiently managing patients needing kidney and pancreas transplants throughout the continuum of care, from the initial evaluation process through long-term follow-up care
Preparing for a successful career in transplant nephrology with an emphasis on kidney or pancreas transplantation
Applying innovative, multidisciplinary protocols for living-donor and deceased-donor kidney transplantation with an active paired kidney donation program
Achieving eligibility for United Network for Organ Sharing (UNOS) certification in kidney and pancreas transplantation
Obtaining expanded academic and research experience in organ transplantation
Fellowship highlights
High volume of transplants with excellent outcomes
According to the Organ Procurement and Transplantation Network, Mayo Clinic's campus in Arizona has been consistently ranked among the top 5-10% of centers with respect to the total volume of kidney and pancreas transplants performed in the U.S.
Recent Scientific Registry of Transplant Recipients (SRTR) data for Mayo Clinic's Arizona campus reports that one-year patient survival after kidney transplant is 99.29% (significantly better than expected) and one-year survival after a deceased-donor graft is 96.38% (also higher than expected). Among living-donor kidney transplants, the outpatient survival rate is 100% and graft survival is 98.45% at one year; both are higher than expected.
A high volume of transplant procedures provides you with an excellent experience in managing kidney and pancreas recipients in both inpatient and outpatient settings.
Multidisciplinary clinical practice
Inpatient. Mayo Clinic transplant nephrologists have strong working relationships with transplant surgeons. Inpatient rounds include medical and surgical consultants, residents, physician assistants, nurse practitioners, transplant pharmacists, and nurses. You will lead rounds and participate in all aspects of inpatient care under close supervision.
Outpatient. Transplant nephrologists collaborate with surgical colleagues in the evaluation of potential donors and recipients and in transplant selection. They also evaluate patients on the deceased-donor wait list annually as well as provide routine and acute care to patients after kidney and pancreas transplants.
Renal pathology
This includes a dedicated four-week rotation with a renal pathologist. Mayo Clinic's campus in Arizona performs protocol biopsies on all kidney and pancreas transplants. Approximately 700 are reviewed a year. You will work closely with the renal pathologist reviewing biopsies and receiving one-on-one didactic training.
HLA laboratory
The HLA laboratory at Mayo Clinic's campus in Arizona is certified by the American Society for Histocompatibility and Immunogenetics. Fellows have a dedicated four-week laboratory rotation devoted to tests related to transplantation, including HLA typing, crossmatching, and flow cytometry.
Transplant infectious disease
You will be assigned to the inpatient transplant infectious disease service, working closely with the transplant infectious disease consultant. Exposure includes a wide variety of pathology among recipients of kidney, pancreas, liver, heart, and bone marrow transplants.
Research
During the fellowship, you will spend four weeks of dedicated research time with transplant nephrologists who have funded research projects.
Transplant
To fulfill UNOS certification requirements, Renal Transplant fellows observe kidney and pancreas transplant surgeries and living-donor nephrectomies. Fellows also accompany the transplant surgery team on organ procurements.
Didactic training
The Renal Transplant Fellowship provides a wide range of didactic exposure, including:
Renal Pathology Conference (bimonthly)
Transplant Clinical Case Vignette (monthly)
Transplant Organ Review (monthly)
Transplant Morbidity and Mortality Conference (monthly)
Transplant Grand Rounds (monthly)
Transplant Journal Club (monthly)
Transplant Selection Conference (weekly)
Internal Medicine Grand Rounds (weekly)
Nephrology Core Curriculum Lectures (weekly)
Accreditation
The Renal Transplant Fellowship is jointly accredited by the American Society of Transplantation and the American Society of Nephrology through the Transplant Nephrology Fellowship Training Accreditation Program.
The American Board of Internal Medicine also supports the fellowship as a nonstandard program for foreign medical graduates on J-1 exchange visas.
Certification
Successful completion of the fellowship should allow you to meet criteria set forth by UNOS for designation as a renal transplant physician and a pancreas transplant physician.
Program history
The Renal Transplant Fellowship at Mayo Clinic's campus in Phoenix, Arizona, began in 2012. We anticipate that one trainee will complete this program annually.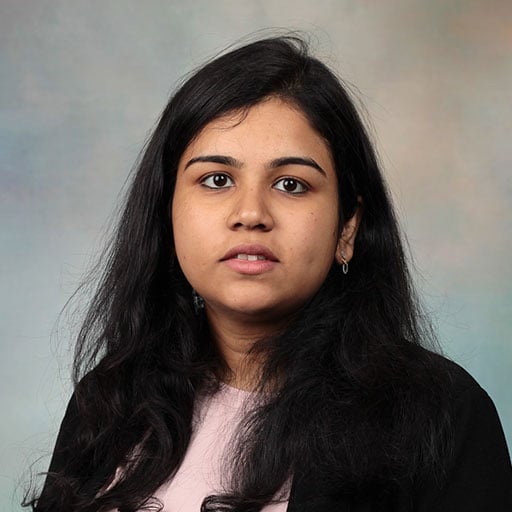 What struck me is the collegial and friendly environment at Mayo Clinic. I feel extremely prepared to take on my next endeavor as faculty. This program is structured to give you every opportunity to succeed in your career. I will cherish my past year and the wonderful bonds I have made here.
Vaishnavi Pochineni, M.B.B.S.
Renal Transplant Fellow