Curriculum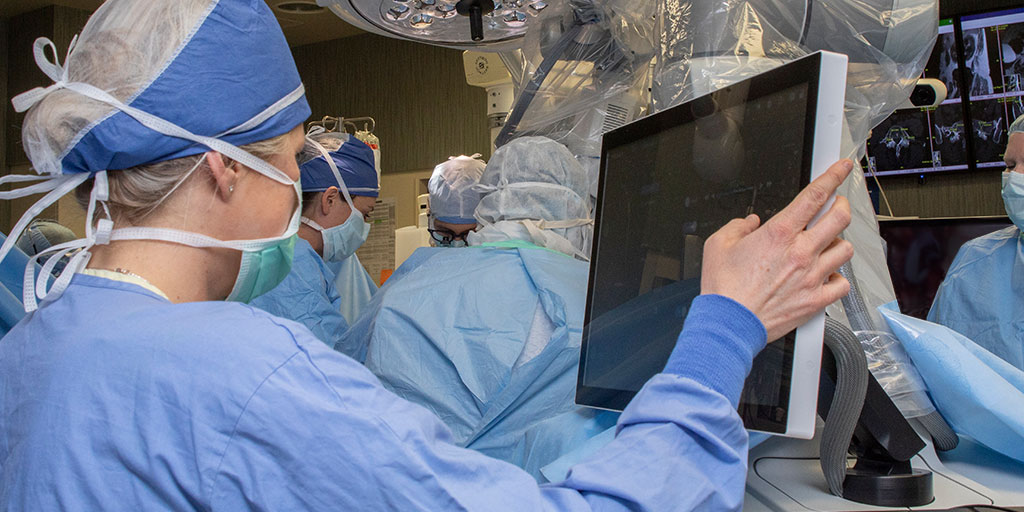 Clinical training
Our curriculum offers a well-rounded experience that gives fellows graduated independence.
The first two months of the fellowship are designed to orient you to the institution and the fellowship. You will spend one month with the program director and one month with the associate director. During orientation, your time will be equally divided between the clinic and the operating room.
During the following 10 months, you will float between all six of the core faculty members:
Periodically, you also operate with Peter Rose, M.D., on spine tumor and trauma cases. You may also work with several spine fellowship-trained colleagues in the Department of Neurologic Surgery on an ad hoc basis.
During the float period, you will spend the majority of your time in the operating room. You will have limited clinical responsibilities outside of the operating room during the float period.
Schedule
Month

Activity

Month 1

Orientation with the program director

Alternate days in the outpatient clinic and operating room

Month 2

Orientation with the associate program director

Alternate days in the outpatient clinic and operating room

Remaining 10 months

Structured float period with parity among all six Adult Spine services

Three days per month in specific clinics and the rest of time in the operating room

Supervise residents on call and on weekends

Perform surgery with Dr. Rose, ad hoc, on spine tumor and trauma cases

Operate with several colleagues in the Department of Neurologic Surgery on an ad hoc basis

Two days per month (on average) dedicated to research
Call frequency
Mayo Clinic College of Medicine and Science follows all of the Accreditation Council for Graduate Medical Education (ACGME) guidelines.
Spine trauma
Spine trauma call is shared with the Department of Neurologic Surgery, with each department responsible for call on alternating weeks. During the weeks assigned to orthopedics, you alternate pager call from home on weekdays and weekends. You are responsible for the evaluation of emergency patients who require a spine surgery consultation. You also work to coordinate staff coverage and formulate overall care plans.
Pager call from home averaging every fourth night on call
Evaluation of emergency patients to be admitted after initial assessment by orthopedic and neurosurgery senior residents
Coordination of overall plan of care and participation in surgery on trauma patients
No regular orthopedic trauma call
Inpatient spine consultations
You evaluate all consultation requests when you are on spine call and coordinate further consultation with staff members.
Conferences
During the Spine Surgery Fellowship, you coordinate and attend the weekly joint spine conference with Department of Neurologic Surgery; you also attend the weekly Orthopedic Surgery Grand Rounds and other education conferences. Your duties also include coordinating the monthly spine journal club and maintaining our digital teaching files.
Research training
You are responsible for completing at least one clinical research project before the Spine Surgery Fellowship ends and preparing one project that can be completed by the next group of fellows. Additional clinical or basic science research opportunities are readily available.
During the fellowship, you have one day every other week on average to devote to research. You may apply to continue research training for an additional year to acquire additional research skills.
Teaching opportunities
Opportunities are available for you to teach rotating residents.
Evaluation
To ensure that you acquire adequate knowledge and develop the appropriate technical skills to meet program expectations, your performance is monitored carefully during the Spine Surgery Fellowship. You are formally evaluated by supervising faculty members on a regular basis and meet with the program director to review these evaluations. In addition, you regularly evaluate the faculty to confirm that your educational needs are being met. Your core competencies and milestones are evaluated by the Clinical Competency Committee semiannually in accordance with the ACGME requirements.