Gregory R. Anderson, M.D.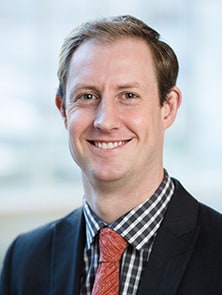 What attracted you to medicine and orthopedic surgery?
Being able to help relieve pain was a large draw to medicine. Orthopedic surgery offers the opportunity to provide rapid yet long-lasting results to patients.
The biomechanics of the human body are fascinating, and a sound understanding can lead to patient relief and healing.
What made you decide to complete a visiting clerkship at Mayo Clinic?
I was always fascinated by Mayo Clinic, including its unique culture of teamwork and focus on education. The "patient first" mentality takes patient care to another level. It is a world-class institution that is on the forefront of research.
What was most beneficial, or what did you enjoy most, about your clerkship experience?
The consultants were incredible to work with. They are so humble, yet all are at the top of their field. Working with the residents showed me the excellent quality of training here and an amazing culture of camaraderie.
What do you find most inspiring or unique about Mayo Clinic?
I was amazed at how all of the physicians are at the top of their field, yet are so approachable and love to teach. Also, the culture of teamwork leads to a complete focus on patient care.
What is living in Rochester, Minnesota, like for you?
I have loved it here. I am married with children, and this city has been the perfect place for us. That being said, married or single, Rochester has plenty of fun places to eat and things to do.
Not to mention, the Twin Cities is close enough to provide professional sports, the Mall of America and anything you are looking for.