Jay-Sheree P. Allen, M.D.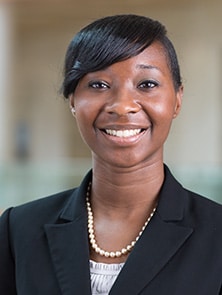 What attracted you to medicine and family medicine?
For as long as I can recall, I've always wanted to be a doctor. It may have something to do with the fact that my mother was a nurse, but somehow that was my dream, and I've managed to hold on to it all these years.
As a medical student at Meharry Medical College, I enjoyed working with family medicine physicians. They were the doctors I wanted to emulate. I also enjoyed the scope of family medicine and being able to care for adults, children, men and women.
I ultimately chose this field because I wanted to be able to do the most good for the most people. As a family medicine physician, I'd be able to do just that.
What made you decide to complete a visiting clerkship at Mayo Clinic?
The dean at Meharry Medical College, Millard Collins, M.D., encouraged me to complete the visiting clerkship at Mayo Clinic. He was my mentor throughout medical school, and in a conversation about residency applications he told me that I should challenge myself. He encouraged me to spend some time working with the best — the best being Mayo Clinic.
What was most beneficial, or what did you enjoy most, about your clerkship experience?
I enjoyed working in the family medicine continuity clinic in Kasson, Minnesota. At the start of each clinic session, we have a huddle where the entire care team gathers to discuss the needs of each patient visiting the clinic that day. I've described it as a well-oiled machine — everyone has a role and carries it out really well.
I was also impressed by the range of pathologies on the hospital service, my experience on the newborn nursery and the procedure clinic, which are unique aspects of this program. I figured if I was able to learn that much in a month, I was excited about all that I could learn in three years as a resident here.
What do you find most inspiring or unique about Mayo Clinic?
Mayo Clinic is as good as everyone says it is. Very few things live up to their reputation, but this hospital most certainly does. Everyone is very passionate about his or her role here, and it makes for a very pleasant and efficient work environment — one in which the needs of the patient really do come first.
What is living in Rochester, Minnesota, like for you?
Surprisingly, I've really enjoyed living in Rochester. Residency keeps me busy, but when I do have time off there's more than enough to do.
There are awesome restaurants in town, and I enjoy eating out. I've also found a great church that I enjoy attending, and once in a while I drive up to the Twin Cities to spend the day there.
But, since I am a New Yorker, I also have the Friday night flight times memorized when I need a quick weekend trip home.