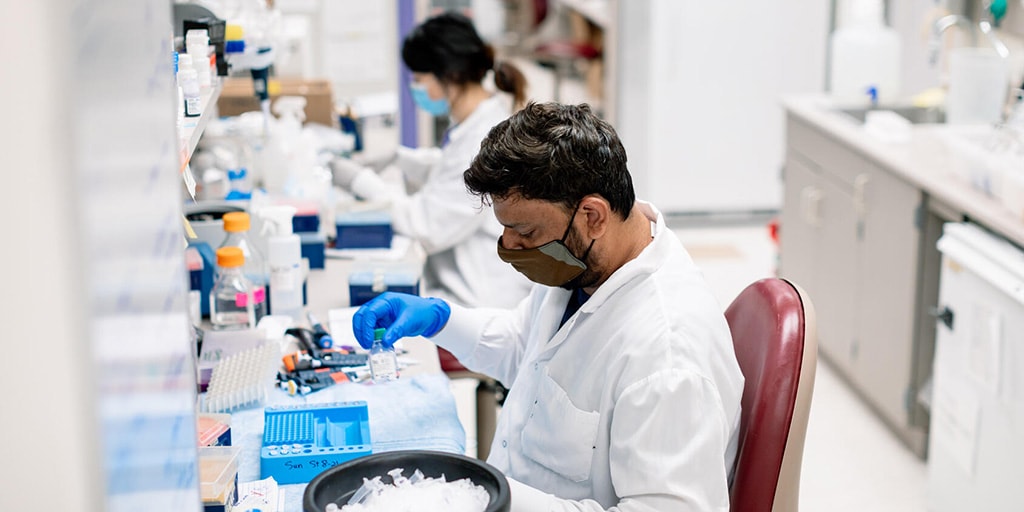 ---
April 28, 2023
---
Mayo Clinic recognizes Medical Laboratory Professionals Week, April 23-29, 2023. The week is an annual celebration of medical laboratory professionals and pathologists. Mayo Clinic offers a multitude of programs and training for current and aspiring individuals in these essential health care careers.
Mayo Clinic's laboratory medicine staff and pathologists have always played an important role in patient care — from collecting specimens to running tests to providing results. During the COVID-19 pandemic, the value of the work done by laboratory professionals became even more apparent. Their dedication and commitment were critical in the fight against COVID-19.
The Department of Laboratory Medicine and Pathology is recognizing National Medical Laboratory Professionals Week, April 23-29. It's an opportunity to highlight the contributions of the scientists, medical technologists and technicians, histotechnicians, cytology technicians, laboratory assistants, geneticists and other specialists who work behind the scenes to give clinicians the critical information they need.
Lab Week is a chance to celebrate and recognize lab professionals who are rarely seen by the patients but provide answers and solutions each day. Thanks to the work of our amazing staff, Mayo Clinic Labs processes over 74,000 tests daily across all Mayo Clinic sites, so the patients waiting for answers will get those answers in a timely manner.
Bobbi Pritt, M.D.
Department of Laboratory Medicine and Pathology chair for the Midwest
Backed by the knowledge and expertise of more than 160 consultants and over 4,000 staff, the Department of Laboratory Medicine and Pathology supports patient care at the bedside as well as through laboratory and pathology services that play a crucial role in the diagnosis and treatment of disease.
"Lab Week provides us the opportunity to celebrate our staff and to raise awareness that nearly 70 percent of medical decisions depend on laboratory test results," says Aziza Nassar, M.D., Department of Laboratory Medicine and Pathology chair in Florida.
The laboratories at Mayo Clinic span a broad range of specialties, including more than 95 unique laboratories and centers of pathology expertise. Together, they form one of the largest clinical laboratories in the world, performing more than 27 million tests and pathology services a year, and offering many tests that are not available elsewhere.
Mayo patients, and patients from around the world, benefit from tests performed by Mayo Clinic Laboratories through teamwork and cooperation.
Training and education in medical laboratory professions
Mayo Clinic School of Health Sciences offers a range of programs and training opportunities for individuals interested in medical laboratory careers. Our program offerings range from internships and rotations to associate's or bachelor's degrees, and certifications.
A selection of our programs, include:
Discover more program offerings on the Mayo Clinic School of Health Sciences programs A-Z page.
Explore health care careers in the laboratory: