Program description
100
total students per year
95%
first-time certification exam pass rate
The Phlebotomy Technician Certificate Program at Mayo Clinic is available to students located in Rochester, Minnesota; Phoenix, Arizona; and Jacksonville, Florida. Mayo Clinic offers the best approved training to become a phlebotomist. You will learn how to collect samples from patients and how to prepare these samples for testing.
Through this nine-week program, you will gain the knowledge and skills needed to work in an outpatient clinic setting or an inpatient (hospital) setting.
You can expect:
A curriculum that includes a blended classroom and online learning schedule, with hands-on lab and clinical experiences completed on campus.
A focus on real-world knowledge and application where you will draw hundreds of samples from actual patients, preparing you to be a well-rounded and confident phlebotomist.
The opportunity to begin working in the field quickly with the potential to start a career at Mayo Clinic, where 90 percent of graduates go on to work as phlebotomists.
Our training is focused on developing Mayo Clinic's future workforce — meaning after graduation, if students are the right candidates and positions are available, many of our graduates go on to work at Mayo Clinic directly out of training. However, you'll be fully prepared for your first day on the job, wherever that may be.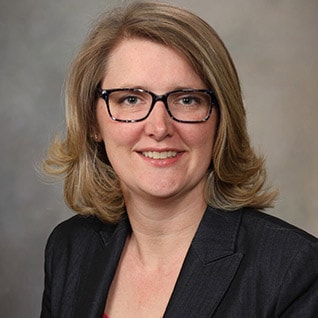 What sets our program apart is the tremendous amount of clinical rotations our program provides, as our students perform venipunctures on actual patients both in the clinical and hospital environments. We have an extremely challenging and exciting setting for clinical rotations in which our students are required to have at least 100 venipunctures in the outpatient setting before we move them to the hospital setting, where students go on to receive even more clinical exposure.
Erin Peper, M.S., PBT (ASCP)
Program Director
What I loved the most about the program is how the instructors work with you from the first day, whether it is by teaching, coaching, demonstrating, or supporting you by reminding you that you are fully capable of doing this job.
Munira Adil, CPT(NHA)
Completed the program in 2016 and now works as a lab service technician in an inpatient lab at Mayo Clinic
100%
find employment or continue their education after graduating
1:32
Behind the scenes: Phlebotomy technician
Explore what a phlebotomy technician does
Phlebotomists collect blood samples from patients and prepare the samples for testing. They work closely every day with many patients of all ages, explaining the blood-drawing process and putting them at ease.
Accreditation information
The Phlebotomy Technician Certificate Program at Mayo Clinic is an accredited training program.
National Accrediting Agency for Clinical Laboratory Sciences
5600 N. River Road, Suite 720
Rosemont, IL 60018-5119
Phone: 847-939-3597
See accreditation information for Mayo Clinic School of Health Sciences.
Mission
Our commitment is to develop bright, ambitious future leaders in the field of phlebotomy proven through outstanding academic achievement and highly proficient technical aptitude.
Vision
The Phlebotomy Technician Certificate Program will offer an unparalleled educational experience by consistently providing high quality curriculum.
Values
We believe:
A highly competent and skilled phlebotomist is a critical component to quality patient care and accurate patient diagnosis
A team of highly skilled and experienced educators is necessary to provide a broad learning experience as well as address the individual needs of the learner
Collaboration between educators, trainers, and students is important for successful growth and development of the student
Everyone in our diverse learning environment has an equal voice and must be treated with dignity and respect
Every student has the capacity to succeed and demonstrate professional excellence
Experiential learning is necessary to increase knowledge and clarify meaning
Innovation and technology will enhance the educational experience
Goals
Our program goals are to:
Provide the Department of Laboratory Medicine and Pathology with entry-level allied health staff trained in phlebotomy
Deliver high quality education to Mayo Clinic School of Health Sciences students by teaching the most current curriculum as to thoroughly prepare all for a career in phlebotomy
Provide an educational clinical practicum experience that builds upon their academic success in the classroom
Ensure phlebotomy technician graduates enter the work force with a strong understanding of professionalism
Offer phlebotomy technician graduates knowledge, technical skills, and practical experience to qualify for the national phlebotomy certification examination
Learn more about the program outcomes for the Phlebotomy Technician Certificate Program at Mayo Clinic.