How to Apply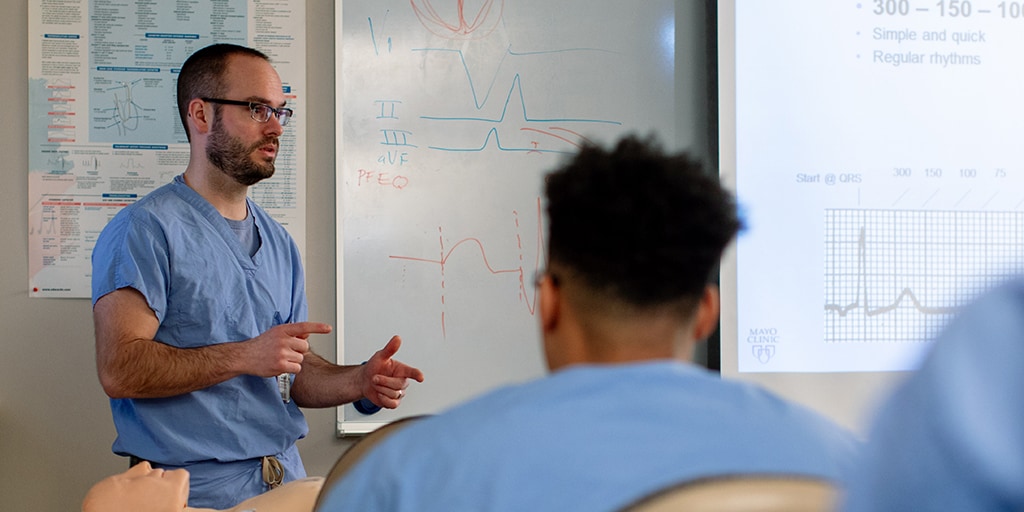 Class size and location
The Cardiovascular Invasive Specialist Program admits six students every year on a competitive basis. Therefore, clinical training groups are small with one-on-one instruction provided. Class sizes at Rochester Community and Technical College vary by semester.
Classes begin in late August and coincide with the start of the fall semester at Rochester Community and Technical College. Students who are accepted into the program must also enroll in Rochester Community and Technical College.
Admission requirements and policies
Prerequisites
To be eligible for the Cardiovascular Invasive Specialist Program, you must have:
A high school diploma (equivalent acceptable) or be a high school senior who expects to graduate by the time the program begins.
Basic computer competence and keyboarding skills.
Completed high school biology, chemistry, and physics courses or college transfer equivalents.
Completed high school algebra II or Rochester Community and Technical College Math 0099 or equivalent.
Graduated in the upper one-half of the high school graduating class with a 2.7 GPA or better. The science and math prerequisites must be taken within five years prior to application.
College-level reading and writing readiness as tested by Accelerated Study in Associate Programs or prior college course work.
Proof of completion of a CPR course prior to beginning Cardiovascular Invasive Specialist 1010. Must be current through the American Heart Association.
Technical standards
In addition to meeting general standards, cardiovascular invasive specialists must be able to:
Lift more than 20 pounds routinely
Work with their arms above their head routinely
Push and pull, bend and stoop, and kneel or squat routinely
Work standing on their feet 80 percent of the time
Work compassionately with patients
Help patients on and off the procedure room tables from wheelchairs or carts
Effectively write and speak to patients and staff
Hear and see clearly and differentiate colors
Work effectively in a team setting
Transfer student policy
Transfer students must submit a Minnesota College Admission Form, an official transcript of high school credits, and official transcripts from all colleges previously attended. Generally, courses from other colleges in which you have earned at least a grade of C are accepted if those courses fit the program curriculum.
Rochester Community and Technical College makes the final decision regarding which general education courses may be transferred to the Cardiovascular Invasive Specialist Program.
Non-U.S. citizen applicants
Application process
Application reviews are based on previous education, work experience, essay, letters of recommendations, and an interview.
Application timeline
Application instructions
1. Create an account. Prior to submission of an application, you must create an account. Note the following as you create an account and begin completing an application.
On the Create an Account page:

For School of Study → select School of Health Sciences
For Location → select Rochester, MN
For Area of Interest → Cardiovascular Invasive Specialist
For Start Date → Choose date
For Entry Term → Select term available

On the My Account page:

Scroll down to Next Steps → select "Start an Application"

On the Online Application page:

Verify that the program listed is what you want
Click "Continue with Application Selected Above"

On the Application Listing page:

Select "Start a New Full Application"
2. Complete the online application. Once you have created an account, you will be able to continue with the application. The sections below are located in the application. You may complete them in order or click on the section you want on the left.
Program of interest:

Review populated data for accuracy
Complete 'Reapplying and Education Completed' questions

Personal information:

Review populated data
Complete any other fields
If you didn't enter an address or phone number before, you will be required to enter it now

Demographic data:
Education:
Employment:
Standardized testing:

Please input information regarding the ACT, SAT, and/or GRE as they apply to you; please check your program website to see if these are required

Professional licensing and registration:

Enter any professional licenses you hold

Essay:

Please answer the questions within the application and tailor your answers toward the Cardiovascular Invasive Specialist program

Signature and submit:

Certify and sign your application
Submit your application
3. Complete the recommendations. Enter email addresses for recommendations under the "Recommendation Requests." The following two professional references are required:
Submit transcripts. Official transcripts from all educational institutions you attended after high school, including all college and university credits and grades from your most recent quarter or semester. If no college courses have been taken, a high school transcript must be sent to the program. Transcripts sent directly to Mayo Clinic School of Health Sciences from the school must include an embossed seal. If they are sent to you first, they must be in their original unopened envelopes.
Educational reference. Choose a person familiar with your educational qualifications and your potential for success in the cardiovascular field. References may include current or former teachers or professors.
Work/Professional reference. Choose a person familiar with your professional qualifications and your potential for success in the field of cardiovascular. References may include employers, supervisors, or coaches.
**If you do not complete these at the time of submission, please visit your "My Account" page and navigate to your application for a link to complete.
Send all transcripts to Mayo Clinic School of Health Sciences, in one envelope to:
Mayo Clinic School of Health Sciences
Cardiovascular Invasive Program
Siebens Building, Fifth Floor
200 First St. SW
Rochester, MN 55905
Interview process
Applicants considered for an appointment are invited to Mayo Clinic for a personal interview with the program director and selected faculty. An interview can be arranged only when your application file is complete.
Acceptance
Acceptance letters are mailed by April 1. If you receive an acceptance letter, your reply is expected within one week.
Enroll at Rochester Community and Technical College
You must also enroll in Rochester Community and Technical College if you are accepted into the program.