How to Apply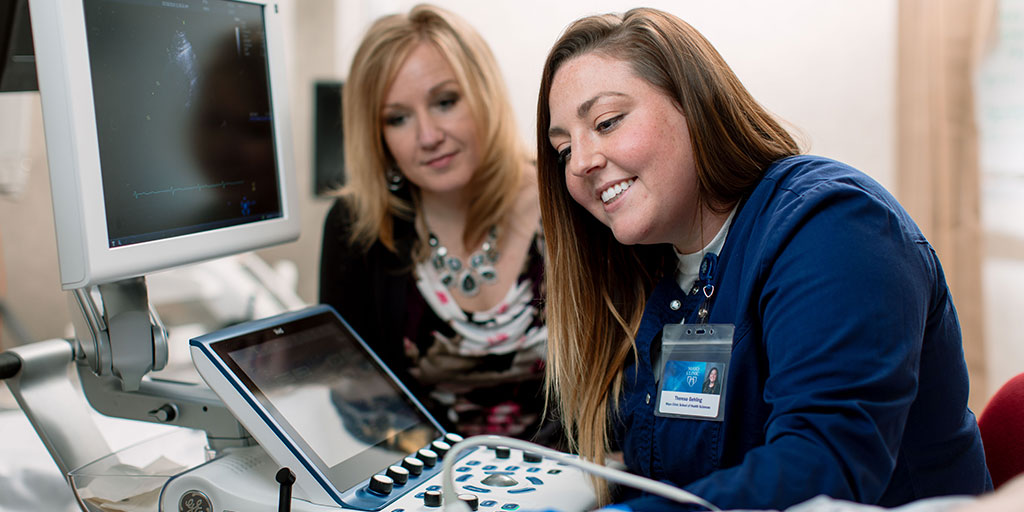 Enrollment options
When it comes to applicants, we look at more than test scores and grades. While those numbers are important, we also care about things like why you want to enter the field and the impact you hope to make. We've designed this program to have two pathways to admission. Discover what comes next on your path to becoming a cardiac sonographer.
Affiliated bachelor's degree option
If your goal is to complete the Echocardiography Program with a bachelor's degree, you'll first need to apply to, attend and complete your coursework through one of the affiliated academic institutions listed below. We've worked together with these institutions to ensure you'll get the exact education you need to be a strong candidate for our program.
Once you complete the require coursework, you'll apply for the Echocardiography Program through Mayo Clinic School of Health Sciences*.
Students enrolled in an affiliate program should contact their affiliate institution for any additional requirements during their enrollment in the Echocardiography Program.
*Students pursuing the Bachelor of Science in Health Professions (BSHP) degree option at UMR are jointly admitted to UMR and Mayo Clinic School of Health Sciences and do not need to apply separately for admission to Mayo Clinic School of Health Sciences.
Certificate option
If you already have completed college coursework and meet the prerequisites, you may be eligible to apply for the certificate option. The certificate option will allow you to sit for the credentialing exam.
Students may be eligible for the certificate option if they have met all of the following:
Earned an associate degree (or higher) before the program start date
Completed all of the required program prerequisite coursework
Before you apply
Before you apply, learn what prerequisites and technical standards we require of each of our applicants.
Prerequisites
Prerequisite coursework
All prerequisite coursework needs to be completed before the program start date with a grade of a C or higher.
Area
Requirements

College algebra

A minimum of one semester of college algebra is required; a higher-level math course also satisfies this requirement.

Anatomy and physiology with lab

A minimum of two semesters of college-level anatomy and physiology with a lab are required (virtual or online labs are not accepted).

Speech, communications or public speaking

A minimum of one semester of college-level speech, communications or public speaking is required.

English

A minimum of one semester of college-level English is required; two semesters is preferred.

Medical terminology

One college-level medical terminology course is required; it must be an official academic course resulting in a grade on a school transcript.

Medical ethics or ethics

A minimum of one semester of college-level medical ethics (preferred) or ethics is required.

Physics with lab

A minimum of one semester of college-level introductory physics with a lab is required (virtual or online labs are not accepted).

Patient care

A course involving direct patient care is required. Coursework that meets this prerequisite includes, but is not limited to:

Certified nursing assistant (C.N.A.)
Registered medical assistant (R.M.A.)
Registered nurse (R.N.)
Licensed practical nurse (L.P.N.)
Certified EMT
Respiratory therapist
Radiologic technologist R.T.(R) or senior radiography student

Note: An active certification or registry is not required.
Competitive applicants
Applicants are more competitive if they have:
Observed echocardiographic procedures
Prerequisite coursework that is less than 10 years old
A GPA greater than 3.0
Prior work or volunteer experience within health care or customer service experience
A bachelor's degree or are enrolled in an affiliated bachelor's degree program
No more than two courses in progress at the time of interviews (mid-March)
Technical standards
Applicants must meet the technical standards (with or without reasonable accommodation) necessary to acquire or demonstrate competence in health professions as outlined in the Echocardiography Program technical standards.
To seek exceptions to these standards or reasonable accommodations, students accepted for admission must initiate a request with the program director at least six weeks before the program begins.