From the Program Director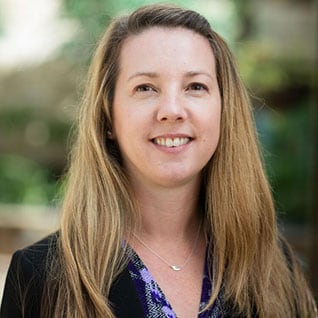 As a resident in the PGY-2 Pharmacy Residency in Ambulatory Care at Mayo Clinic Health System – Eau Claire, you will have an opportunity to master the skills necessary to provide comprehensive medication management, collaborate effectively with healthcare team members and develop and maintain an ambulatory care practice.
Our program's curriculum follows the Mayo Clinic core priorities of research, education, and patient care that are consistent with our primary value, "The needs of the patient come first." You will apply this value by providing individualized patient care and managing chronic conditions longitudinally. Your experience in our clinic-based ambulatory care practice will be supported by the resources of a large academic medical center.
I welcome the opportunity to support you in achieving professional development goals and, most importantly, to impact the lives of your patients.
Katie Taylor, PharmD, BCACP
Program Director
PGY-2 Pharmacy Residency in Ambulatory Care at Mayo Clinic Health System – Eau Claire
Department of Pharmacy
The Department of Pharmacy at Mayo Clinic Health System — Eau Claire employs over 200 individuals in the Northwest Wisconsin Region, including approximately 60 pharmacists, to provide comprehensive inpatient and outpatient pharmaceutical services.
Pharmacy services provided include:
Antimicrobial stewardship
Central pharmacy distribution
Clinical pharmacy decision-support software
Collaborative practice agreements
Computerized intravenous admixture and unit dose dispensing
Decentralized clinical pharmacy practice
Discharge prescription bedside delivery and education
Infusion therapy center
In-service education and other scholarly activities
Medication management ambulatory services
Medication reconciliation
Outpatient distribution
Patient education programs
Perpetual inventory control
Pharmacist-led research and research support services
Pharmacist-managed anticoagulation services
Pharmacokinetic monitoring and management
Pharmacy informatics and technology support
Pharmacy, therapeutics and formulary committee support
Specialty clinic ambulatory care services
Sterile and nonsterile compounding
Dedicated preceptors
As a resident, you have direct access to skilled and dedicated preceptors and mentors to optimize your learning experience. All preceptors meet qualifications outlined by ASHP, and many are certified by the Board of Pharmacy Specialties.
Practice areas
A broad range of pharmacy practice work areas are available at Mayo Clinic Health System — Eau Claire. As a resident, you are afforded a variety of acute and ambulatory care training experiences that focus on medication management and monitoring along with countless learning and teaching opportunities in a resource-rich environment.
Mayo Clinic Health System — Eau Claire and the surrounding Northwest Wisconsin region offers a robust ambulatory care pharmacy practice within several primary care clinics as well as specialties, including oncology and anticoagulation. Pharmacists are embedded within family medicine, internal medicine, and oncology departments where they provide medication management services with the goal of optimizing medication regimens through team-based care. Several outpatient pharmacies and one, long-term care pharmacy are located within the region that are supported by pharmacists who provide compliance packaging services, patient counseling, and respond to drug information queries from healthcare team members across the region.
Mayo Clinic Health System — Eau Claire is a Joint Commission-licensed, 304-bed, community hospital located in Eau Claire, Wisconsin and is part of the Northwest Wisconsin Region of the Chippewa Valley region. Over a dozen additional communities make up the Mayo Clinic Health System — Eau Claire Northwest Wisconsin Region. In the hospital environment, pharmacists work collaboratively with the interdisciplinary health care team to optimize patient outcomes. Pharmacists, residents, and students are long-standing, integral members of a team that continually advance the pharmacy profession.