Curriculum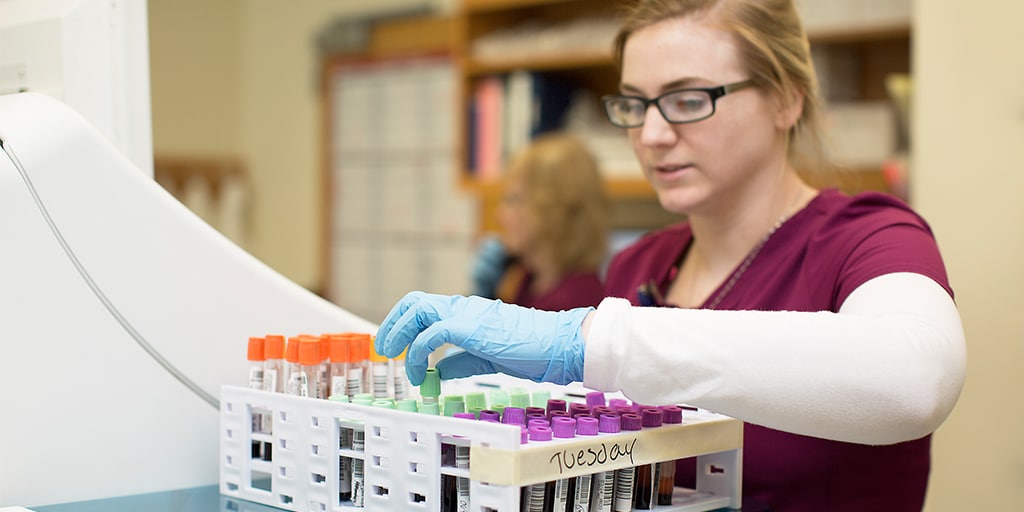 40%
time spent in clinical settings
40%
time spent in classroom
Student experiences
Classroom learning
Through a combination of classroom and online learning, you will gain the knowledge to become a well-rounded phlebotomist. Your studies include readings, homework assignments, review questions, quizzes, exams, and case studies. Topics are introduced as online learning modules and then applied during a hands-on portion which takes place in the lab.
Laboratory sessions
Lab sessions are conducted on-campus through an interactive, instruction-led session. Here you will demonstrate your knowledge on the processes and procedures that you studied online.
Hands-on clinical rotations
You will perform at least 100 successful phlebotomy collections on real patients within the outpatient setting prior to advancing to the inpatient setting. You will learn not only venipunctures, but you will also learn about other special collections such as arterial punctures and assisted line collections.
Course sequence
| Week | Learning module |
| --- | --- |
| Week 1 | Fundamentals of Phlebotomy |
| Week 2 | Quality Collections |
| Week 3 | Non-Blood Collections and Specimen Processing |
| Week 4 | Specialty Collections |
| Week 5 | Body Systems |
| Week 6 | Other Blood Source Collections |
| Week 7 | Safety |
| Week 8 | Legal |
| Week 9 | Final Exams and Graduation |
Hours
The program has a blended learning schedule that combines online and classroom learning. You will complete most of of your academics online then complete labs and procedures on campus.
The first week of the program is very intensive and consists of three to four full days on campus. For the remainder of the program, you will be on campus five days a week for at least four hours a day for your clinical rotations, and additional time for labs and classroom activities.
Outside work
Outside work is not recommended, especially in the first two weeks. However, students may be employed if it does not interfere with the training program in any manner.
Facilities
You will be trained in the program's dedicated classroom and lab spaces, complete with all the equipment to teach all the skills required as a phlebotomist.
Grading and evaluation
Mayo Clinic School of Health Sciences uses these evaluative tools: exams and worksheets, hands-on demonstration of skills, self-assessments, and faculty reviews.
Our system provides students and faculty with a complete look at individual performance. Because each cohort is small, faculty members are partners in learning with students and closely monitor their progress. Assistance is provided whenever necessary to keep all students on track with the program's learning goals and outcomes.
Graduation and certification
Upon completion of the program, graduates receive a certificate of completion from Mayo Clinic School of Health Sciences and are eligible to take the National Healthcareer Association or American Society for Clinical Pathology exam to become a nationally certified phlebotomist.
In Minnesota, you will have the option to sit for the certification exam on the last day of class.