Curriculum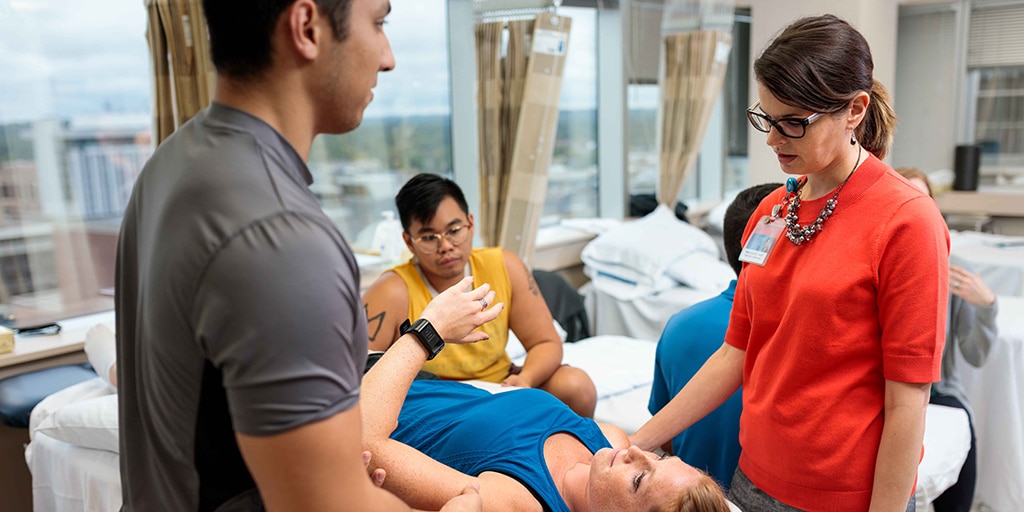 56
weeks of hands-on clinical opportunities and learning experiences
12 week
full-time clinical experiences during your third year
28
students in your class on average
The Physical Therapy Doctoral Program curriculum follows a traditional model that embraces evidence-based physical therapy practice while maintaining awareness of emerging technologies and medical advancements. It includes a strong clinical education component to give you the necessary breadth and depth to achieve proficiency in professional skills.
Didactic training
Over the course of the three-year program, you participate in lectures, workshops, in-service training, case studies, field trips, grand rounds, and informal discussions. You are encouraged to participate in these opportunities as time permits.
Research training
During the program, you will plan and conduct one group research project and one individual project that may involve a single subject or multiple-subject research designs. Program mentors and physical therapy faculty and staff are available to help select and carry out research.
Clinical experiences
In total, you will gain 56 weeks of hands-on clinical opportunities and learning experiences by the end of graduation from clinicians at the top of their fields.
The first full-time clinical experience (CE II) takes place during the summer at the end of the first academic year. This clinical experience is designed to expose you to a specific patient care area as well as provide an opportunity for you to integrate skills learned during the first year. Appropriate clinical sites are in outpatient orthopedics or acute care. You must successfully complete CE II prior to advancing to the coursework that begins in the fall of the second academic year.
During the third year, you complete four 12-week, full-time clinical experiences. Three of the third-year clinical experiences take place in acute care, outpatient orthopedic or adult neurorehabilitation settings. The remaining experience is an elective and can take place in areas such as geriatrics, sports medicine, hand therapy, work rehabilitation, or pediatrics. Community hospital and general private practice settings also are options.
Clinical settings are yet another strength of the clinical education program. Each student has at least one full-time clinical experience that takes place at Mayo Clinic's campus in Rochester, Minnesota, a setting that includes diverse patient care areas and outstanding clinical instructors. The majority of external clinical sites are in the Midwest, located within a 500-mile radius of Rochester (Iowa, Illinois, Indiana, Michigan, Minnesota, Missouri, Nebraska, North Dakota, South Dakota, and Wisconsin). Contracts are also held with sites in Washington state, Arizona, California, Colorado, Montana, Ohio, Tennessee, Wyoming, Utah, and Florida.
Clinical experience
Approximate timing
Description
I
Year 1, spring semester
Part-time clinical experience designed to expose students to the breadth of the profession.
II
Year 1, June-July
First full-time experience. Intermediate experience in select outpatient or acute care clinical sites.
III
Year 2, May-August
Full-time terminal clinical experiences in three required areas (outpatient orthopedics, acute care, and neurology). One elective area.
IV
Year 3, August-November
V
Year 3, November-February
VI
Year 3, February-May
Course overview and schedule
For the majority of the program, your learning schedule includes eight-hour days, five days a week. While the regular workweek is usually 40 hours, additional projects, patient activities and homework may be assigned. Please note, curriculum is periodically subject to minor revisions.
Year I: Fall semester
Anatomy
Exam & Systems Review I
Intervention Skills I
Movement Science I
Pathopharmacology I
Physiology
Professional Management I
Research I
Year I: Spring semester
Clinical Experience I
Clinical Orthopedics
Exam & Systems Review II
Intervention Skills II
Movement Science II - Biomechanics
Neuroscience I
Pathopharmacology
Professional Management II
Year I: Summer semester
Exam & Systems Review III
Intervention Skills III
Movement Science III
Clinical Experience II
Year II: Fall semester
Durable Medical Equipment
Geriatrics
Human Growth & Development
Management of Complex Medical Conditions
Management of Integumentary Conditions
Management of Musculoskeletal Conditions I
Management of Neuromuscular Conditions I
Neuroscience II
Research II
Year II: Spring semester
Management of Cardiovascular-Pulmonary Conditions
Management of Musculoskeletal Conditions II
Management of Neuromuscular Conditions II
Management of Sports Related Injuries
Professional Management III — Teaching and Learning in PT
Research III
Year II: Summer semester
Exam & Systems Review IV — Differential Diagnosis
Health Promotion and Wellness
Professional Management IV
Clinical Experience III
Management of Patients in the Acute Care Setting
Year III: Fall semester
Clinical Experience IV
Track Time Block (Clinical Experience V or Research)
Year III: Spring semester
Clinical Experience VI
Professional Practice Evaluation
Graduation and certification
Upon successful completion of the Physical Therapy Doctoral Program, graduates receive a Doctor of Physical Therapy (DPT) degree from Mayo Clinic School of Health Sciences.
Graduates of the program become:
Skilled in screening, examination, evaluation, diagnosis, prognosis, intervention, and prevention of disorders or conditions impairing movement, function, and health
Capable of assuming responsibility for independent judgment in making sound decisions regarding patient management
Prepared to care for patients with varying conditions and in diverse health care settings
Able to practice both independently and collaboratively in a multicultural society
Ready to assume the multifaceted roles of an active professional, including practitioner, educator, researcher, consultant, administrator, collaborator, advocate, and lifelong learner
Qualified to promote the advancement of physical therapy through practice, education, and research
Graduates are also eligible to take the National Physical Therapy Examination (NPTE). Successful completion of the professional licensure exam is required before beginning practice. In addition, each state requires licensure prior to practice.
Facilities and faculty
The Department of Physical Medicine and Rehabilitation in Minnesota offers comprehensive care for both inpatients and outpatients. At Mayo Clinic, physician evaluations, as well as physical and occupational therapy services, are available. Inpatient rehabilitation care is provided at Mayo Clinic Hospital, Saint Marys Campus.
Through training activities, specialized equipment, videos and other learning resources, students learn to treat adult and pediatric patients with medical diagnoses typically seen in the rehabilitative clinical setting, including stroke, spinal cord injury, traumatic brain injury, multiple sclerosis, cancer, cardiac conditions, and neurological impairments.
Mayo Clinic's campus in Rochester, Minnesota, includes an extensive outpatient complex, Mayo Clinic Hospital — Rochester, and substantial research and education facilities. This Mayo Clinic site is among the largest, most advanced medical centers in the world.
Seven core faculty members are devoted to the Physical Therapy Doctoral Program, and the program also draws faculty from Mayo Clinic's clinical, scientific, and technical staffs. Faculty members are chosen for their commitment to teaching, as well as clinical practice and research. Many have published and lectured extensively and are highly regarded in their fields.
You have direct access to these individuals throughout the program, giving you the opportunity to learn directly from some of today's best practitioners in physical therapy.
John H. Hollman, Ph.D., P.T.
Physical Therapy Doctoral Program Director
Dr.Hollman joined the Physical Therapy Doctoral Program in 2003. He graduated from the Physical Therapy Program at Mayo Clinic School of Health Sciences in 1994 and from Washington University in St. Louis in 2000 with his Ph.D. in movement science/biomechanics. He is a Professor of Physical Therapy at Mayo Clinic College of Medicine and Science.
Dr. Hollman has published more than 100 peer-reviewed papers in scientific and professional journals and serves as an editorial board member with the Archives of Physical Medicine & Rehabilitation and Gait & Posture. He is a member of the American Physical Therapy Association, including the association's academies/sections of geriatrics, orthopedics, research, and education; the American Congress of Rehabilitation Medicine; the American Society of Biomechanics; and the International Society of Posture & Gait Research.
Dr. Bogard graduated from the College of St.Scholastica inDuluth, Minnesota, with a B.A. in physical therapy in 1983 and came to Mayo Clinic as a staff physical therapist. In 1986, she joined the faculty. Dr.Bogard received her master's degree in adult education in 1989 and Ph.D. in education in 2010 from the University of Minnesota.
She teaches and coordinates courses in neurorehabilitation, movement science, and pediatrics. Her clinical interest is in the area of pediatric and adult neurorehabilitation. She has been a co-author or investigator on seven research articles related to range of motion, motor control and physical therapy program admissions. She is also the Physical Therapy Doctoral Program's academic lead on the Minnesota Physical Therapy Association Membership Committee and liaison with the student special interest group. She co-chairs the PT Program Advisory Committee and is a member of the Physical Medicine and Rehabilitation Diversity Committee.
Darren Q. Calley, P.T., DScPT, OCS
Dr. Calley joined the Physical Therapy Doctoral Program faculty in 2015. He is a 1996 graduate of Mayo Clinic School of Health Sciences' Physical Therapy Program and earned a Doctor of Science in physical therapy degree through the University of Maryland in 2009.
As a board-certified specialist in orthopedics, Dr. Calley helped develop a physical therapy orthopedic residency program at Mayo Clinic's campus in Rochester, Minnesota, that enrolled its first residents in 2013. He serves as the director of physical therapy residencies at Mayo Clinic's Rochester campus and as the coordinator of the orthopedic residency. His teaching responsibilities include complex medical conditions, differential diagnosis, interventions and manual therapy.
Beth A. Cloud-Biebl, Ph.D., P.T., D.P.T.
Dr. Cloud-Biebl joined the Physical Therapy Doctoral Program faculty in 2016. She is a 2010 graduate of the program. She completed a Ph.D. in clinical and translational science from the Mayo Graduate School in 2015 with a thesis evaluating spine and shoulder motion during manual wheelchair propulsion. She completed the Anatomy Training Program (co-sponsored by The Anatomical Society and American Association of Anatomists) in 2017.
Dr. Cloud-Biebl has experience teaching anatomy to students in various health profession programs. Her other teaching interests include neuroscience, neurorehabilitation, biomechanics, and research topics. Dr. Cloud-Biebl's primary research interests are the evaluation of upper limb biomechanics and the characterization and treatment of secondary conditions following neurological injury. She works collaboratively with a multi-disciplinary team in the Rehabilitation Medicine Research Center to execute this research agenda.
Melissa P. Hake, P.T., DScPT
Director of Clinical Education
Dr. Hake joined the Physical Therapy Doctoral Program in 2018. She graduated from Mayo Clinic School of Health Sciences' Physical Therapy Program in 2001 and from University of Maryland School of Medicine in 2012 with a Doctor of Science in physical therapy. Before joining the academic faculty, Dr. Hake served as the direct clinical instructor for over 100 students completing eight- to 12-week clinical education experiences in the acute care setting. In addition to her role as the program's Director of Clinical Education, her academic teaching interests include acute care topics, complex medical conditions, examination and systems review, interventions, professional management and clinical education. Her research interests include defining and evaluating student competency in the acute care setting, simulation education, and oncology rehabilitation.
Nathan J. Hellyer, Ph.D., P.T.
Dr. Hellyer joined the Mayo Clinic faculty in January 2003. He received his master's degree in physical therapy and Ph.D. in pharmacology from the University of Iowa. He is a member of the American Physical Therapy Association, American Physiological Society, and National Strength and Conditioning Association (Certified Strength and Conditioning Specialist). Dr. Hellyer teaches pharmacology, management of cardiopulmonary conditions and anatomy. He has led DPT students on six physical therapy service learning trips to Honduras.
David A. Krause, P.T., D.Sc., OCS
Dr. Krause is a 1984 graduate of the Physical Therapy Program at Mayo Clinic School of Health Sciences. He joined Mayo Clinic in 1984 as a staff physical therapist. His primary clinical responsibility has been in the Mayo Clinic Sports Medicine Center. In 1989, Dr. Krause received a Master of Business Administration degree from Winona State University and joined the faculty of the Physical Therapy Doctoral Program. In 2006, he received a Doctor of Science in physical therapy from the University of Maryland School of Medicine.
Dr. Krause's teaching responsibilities include orthopedic evaluation and intervention, sports medicine, gross anatomy, and professional management. He also continues clinical practice in the Sports Medicine Center. His research interests are in orthopedic clinical tests and measures, hockey and concussion-related research.
Visiting professors and lecturers
A hallmark of higher education excellence is the breadth and depth of information and experience provided students by the faculty and visiting experts. Many prominent professors visit Mayo Clinic to lecture on their areas of medical and scientific expertise each year.
Students at Mayo Clinic School of Health Sciences are encouraged to learn from these valuable resources by attending all relevant conferences, lectures and seminars prepared for students, interns, residents, fellows and consulting staff.