Tuition and Financial Aid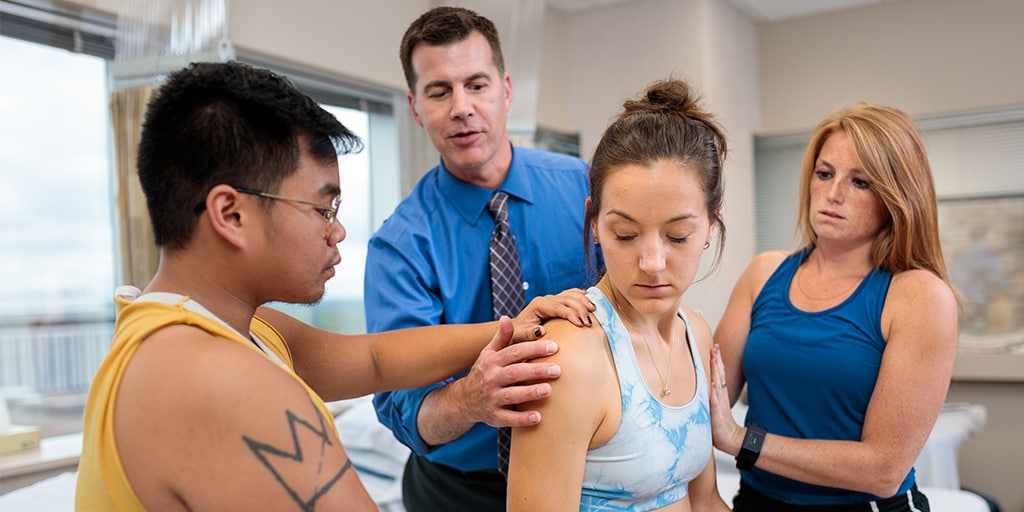 Full program costs
The full, multi-year program cost for the 33-month Physical Therapy Doctoral program is $101,951. This total includes tuition and books. It does not include personal costs, such as housing, food, and transportation.
First-year cost of attendance
Estimated first-year student expenses (12 months) for the 2023-2024 academic year of the Physical Therapy Doctoral program:
Direct expenses (paid to Mayo Clinic)
Items
Cost
Tuition*
$40,338
Total estimated cost for direct expenses
$40,338
Indirect expenses (not paid to Mayo Clinic)
Items
Cost
Books, course materials, supplies, and equipment
$2,600
Housing and food ($2,020/month)
$24,240
Home internet ($55/month, plus $50 one-time install fee)
$710
Personal and miscellaneous ($565/month)
$6,780
Transportation ($350/month)
$4,200
Total estimated cost for indirect expenses
$38,530
Total net cost of attendance
Total estimated single student budget (direct + indirect expenses)
$78,868
*Note: Tuition is the only budget item directly billed to you. Adjust remaining budget items accordingly to align with your individual household budget needs. Exact tuition bill amounts are subject to change and are dependent on program curriculum.
Budget information
Estimated budget information is provided to allow you to completely prepare for your education. The estimated budget is the estimated cost of education-related expenses.
Personal and miscellaneous expenses include clothing, laundry and cleaning, personal hygiene and grooming, recreation, renter's insurance, student health insurance, and disability insurance.
Transportation expenses include gas, oil, maintenance, and insurance.
Federal student loan fee is the average amount based on prior year borrowers and are a percentage of the total loan amount.
Dependent care and other expenses

may be added to the budget on a case-by-case basis with supporting documentation. Contact Mayo Clinic's Financial Aid Office for further information.
Committed to value and affordability
From scholarships to grants to assisting with loans and the financial aid process, we are committed to ensuring your DPT degree is affordable. Through generous benefactors, most of our students are able to receive scholarship and grant assistant.
We also aim to keep all costs included in the cost of attendance as low as possible while highlighting the value of education you are guaranteed to receive at Mayo Clinic School of Health Sciences.
Financial aid
Scholarships may be available for those who demonstrate financial need. The Mayo Clinic Office of Student Financial Aid and Registrar can provide more details about financial aid for the Physical Therapy Doctoral Program.
Mayo Clinic School of Health Sciences awards need-based grants to students on an annual basis. Selection criteria for these awards are based on a formula that evaluates student-documented financial need and are determined by the Mayo Clinic School of Health Sciences scholarship committee. The awards are made possible by generous benefactor contributions, and therefore the award amounts vary annually.
In the 2021-2022 academic year, enrolled physical therapy students were awarded need-based grants exceeding $478,000. The average award was $6,400. Additional grants are awarded on a competitive basis to students enrolled in the third year of the program by the Mayo Clinic Therapy Alumni Association.
By the numbers (class of 2022)
62%
graduated with less than $100k in student loan debt
76%
borrowed student loans
100%
received scholarships