Student Stories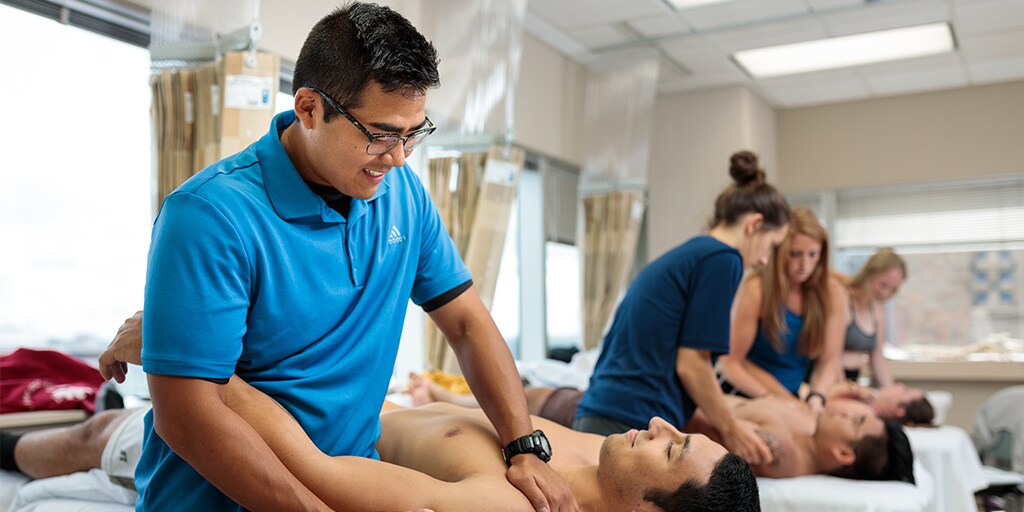 Student outcomes (2015-2019)
100%
first-time board exam pass rate
Program alumni: Where do graduates go next?
Learn more about where graduates go, where they work, and what they do after they complete our program.
By location
| Alumni | Next step |
| --- | --- |
| 15% | Find a job within Mayo Clinic (Rochester, Arizona, or Florida) or within the Mayo Clinic Health System |
| 65% | Stay in Minnesota |
| 35% | Scatter across the country including (in no particular order) AZ, FL, CO, SD, NE, TX, ND, CA, MI, WI, OR, LA, WA, NM |
By institution
| Alumni | Next step |
| --- | --- |
| 42% | Health system or hospital-based out-patient practices physical therapy clinics |
| 19% | Acute care hospitals |
| 17% | Private out-patient offices or group practices |
| 8% | Sub-acute in-patient rehabilitation hospitals |
| 6% | Skilled nursing facilities/extended care facilities |
| 2% | A school system (primary/secondary) |
| 10% | Enter into residency training programs |
Get involved and stay engaged
Small class sizes of 28 students allow you to get to know your classmates, the faculty, and staff, which provides many opportunities to receive personalized feedback. Our emphasis on the importance of research and clinical practice-related projects will help you feel prepared and ready to hit the ground running after graduation. In order to foster teamwork, we offer several ways to get involved and stay engaged throughout our program.
Big-Little program
Our big-little program is a peer mentorship program that pairs a second-year student with a first-year (incoming) student. This allows first-year students to ask questions, and get a sense of the program before classes even start.
Community involvement
Students are required to participate in service learning projects to help facilitate community involvement. These projects are more than volunteering in a soup kitchen, (although those volunteer opportunities are also available). Service learning provides opportunities for students to apply their skills and gain knowledge while providing a service to a segment of the community. Students find it as a highlight of the DPT program and it is mutually beneficial for students and the local community.
Meet our students
The DPT program will be both rewarding and difficult. Don't expect yourself to be perfect, don't expect yourself to know the answer to every posed question. Be prepared to make mistakes, surprise yourself, learn more than you thought you could, support others, lean on others, and become immersed in a community of compassionate and intelligent individuals that will mold you into a wonderful practitioner.
Rachel Hoverstad
Current student in the Physical Therapy Doctoral Program
I was initially attracted to Mayo Clinic's DPT program due to its emphasis on patient-centered care and inclusion of integrative clinical education. However, I truly knew Mayo Clinic was where I needed to be after my interview day. There was an exceptional sense of professionalism and rigor, which was to be expected, but there was also a sense of unity and familial support that I hadn't experienced at other interview days.
Maggie Saras
Current student in the Physical Therapy Doctoral Program
I originally chose to apply to Mayo Clinic because of its high standard of care and education. I wanted to be a part of a world-renowned education and medical system that would develop me into the best clinician I could be. However, after my in-person interview, I knew that Mayo was definitely where I wanted to go. While in my interview, was taken back by the kindness and skill of the faculty members, the professional environment, and strategic program layout.
Shannon Moorse
Current student in the Physical Therapy Doctoral Program