How to Apply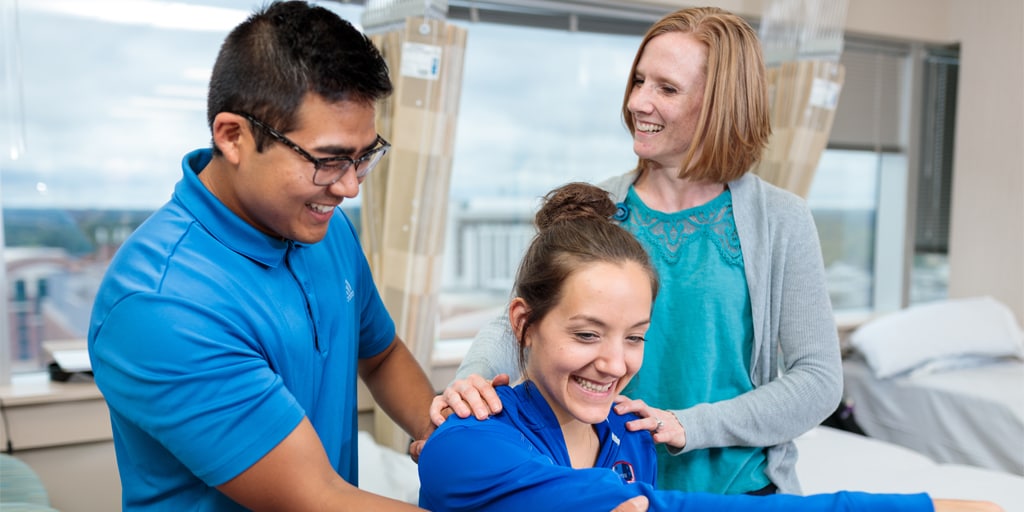 Admission requirements
Before you apply, please consider the list of prerequisite information, technical standards (nonacademic criteria), and complete admission requirements. We review the many attributes and qualities that make up an applicant and look forward to reviewing your application!
Positions
Up to 28 candidates are accepted each year on a competitive basis for the Physical Therapy Doctoral Program at Mayo Clinic's campus in Rochester, Minnesota.
Prerequisites
To be eligible for admission to the Physical Therapy Doctoral Program, you must meet the following prerequisites.
Degree completion: At least a bachelor's degree from an accredited college or university.
Graduate Record Examination (GRE): Completion of the general test component of the GRE and reporting of scores. Note that scores should be sent directly to Mayo Clinic School of Health Sciences PTCAS GRE code #3721. We recommend all applicants complete the GRE by July 31.
Work and/or observation experience: While we prefer applicants to have exposure to the physical therapy profession through work and/or observation experiences, the observation requirement is waived indefinitely while the COVID-19 pandemic restricts opportunities for observation experiences. 40 hours (100 hours preferred) was the former requirement.
Letter-graded courses: The following prerequisite letter-graded courses must be completed prior to starting the program.

We will accept P/F or S/N for prerequisites under the following conditions:

It must have been a transcript entry in response to the COVID-19 outbreak
It must have been an institutional decision to provide pass/fail or satisfactory/unsatisfactory credits for all students and all courses
Area
Requirements
Biological sciences
At least four biology courses, each with laboratory experience, including:


One course in human physiology
One course in human anatomy (or a combined anatomy/physiology course distributed over two academic terms that meet the anatomy and physiology requirements)
Any of the following courses are recommended and can fulfill two of the biological science prerequisites, though not required: Cell biology, histology, embryology, molecular biology, and neuroscience
Exercise physiology may satisfy one of the biological sciences prerequisite requirements, but not the human physiology prerequisite

Chemistry
Two courses with laboratory study
Physics
Two courses with laboratory study
Statistics
One course in basic statistics, including elementary probability, descriptive measures, confidence intervals, t-tests, and linear regression
Psychology
Two courses, including general or introductory psychology and abnormal psychology (or equivalent)
Medical terminology
Course is recommended, but not required
Acceptance factors and criteria
Applicants are initially screened on the basis of their GPA, GRE score, character, observational or actual work experience in physical therapy (minimum of 40 hours/100 preferred), and letters of recommendation. Professional observation experiences, while important, will not be enforced as a requirement for admission depending on the COVID-19 situation.
To be considered as a candidate for the Physical Therapy Doctoral Program, applicants must have at least a 3.0 cumulative undergraduate GPA (on a 4.0 scale) and a 3.0 or better prerequisite GPA. Grades from all courses are used to calculate the cumulative GPA. A grade of D is unacceptable in any of the required prerequisite courses.
Advanced placement (AP) credits earned in high school may fulfill up to two prerequisite course requirements, with a maximum of one course per particular field of study (for example, one course in the biological sciences, one course in chemistry, one course in physics, one course in psychology or one course in statistics).
Admission policies
International applications to the Physical Therapy Doctoral Program are welcomed, though preference is given to U.S. workers. U.S. worker refers to those who are authorized to work in the United States, including:
U.S. citizens
U.S. nationals
Lawful permanent residents
Asylees and refugees
International applicants whose primary language is not English must submit results from the Test of English as a Foreign Language Internet-based test (TOEFL iBT). Scores from the speaking portion of the exam are given particular consideration in admission decisions. Learn more about the exam and register online at the Educational Testing Service.
The Mayo Clinic School of Health Sciences PTCAS code for the TOEFL iBT is 5312. Our minimum score requirement for the TOEFL, consistent with general recommendations for graduate students in the health professions, includes a total TOEFL score that exceeds 89 with a minimum score of 25 for speaking.
Educational transcripts from schools outside the U.S. must be translated (if they are not already in English) and evaluated for U.S. equivalency by an accredited credential evaluation service company prior to submission. Please refer to the National Association of Credential Evaluation Services for a list of qualified companies. The applicant pays for the examination and credential-evaluation services.
See the Mayo Clinic School of Health Sciences non-U.S. citizen applicants policy.
Due to the sequential nature of the physical therapy curriculum, the program does not accept transfer credit from other educational institutions.
Application process
Online applications are available via the Physical Therapist Centralized Application Service (PTCAS) starting June 15 of the preceding year. Your application and all supporting documentation must be submitted online before Oct. 16, 2023, at 11:59 p.m. ET for classes beginning the following August.
The program uses a rolling admissions process in which applications are reviewed in the order they are received. It is to your benefit to apply as soon as possible beginning June 15. The admissions committee will begin reviewing applications in August.
Application instructions
To apply to the program, follow the below instructions:
1. Online application. Complete the application via PTCAS.
2. Supporting documentation. Complete your supporting documentation.
A complete application includes these materials:
Official transcripts from post-high school institutions
Official GRE scores (use Mayo Clinic School of Health Sciences PTCAS GRE code #3721)
Three letters of recommendation:

Educational or academic
Work or volunteer-related
Physical therapy-related
Interview process
If you are considered for acceptance, you will be invited for a personal interview with the admissions committee. The interview will be conducted virtually.
2022 admissions and acceptance statistics
Applications received: 364
Interviews: 167
Acceptances issued: 28
2022 incoming class profile
Mean cumulative GPA: 3.79
Male: 14
Female: 14
Colleges and universities represented: 25
12% underrepresented in physical therapy (relative to their numbers in the general population)