Curriculum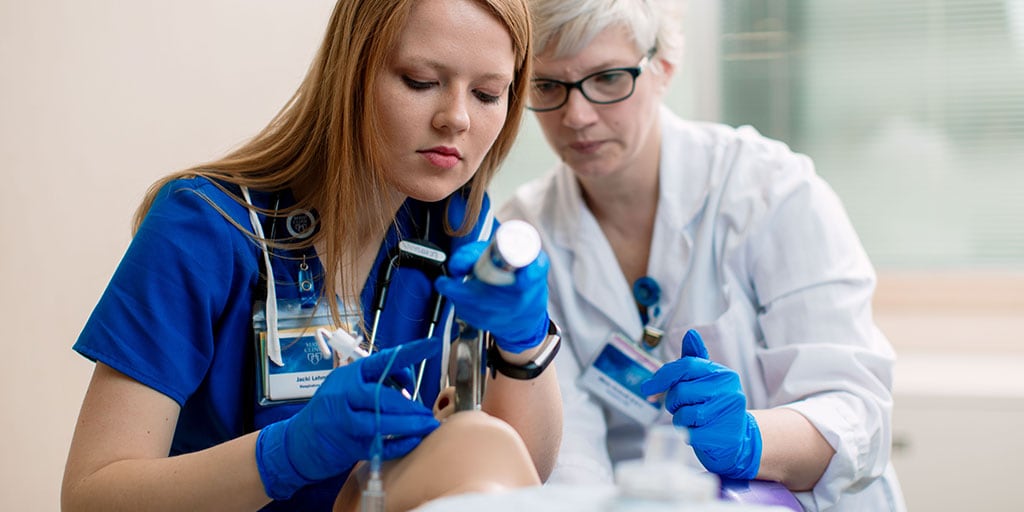 64%
time spent in clinical settings
21%
time spent in classroom
Facilities and faculty
Learn more about the facilities and faculty of the Respiratory Care Program (Minnesota).
Facilities
The Mayo Clinic campus in Rochester, Minnesota, includes an extensive outpatient complex, Mayo Clinic Hospital, Saint Marys Campus; Mayo Clinic Hospital, Methodist Campus; and substantial research and education facilities.
This Mayo Clinic site is among the largest, most advanced medical centers in the world.
Primarily, clinical education is conducted at Mayo Clinic Hospital, Saint Marys Campus, a 1,157-bed facility that was founded in 1889. Within Saint Marys Campus, is the 85-bed Mayo Eugenio Litta Children's Hospital. Students also have rotations within Mayo Clinic Health System.
Teaching faculty
We have a dedicated team that educates, supervises and mentors respiratory care students as they rotate through the specialty rotations.
Your instructors are trained respiratory care therapists. They are chosen for their commitment to teaching as well as their expertise in providing respiratory testing and care.
Vanessa King, RRT, M.Ed.
Program Director
Vanessa King joined the Respiratory Care Program in 2006. She graduated from the North Dakota State University respiratory therapy program in 1992 and from University of Minnesota in 2004 with an M.Ed in human resource development. Prior to assuming the role of program director, Ms. King was a clinical preceptor for several years after joining the respiratory therapy department in 1997. She is an instructor in anesthesiology at Mayo Clinic College of Medicine and Science. Her teaching interests include patient assessment, anatomy and physiology, adult critical care and professional development.
James Findlay, M.B., Ch.B.
Medical Director
Consultant in Anesthesiology and Perioperative Medicine
Dr. James Findlay graduated from Edinburgh University with a BSc with first class honors in medical sciences/biochemistry in 1984, and then in medicine (MB, ChB) in 1986. He completed anesthesia training in Scotland, achieving FRCA in 1990 and specialty certification in anesthesia in 1997. He subsequently completed fellowships in Critical Care Medicine and Transplantation Anesthesia at Mayo Clinic, Rochester, Minnesota. He joined the staff at Mayo Clinic in the Department of Anesthesiology and Critical Care Medicine in 1997. He obtained ABA certification in anesthesiology (1998) and critical care medicine (1999). He is currently a consultant in anesthesiology and perioperative medicine, an associate professor, and has been adjunct faculty at the University of Minnesota since 2005.
He has taught in the Respiratory Care Program since 1999 and has been Medical Director since 2004. He also teaches residents and fellows in the Mayo Clinic Anesthesiology and Critical Care programs and has been the coordinator for transplant anesthesia. He has served on the programming committee for several national and international meetings.
Dr. Findlay's research interests include cardiorespiratory complications of liver failure, pre-transplant evaluation for liver transplantation and perioperative management of transplant patients. He has published papers in many journals including Anesthesiology, Anesthesia and Analgesia, Intensive Care Medicine, Liver Transplantation, Transplantation, British Journal of Anaesthesia, American Journal of Transplantation, Journal of Clinical Transplantation, Transplantation Proceeding, is the author of several book chapters and has presented widely at national and international meetings.
Dr. Findlay is a member of a number of associations including ASA, SCCM, ILTS, IARS, MMA. He is a past Chair of both the ASA Committee on Transplant Anesthesia and ILTS Anesthesia/Critical Care Committee.
Bill Letourneau, MA, RRT – ACCS
Associate Program Director
Bill LeTourneau joined the Respiratory Care Program in 2014. He graduated from the Saint Paul College Respiratory Therapy Program in 1999. Mr. Letourneau has a B.S. degree in pulmonary science and a M.A. degree in strategic communication management from Concordia University of Saint Paul, Minnesota. He is an instructor in anesthesiology at Mayo Clinic College of Medicine and Science. Mr. LeTourneau is a registered respiratory therapist and is a member of the American Association for Respiratory Care and the American Thoracic Society.
Mr. LeTourneau has over 20 years of health care experience. Prior to coming to Mayo Clinic in August 2014, Mr. LeTourneau was the respiratory therapy supervisor at Fairview Southdale Hospital in Edina, Minnesota, and adjunct faculty at the Saint Paul College Respiratory Therapy Program.
Mr. LeTourneau's research interests are in airway management and mechanical ventilation. He has published his research in peer-reviewed scientific and professional journals, including Respiratory Care and The American Journal of Respiratory and Critical Care Medicine.
Carl D. Mottram, RRT
Advanced Cardiopulmonary Diagnostics Course Coordinator
Carl Mottram holds the academic rank of Associate Professor of Medicine with Mayo Clinic College of Medicine and Science. He is the technical director of the Mayo Clinic Pulmonary Function laboratory. He serves as President of the Clinical and Laboratory Standard Institute (CLSI). In addition, he serves on the National Board for Respiratory Care (NBRC) and chairs the NBRC Pulmonary Function Credentialing Exam Committee. Mr. Mottram is a recognized expert in the field of pulmonary diagnostics, has published numerous articles, and is the author and editor of the definitive textbook in pulmonary function testing.
Course sequence
There are a total of 61 credits in the program.
Junior year: Fall semester (15 credits)
| Number | Course | Credits |
| --- | --- | --- |
| RESP 3011 | Foundations of Respiratory Care | 2 |
| HP 3021 | Patient Care Techniques | 1 |
| RESP 3101 | Respiratory Care Modalities and Equipment | 4 |
| RESP 3201 | Cardiopulmonary Patient Assessment | 4 |
| RESP 3301 | Clinical Practicum I | 3 |
| RESP 3401 | Seminar in Respiratory Care I | 1 |
Junior year: Spring semester (14 credits)
| Number | Course | Credits |
| --- | --- | --- |
| RESP 3102 | Respiratory Care Modalities and Equipment II | 4 |
| RESP 3202 | Advanced Cardiopulmonary Physiology and Pathophysiology | 3 |
| RESP 3302 | Clinical Practicum II | 3 |
| RESP 3402 | Seminar in Respiratory Care II | 1 |
| RESP 3502 | Clinical Research: Literature, Methodology, and Application | 3 |
Senior year: Summer semester (4 credits)
| Number | Course | Credits |
| --- | --- | --- |
| RESP 4300 | Clinical Practicum | 2 |
| RESP 4400 | Advanced Adult Respiratory Critical Care Techniques I | 2 |
Senior year: Fall semester (15 credits)
| Number | Course | Credits |
| --- | --- | --- |
| PHAR 3800 | Pharmacotherapy for the Health Professions (online) | 3 |
| RESP 4500 | Advanced Adult Respiratory Critical Care Techniques II | 1 |
| RESP 4311 | Advanced Perinatal and Pediatric Respiratory Care | 3 |
| RESP 4321 | Advanced Cardiopulmonary Diagnostics | 2 |
| RESP 4331 | Cardiopulmonary Rehabilitation, Disease Prevention and Case Management | 1 |
| RESP 4341 | Clinical Practicum III: Advanced Respiratory | 3 |
| RESP 4401 | Clinical Practicum IV: Advanced Adult Respiratory Critical Care | 1 |
| RESP 4501 | Research Project | 1 |
Senior year: Spring semester (13 credits)
| Number | Course | Credits |
| --- | --- | --- |
| RESP 4342 | Clinical Practicum V: Advanced Respiratory Care | 3 |
| RESP 4402 | Clinical Practicum VI: Advanced Adult Respiratory Critical Care | 2 |
| RESP 4502 | Research Project II | 1 |
| RESP 4602 | Grand Rounds | 2 |
| HP 4802 | Health Economics and Finance | 3 |
| HP 4902 | Management and Leadership in Health Care | 2 |