How to Apply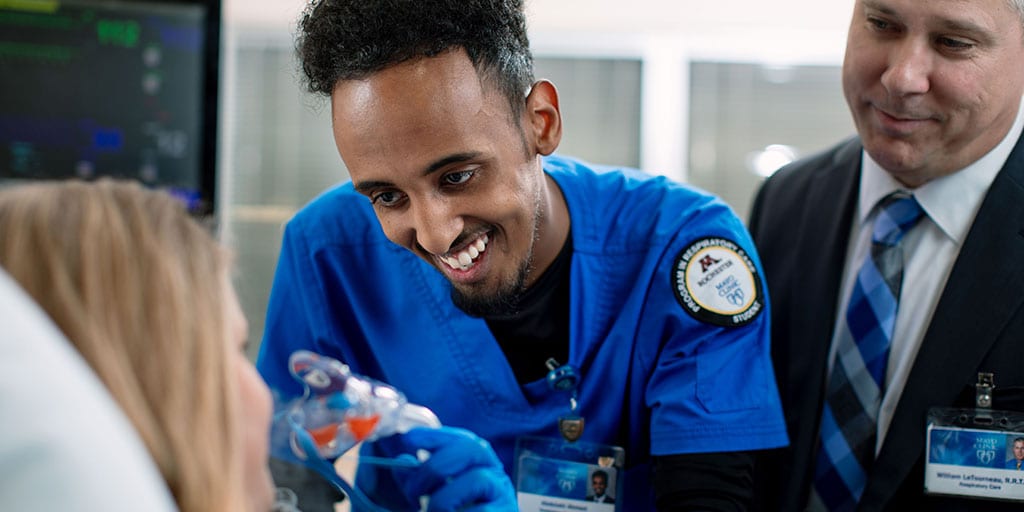 Enrollment
The Respiratory Care Program is offered collaboratively by University of Minnesota Rochester (UMR) and Mayo Clinic School of Health Sciences. This program does not accept prior respiratory care education or work experience in lieu of the required respiratory care course.
To participate in the Respiratory Care Program, you must enroll in the Respiratory Care Track of the Bachelor of Science in Health Professions (BSHP) at UMR. You must successfully complete the required prerequisite college coursework for the Respiratory Care Program at Mayo Clinic. Prerequisite coursework must be completed with a C- or higher.
Applicants are selected based on grades, work and volunteer experiences, leadership qualities, and representation of personal qualities and skills in a personal letter and during an interview.
Early Assurance Program
The University of Minnesota Rochester (UMR), in collaboration with the Mayo Clinic School of Health Sciences, offers an Early Assurance Program for students interested in obtaining a Bachelor of Science in Health Professions-Respiratory Care Track degree. Students begin the freshmen year at UMR in the Bachelor of Science in Health Sciences Program and complete two years of pre-requisites. Following the successful completion of pre-requisites, the students automatically transition to the Bachelor of Science in Health Professions- Respiratory Care Track. Admission is limited and competitive. Visit the UMR website to learn more about early assurance admission into the respiratory care program.
Application process
To apply to the Respiratory Care Program, complete an online application at University of Minnesota Rochester and select Bachelor of Science in Health Professions (BSHP). Submit your application by Jan. 15.
Selected applicants who meet University of Minnesota Rochester admission criteria will be invited to Rochester to interview with the admissions committee members on select dates in March (at their own expense) for a personal interview. All transferred coursework must be completed with a C- or higher.
Prerequisites and technical standards
Prerequisites
Admission is offered only to students who meet qualifications for education and training in the art and science of the respective allied health profession. All transferred coursework must be completed with a C- or higher.
Course requirements
Anatomy & Physiology I or [Human] Anatomy, with lab*
Anatomy and Physiology II or [Human] Physiology, with lab*
College Algebra (or higher level math course)*
General Chemistry, with lab*
Microbiology, with lab*
Physics, with lab*
Statistics*
English Composition
Ethics or Medical Ethics
General Psychology
Medical Terminology (2 credits)
Public Speaking
Overall GPA and any *STEM (Science, Technology, Engineering, Math) course attempts in the past five years are considered in the admission process.
Liberal Education (LE) requirements
Liberal Education (LE) requirements consist of a set of core areas and themes that must be completed in your lower division coursework. Prerequisite courses for the BSHP may overlap to fulfill LE requirements, however students will need to ensure they are meeting all areas and themes in elective courses. To find out what courses at other institutions meet LE requirements, please check the Liberal Education transfer guides.
Additional admission requirements
Fluency in written and spoken English is essential for success in the program and to ensure patient safety. Applicants must demonstrate objective competency in English through the admission interview and may be required to submit results from the Test of English as a Foreign Language (TOEFL) or equivalent examination.
Students seeking exceptions to these standards or reasonable accommodations should initiate their request with the program director. Failure to comply or to provide requested documentation is grounds for withdrawing an admission offer or terminating admission.
Technical standards
Candidates for the BSHP must meet the technical standards necessary to acquire or demonstrate competence in health professions as outlined in this document with or without reasonable accommodation.
Motor skills
You should have sufficient motor functions such that you're able to execute movements required to provide general care and treatment in any health care setting within a specified amount of time.
You must be able to perform basic life support (including CPR), transfer and position patients, and position and re-position yourself around patients. You must also be able to position and operate equipment typically found in the health care environment and relevant to each track of study (for example: IV pumps, electric beds, oxygen tanks, wheel chairs, portable equipment, etc.). This may require standing for prolonged periods of time and having coordination of both gross and fine muscular movements, including the ability to manipulate multiple objects simultaneously and have functional uses of senses to perform patient care procedures.
Sensory/observation
You must be able to acquire a defined level of required information as presented through demonstrations and experiences in the basic and clinical sciences.
You must be able to learn to perform visual and tactile examinations and treatments to differentiate subtle variations in color, shape and general appearance.
You must be able to accurately observe patients from a distance or close at hand, correctly read digital, analogue or graphic gauges, scales and monitors, and recognize biohazardous fluids. You must be able to recognize and respond to both audio and visual alarms. You must also be able to hear breath and heart sounds with a stethoscope, and see cardiac/pulmonary waveforms on monitoring screens.
You must also possess the visual acuity to read or view various forms of documentation including records, charts, images and handwritten notation.
Communication
You must be able to communicate clearly and effectively with a degree of sensitivity and cultural appropriateness with patients, parents and/or guardians, establish good rapport, convey or exchange information at a level allowing development of a health history, identify problems presented, explain alternative solutions, and give directions during treatment and post-treatment. Communication includes oral and written modes.
You must have sufficient facility with English to retrieve information from literature, computerized databases and lectures and to communicate concepts on written exams and patient charts. Patients, faculty, students, and staff must be able to easily understand your oral and written communication in order to effectively evaluate performance and to work collaboratively in the care of patients.
Cognitive/intellectual
You must be able to measure, calculate reason, analyze, integrate, and synthesize information.
You must be able to self-organize your time and independently manage multifaceted demands and schedules.
You must be able to read and comprehend extensive written materials in a timely manner.
You must be able to comprehend and apply didactic concepts and engage in critical thinking in the classroom, lab and clinical settings all in a timely manner. This involves physiologic measurements, mathematical computation, information gathering, interpretation and analysis of data, and problem solving.
You must be able to synthesize the information in the development of an effective treatment plan.
You must be able to comprehend three-dimensional relationship and to understand the spatial relationships of structures.
Behavioral
You must have the emotional health and maturity required to exercise good judgment, maintain patient confidentiality, complete all responsibilities attendant to the diagnosis and care of patients, and develop mature, sensitive and effective relationships with patients, faculty, staff and students.
You must be able to tolerate physically, mentally and emotionally demanding workloads, function effectively under stress, adapt to changing environments, display flexibility and learn to function in the face of uncertainties inherent in the clinical problems of patients.
Compassion, integrity, concern for others, interpersonal skills, interest, and motivation are all personal qualities that will be assessed during the admission and educational processes. Further, you must be able to manage apprehensive patients with a range of moods and behaviors in a tactful, culturally sensitive, congenial, personal matter so as not to alienate or antagonize them.
You must reasonably be expected to accept criticism and respond by appropriate modification of behavior.