Why Choose Us
About Eau Claire
Eau Claire is a vibrant university community of 67,000 people in northwestern Wisconsin. The city successfully integrates a wide variety of activities and urban amenities with a picturesque wooded and rural landscape surrounding two rivers and Half Moon Lake.
We're only 90 miles from the Twin Cities of Minneapolis-St. Paul and from Rochester, Minnesota, making them easily accessible for day trips or special events.
There really is something for everyone in Eau Claire:
Want to know more about what's happening this month in Eau Claire? Check out Volume One, a local culture and entertainment magazine.
A world-renowned multispecialty group practice
Family medicine is the largest specialty in the Northwest Wisconsin Region of Mayo Clinic Health System. We hold loads of leadership positions across Mayo Clinic — locally and in Rochester, Florida, and Arizona.
Why our residents chose us
Check out a few of the other reasons to choose our program:
Global health opportunities
We are lucky to have the support of the Mayo International Health Program for our residents. Our faculty members have pursued global health opportunities in Haiti, Liberia, Sudan, and Uganda.
Rural medicine opportunities
There are many rural communities outside of Eau Claire that are home to critical access hospitals. These hospitals are fantastic places to learn specific skills needed to thrive as a physician in a rural community.
We will even help you set up some of your continuity practice in a rural community if it helps you meet your learning and career goals.
Diverse outpatient Family Medicine Clinic population
Residents and faculty share our Family Medicine Clinic. We continue to build patient panels which include people of all ages, gender, sexual orientation, and ethnic background.
In a single day, we see UW-Eau Claire college students, newborn babies, octogenarians from the local Hmong population, and everyone in between. We care for patients from birth to death who have many different types of insurance — private, Medicare, Medicaid — as well as self-pay patients.
The clinic also has a charity care program for patients unable to pay their medical bills, and many physicians volunteer their time at a local free clinic. The wide diversity of the patient population definitely represents the breadth of issues we encounter in a full-spectrum family medicine practice.
Active inpatient family medicine service
Our Family Medicine Teaching Service (consisting of a PGY-1, PGY-2, PGY-3, and a family medicine core faculty attending) admits and cares for the continuity patients seen in our clinic when they need to be hospitalized at Mayo Clinic Health System in Eau Claire. This helps maximize continuity for all of our patients, even in the inpatient setting.
Our patients have diverse backgrounds and health needs, and family medicine takes care of it all with consultative support from subspecialists, when needed. Any patients who are not part of our Family Medicine Clinic who need inpatient care are admitted to one of the hospitalist teams.
On-call sweet spot
We want you to flourish professionally and personally. We don't know the term "scutwork." Our hospital does not need residents to run effectively, yet they highly value the care our residents provide. We are able to optimize rotation shift times that are best suited for learning opportunities.
There is a sweet spot of being busy enough to see and learn everything necessary, but not too busy that it disrupts your life. We strive to hit that sweet spot for you in Eau Claire.
Osteopathic Recognition Track
The Osteopathic Recognition Track (ORT) equips residents with the education and training required to competently evaluate and treat patients using Osteopathic Principles and Practice (OPP), including Osteopathic Manipulative Treatment (OMT). Upon successful completion of the ORT, residents are American Osteopathic Board of Family Physicians (AOBFP) boards eligible, and can apply for fellowship programs that require Osteopathic Recognition.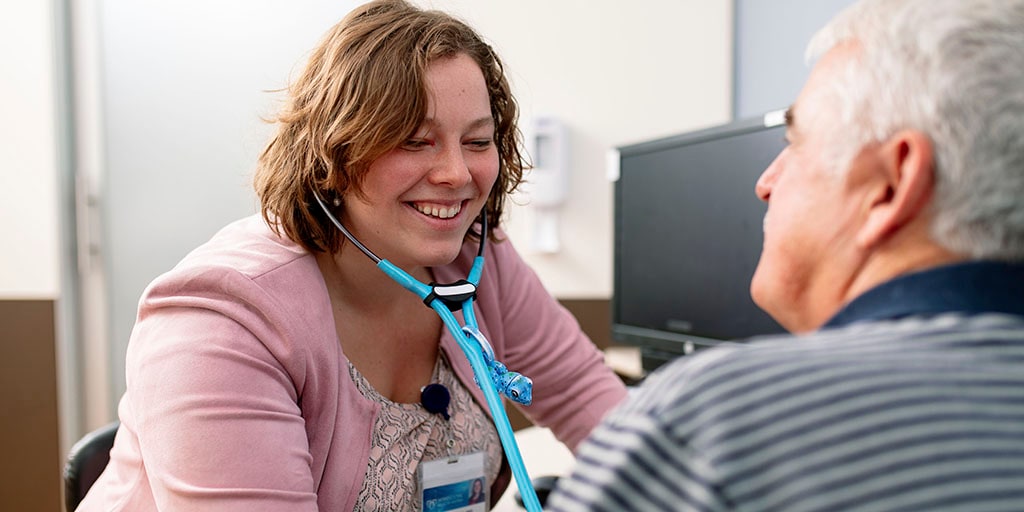 Training sites
Our fully integrated health system in Eau Claire houses the Family Medicine Residency's outpatient continuity practice, more than 40 subspecialty medical services, and the hospital on the same campus. Every Mayo Clinic site across the country uses a single, fully integrated electronic health record (EHR) — Epic.
Family Medicine Clinic
The Family Medicine Clinic on the Luther Campus of Mayo Clinic Health System in Eau Claire is where you spend most of your time while you master the art of outpatient medicine. Here you will care for your own diverse panel of continuity patients, drawing from about 300,000 patients in and around Eau Claire.
This clinic was specifically designed with resident training in mind. From the patient-centered exam rooms to the innovative workspaces, we customized the clinic for providing personalized, continuous, team-based care that is both high-tech and high-touch.
We use the same EHR in both the clinic and the hospital, which helps us analyze patient data from a population health perspective and be more successful with implementing the Mayo Model of Community Care.
We also keep the patient's needs at the center of the care team by encouraging patients to access their health records and their providers through the secure patient portal.
Mayo Clinic Health System — Eau Claire Hospital
Mayo Clinic Health System — Eau Claire Hospital stays active with more than 11,000 admissions, 1,000 deliveries, and 30,000 emergency department visits each year. Our 204-bed hospital offers an innovative Enhanced Critical Care Unit, a family-friendly birthing center, and Eau Claire's only emergency department with a Level II Adult Trauma Center, to name a few highlights.
Subspecialty clinics at Mayo Clinic Health System in Eau Claire
Other subspecialty rotations within the program take place at Mayo Clinic Health System subspecialty clinics in Eau Claire.
Children's hospital in Rochester, Minnesota
Mayo Eugenio Litta Children's Hospital, part of Mayo Clinic Hospital in Rochester, Minnesota, is where you complete the majority of your inpatient pediatric training. For four weeks, you are an integral member of the pediatric service team, admitting and managing pediatric patients under the guidance of some of the best pediatric residency faculty in the nation.
Critical access hospitals in rural northwestern Wisconsin
Critical access hospitals in the Northwest Wisconsin Region of Mayo Clinic Health System are great places to master practice skills of rural medicine. We encourage a wide variety of training experiences and exposures in these more rural sites, including our outpatient pediatric clinic experience, and Rural Continuity Clinic.
Learn more about the other Mayo Clinic Health system sites: