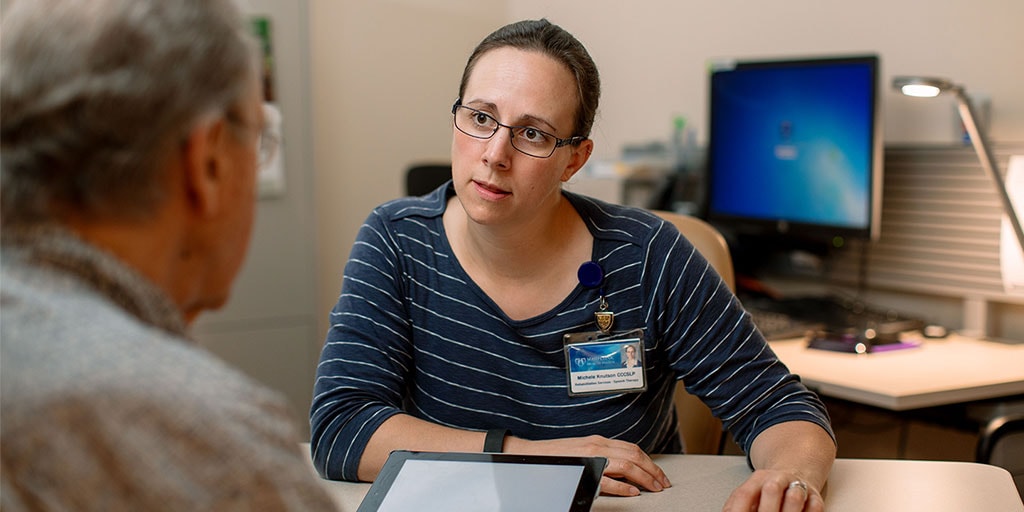 What does a medical speech-language pathologist do?
A medical speech-language pathologist works in health care and diagnoses and treats a wide range of speech, language, cognitive, and swallowing disorders. They work with patients affected by a variety of neurological events, such as brain damage, stroke, seizure, or cancer. They may also work with patients who suffer from chronic diseases or who have experienced a trauma.
Speech pathologists examine patients and create treatment plans tailored to their needs. These patients may have speech articulation issues, voice quality problems, or language disorders. Treatment could be modifying a patient's diet or prescribing a speech-generating device.
Scope of practice
Medical speech-language pathologists work with doctors and audiologists to treat patients of all ages, from infants to the elderly. This role holds a wide range of responsibilities and can do a variety of tasks each day, including:
Diagnosing and treating speech, language, cognitive, communication, and swallowing disorders
Evaluating swallowing ability and prescribing an appropriate diet (foods may need to be pureed or liquids may need to be thickened)
Helping patients with aphasia find ways to communicate
Training family members or caregivers, as well as other professionals
Collaborating with other members of the care team
Conducting research to develop new treatment methods
Work environment
Medical speech-language pathologists typically work in hospitals, outpatient clinics, and rehabilitation facilities. They typically work 40 hours per week during normal business hours. The work they do may differ slightly depending on where they work.
Speech-language pathologists that work in a hospital may do more diagnosis, counseling, and educating. Whereas medical speech-language pathologists that work in a rehabilitation facility typically work on improving skills to function more independently.
Speech-language pathologists that do not work in health care, may work in education providing services to school-age children with a wide range of disabilities. They may also work in government, or even in the corporate world.
Becoming a medical speech-language pathologist
Compassionate, detail-oriented people with good communication skills and a passion for science might be interested in a career as a medical speech-language pathologist. This role will keep you on your toes and allow you to do something different every day. Speech–language pathologists spend a lot of time with patients evaluating and treating their conditions, as well as time with caretakers and other members of the health care team to explain diet changes and other care instructions.
Higher education requirements
To become a medical speech-language pathologist, you must complete:
A bachelor's degree in communication sciences and disorders (or related field with certain prerequisites completed for graduate school admission)
A graduate degree in speech-language pathology
A postgraduate fellowship
A national licensing exam
Certification process
You can get certified by the American Speech-Language-Hearing Association (ASHA) Council for Clinical Certification once you've completed a speech-language pathology graduate degree and fellowship, and passed the Praxis exam.
Career opportunities and outlook
A medical speech-language pathologist can expect a median annual salary of $79,060.
The Bureau of Labor Statistics expects the employment of speech-language pathologists to grow much faster than average. This is due to the large baby-boom population ages, there will be more instances of health conditions that cause speech or language impairments, such as strokes and hearing loss. Secondly, medical advances are improving the survival rate of premature infants and trauma victims, who may benefit from speech therapy.
With further education, some speech-language pathologists can become educators or researchers. Others can advance into management or administrative positions with greater responsibilities.
By the numbers
6-8
years of higher education
29%
job growth projected from 2020-2030
Medical speech-language pathologist programs at Mayo Clinic
Mayo Clinic offers several internships and a fellowship to prepare students for a career as a medical speech-language pathologist, including:
Browse similar careers