Clinical Training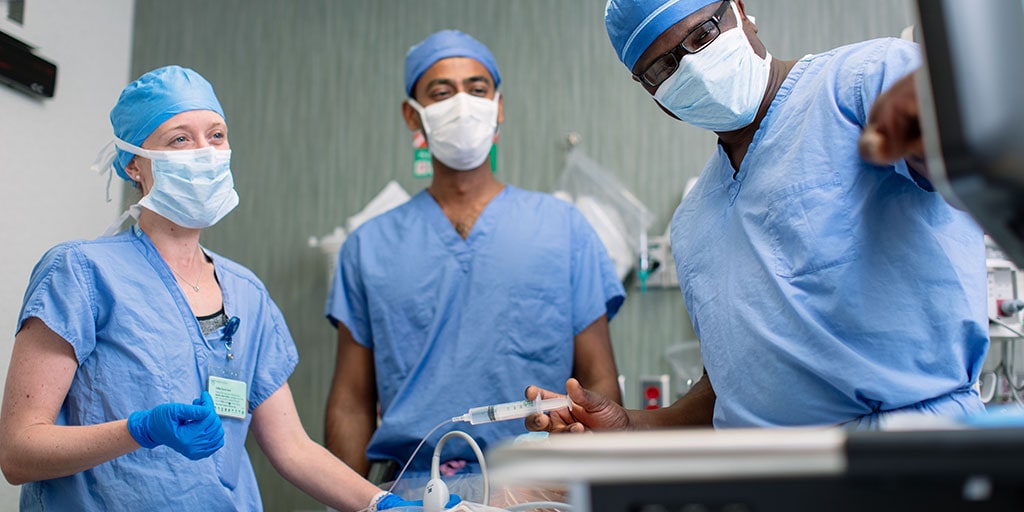 Mayo Clinic's Anesthesiology Residency program offers a flexible and comprehensive training experience with opportunities to rotate to several affiliated institutions, including Mayo Clinic campuses in Jacksonville, Florida, and Scottsdale, Arizona.
Anesthesiology Residency training comprises two components: Fundamental Clinical Skills (FCS) or PGY-1 year and clinical anesthesia years (CA-1 through CA-3 years).
Fundamental clinical skills (FCS) year (PGY-1)
The fundamental Clinical Skills (FCS) of medicine year at Mayo Clinic provides broad education in the fundamental skills relevant to the practice of anesthesiology. Rotation schedules are composed of 13 four-week rotations and are comprised of the following experiences:
Inpatient internal medicine
Inpatient cardiology
Surgical intensive care
Medical intensive care
Nephrology
Inpatient neurology
Emergency medicine
Preoperative clinic
Acute pain medicine
Transfusion medicine
Otorhinolaryngology
Research
Anesthesiology
Clinical anesthesia years
The three clinical anesthesia years (CA-1 through CA-3) include training in basic, subspecialty, and advanced anesthesia, as well as opportunities to participate in scholarly activity. Rotations vary in length from one to three months.
CA-1 and CA-2 years
The first and second years of clinical anesthesia training (CA-1 and CA-2) consist of clinical rotations in all basic and subspecialty areas with increasing levels of responsibility and autonomy. After completing these rotations, residents gain expertise in peripheral and neuraxial regional anesthesia, advanced airway techniques, point-of-care ultrasound (POCUS), critical care, and pain medicine. Residents gain exposure to all subspecialty areas, facilitating informed decisions regarding future subspecialty and fellowship training.
CA-3 year
The third year of clinical anesthesia training (CA-3) at Mayo Clinic is distinctly different from the CA-1 and CA-2 years. This year offers unique opportunities for trainees to learn valuable leadership skills while functioning as the leader of the perioperative anesthesia care team. Throughout this year, residents are allowed greater scheduling flexibility, take on responsibility for more complex anesthetics, and participate in many "hall-way rotations" where they function as leaders of the anesthesia care team. The latter allows for ownership of multiple, complex procedure rooms, working with faculty in managing all aspects of perioperative care.
Elective rotations include:
Ambulatory anesthesia
Cardiovascular senior
ECMO
Multispecialty senior
Neuroanesthesia senior
Pain medicine
Pediatric outfield senior
Radiology outfield senior
Regional anesthesia/ block resident senior
Research
Transesophageal echocardiography
Transplant anesthesia
| Rotation | Length |
| --- | --- |
| Orthopedic and regional anesthesia | 2 months |
| General surgery anesthesia | 2 months |
| Gynecological and plastic surgery anesthesia | 1 month |
| ENT | 1 month |
| Major spine anesthesia | 1 month |
| Surgical critical care | 1 month |
| Recovery room and acute pain medicine | 2 months |
| Transfusion medicine | 2 weeks |
| Outfield anesthesia | 2 weeks |
| Elective | 1 month |
| Rotation | Length |
| --- | --- |
| Cardiovascular anesthesia | 3 months |
| Neuroanesthesia | 1 month |
| Obstetric anesthesia | 1 month |
| Pediatric anesthesia | 1 month |
| Regional anesthesia | 1 month |
| Preoperative clinic | 1 month |
| Surgical critical care | 1 month |
| Pain clinic | 1 month |
| Electives | 2 months |
| Rotation | Length |
| --- | --- |
| Cardiac anesthesia | 1 month |
| Neuroanesthesia | 1 month |
| Obstetric anesthesia | 1 month |
| Pediatric anesthesia | 1 month |
| Regional anesthesia | 2 months |
| Electives | 6 months |
Extramural
During the CA-2 or CA-3 year, extramural rotations may be arranged at affiliated locations. The cost of travel, housing, licensure, and other fees are covered, such that these rotations do not become a financial hardship for the resident.
These rotations include:
Mayo Clinic, Scottsdale, Arizona
Mayo Clinic, Jacksonville, Florida
Nemours Children's Specialty Care, Jacksonville, Florida
Cuyuna Regional Medical Center, Crosby, Minnesota (rural perioperative surgical home rotation)
Mayo Clinic Health System Eau Claire (private practice)
Mayo Clinic Health System Mankato (private practice)
The mentorship provided by my training has been helpful, but even more helpful is the mentorship I've found simply by working with the consultants day to day. As I've found my career niche, there has been an abundance of people who have guided and supported my choices. They are always around to provide encouragement, advice, and assistance.
Ashley Wong, M.D.
Anesthesiology resident
Call frequency
Mayo Clinic School of Graduate Medical Education follows the recommendations of the Accreditation Council for Graduate Medical Education (ACGME). Call schedules vary by rotation, but call is approximately every four to six nights. This allows a day off after call with no direct patient care responsibilities. Intensive care and obstetric anesthesia rotations tend to have the most frequent call but are no more than every third night.
CA-3 call is a unique opportunity for residents to serve in another "sub-faculty" role — managing ALL after-hour cases at Mayo Clinic Hospital — Rochester, Saint Marys Campus, including directing room staffing, triaging emergencies, formulating perioperative care plans, and teaching residents and students.
Moonlighting
Licensed residents beyond the PGY-1 level are permitted to moonlight. Moonlighting should not interfere with the required learning and must not violate the duty-hour rules of the ACGME or visa regulations.
Career development
Residents meet periodically with faculty advisers and the program director to discuss goals and progress in the program. With the help of faculty advisers, residents create an individualized learning plan to achieve academic and career goals. Many graduates enter academic practices at Mayo Clinic and other prestigious academic institutions.
Evaluation
To ensure that residents acquire adequate knowledge and develop the appropriate technical skills to meet program expectations, performance is monitored carefully throughout training. Formal evaluation by supervising faculty members occurs monthly. Each resident meets with their faculty adviser at least quarterly to review faculty evaluations as well as academic progress and goals.
Twice a year, residents receive a written clinical competency evaluation by the chair of the Clinical Competency Committee that includes all milestone levels achieved. These evaluations are forwarded to the American Board of Anesthesiology and the ACGME.
In addition, residents regularly evaluate rotations and faculty to confirm that educational needs are being met, provide feedback to faculty, and guide efforts toward continuous program improvement.
There are so many people here at Mayo willing and eager to help you succeed. I have had multiple consultants offer me help in finding research projects and just talk about future careers.
Aldis Siltumens, M.D.
Anesthesiology resident