Didactic Training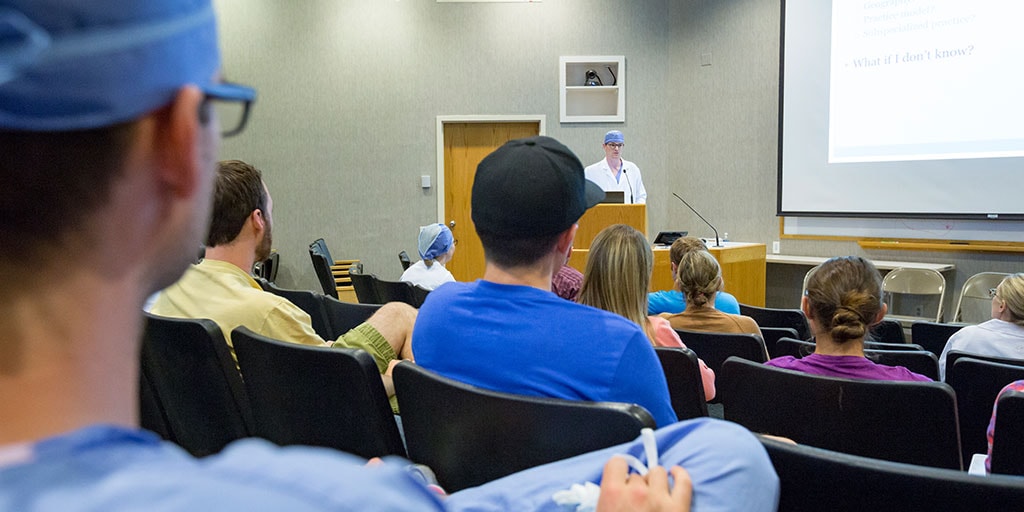 The Department of Anesthesiology and Perioperative Medicine practices in the anesthesia care team model and has done so since the program originated. Because we do not rely on residents as the primary workforce, residents are able to attend didactic sessions, engage in rotations outside of the operating room, participate in scholarly activity, and present work at national meetings.
In this regard, the nurse anesthetists contribute significantly to the training program. In the anesthesia care team model, they also allow for residents to learn the invaluables kills of medical direction and leadership.
As an integral part of a balanced curriculum, residents participate in:
Introductory lecture series
Core curriculum lectures (basic and advanced)
Well-being conferences
Journal clubs
Clinical case conferences
Keyword conferences
Morbidity and mortality conferences
Oral board review sessions
Oral examinations and Objective Structured Clinical Examinations (OSCEs) formal practice
High fidelity simulation sessions
Echocardiography simulation sessions
Airway workshops
Point-of-care ultrasound workshops
Subspecialty mini-lectures
Written board and In-Training Examination reviews
Mayo Clinic is a world-renowned institution founded on a culture of respect, diversity, excellence in patient care, and research. By providing access to state-of-the-art facilities through compassionate health care providers, it delivers an unparalleled experience to patients.
Juan Ripoll Sanz, M.D.
Anesthesiology resident
Simulation education
Mayo Clinic has a 10,000-square-foot Stabile Multidisciplinary Simulation Center. Although several other specialties participate in activities in the simulation center, the medical director of the center is an anesthesiologist.
Residents are exposed to several high-yield simulation sessions each academic year. Additionally, faculty members conduct several ABA simulation sessions for Maintenance of Certification in Anesthesiology (MOCA) each year.
Residents participation sessions include:
Basic and complex anesthesia emergencies
Basic and complex obstetric emergencies
Pediatric anesthesia emergencies
Ultrasound topics
Management of critically ill patients
Topics in cardiovascular anesthesia
Central line workshop
The curriculum is designed to be progressively more challenging as residents move through the program. By the CA-2 and CA-3 years, residents often assume an instructor role for scenario direction. This is part of a vital strategy to allow residents leadership opportunities in communication, crisis management, and team dynamics. These simulations are well adapted to translate to clinical call responsibilities seen throughout the senior years.