Application Process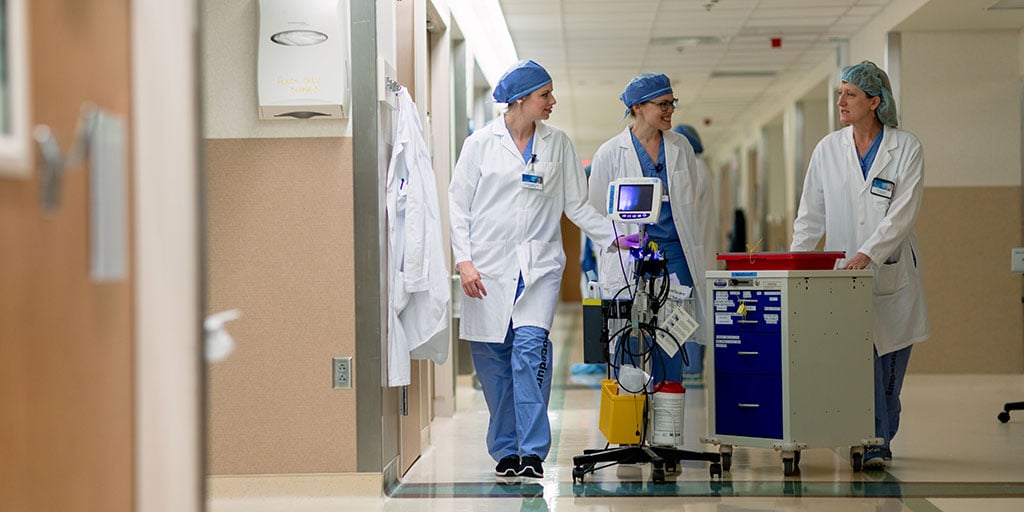 Positions
Mayo Clinic's Anesthesiology Residency program in Rochester, Minnesota, is a fully integrated program. Residents complete all four years (PGY-1 through CA-3) at Mayo Clinic. All 18 positions are filled through a categorical match in the National Resident Matching Program (NRMP).
Qualifications
Senior medical students and graduates may apply for a four-year Anesthesiology Residency position at Mayo Clinic through the Electronic Residency Application Service (ERAS®).
All positions are filled through the NRMP. Applicants must meet one of the following qualifications to be eligible:
Graduation from a medical school in the U.S. or Canada, accredited by the Liaison Committee on Medical Education
Graduation from a college of osteopathic medicine in the U.S., accredited by the American Osteopathic Association Commission on Osteopathic College Accreditation
Graduation from a medical school outside of the U.S. or Canada, and meeting one of the following qualifications:

Holding a current valid certificate from the Educational Commission for Foreign Medical Graduates (ECFMG) prior to appointment
Holding a full and unrestricted license to practice medicine in the U.S. licensing jurisdiction in which the program is located
How to apply
The application and all supporting documentation must be submitted by Oct. 1 of the year preceding the program start date. The academic year begins July 1.
You must apply through the Electronic Residency Application Service (ERAS).
Visit the ERAS website. All applications to Mayo Clinic School of Graduate Medical Education programs must include these application materials. Applicants should submit at least one letter of recommendation from an anesthesiology faculty member and two from other core clerkship rotations or research experiences.
Appointments are made through the National Resident Matching Program (NRMP). Candidates must register through the NRMP website in addition to applying through ERAS.
Applicants considered for an appointment will be invited to participate in virtual interviews with Mayo Clinic faculty, the program director, and a chief of resident. Interviews are conducted between October and December each year.
International medical graduates
We accept well-qualified international medical graduates through the match process. Mayo Clinic may sponsor J-1 or H-1B visas, depending on the situation. Graduates from medical schools outside the U.S. and Canada must be certified by the ECFMG.
Frequently asked questions (and answers)
Beginning with the 2022-2023 recruitment season, only categorical positions are offered at Mayo Clinic in Rochester, Minnesota. The PGY-1 year of training is integrated into the core anesthesiology program, so applicants do not need to also apply to PGY-1 positions. The program will consider applicants who have already completed an intern year or other post-graduate training, on an individual basis.
A United States Medical Licensing Examination (USMLE) Step 2 or Comprehensive Osteopathic Medical Licensing Examination (COMLEX) 2 score is not required prior to applying to Mayo Clinic. However, with the transition to pass/fail scoring on USMLE/COMLEX 1, more emphasis may be placed on USMLE/COMLEX 2 examination performance. Both USMLE/COMLEX 1 and 2 examinations must be completed prior to matriculation in the program. Further, Mayo Clinic requires all residents to pass USMLE/COMLEX 3 before beginning the PGY-2 year of training.
Although some students elect to take both USMLE and COMLEX, we do not require students to take both.
2022 interviews
All interviews for the 2022-2023 academic year will be conducted virtually. Applicants will be provided with several resources to familiarize themselves with the program prior to their interview date. On the evening before the interview, applicants will have an opportunity to participate in a virtual dinner with several current residents. The program will provide UberEats gift cards for this event.
The program conducts both morning and afternoon interview sessions, and applicants only need to participate in one. Applicants will interview with the program director, an associate program director, and a chief resident. During the interview session, applicants have an opportunity to meet informally 1:1 with two residents.
The program will host several resident-only open houses with applicants throughout the recruitment season.
I was worried that I wouldn't get a "feel" for the programs through virtual interviewing. But during the process, I felt so welcomed and truly enjoyed getting to know the residents at the virtual dinner. On the interview day, it was incredible to experience everyone genuinely getting to know me and expressing interest in wanting to help me achieve my goals. From then, I knew Mayo Clinic was special and the place that I wanted to spend my training.
Brittany Bryant, M.D.
Anesthesiology resident