Meet The Faculty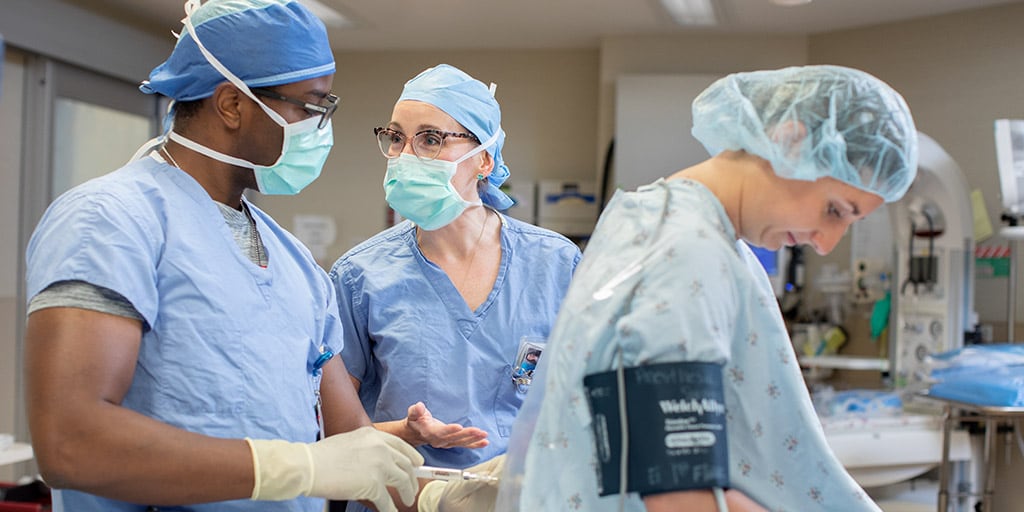 The Department of Anesthesiology and Perioperative Medicine is a highly integrated, collaborative group of adult and pediatric anesthesiologists. We have more than 200 staff physicians (including around 40 critical care anesthesiologists), 54 resident physicians, more than 200 nurse anesthetists, and 150 respiratory therapists. Our team is committed to providing the best care possible to patients requiring anesthesia, perioperative and intensive care, and pain management.
Using state-of-the-art equipment and a comprehensive EMR, Mayo Clinic anesthesiologists supervise more than 145,000 cases requiring anesthesia yearly. The large volume and complexity of cases, integrated with ongoing research and education, results in wide-ranging expertise in the anesthetic management of patients of all ages.
The practice of anesthesiology changes dynamically with the introduction of new drugs, equipment, and surgical and radiological interventions. Department members are organized into subspecialty groups, each focusing on a segment of anesthesiology. Faculty members in each subspecialty function as a resource for all members of the department, enabling the department to stay at the forefront of perioperative medicine and anesthesia.
From the director
Mayo Clinic is an outstanding place to practice and learn the art of anesthesiology and perioperative medicine. The department has grown into one of the most well-recognized and well-respected departments in the world, having trained leaders in all areas of anesthesia practice, education, and research.
At Mayo Clinic, residents learn in an anesthesia care team model allowing them to take on leadership roles as they advance in their training and are equally well-prepared to practice "physician only" anesthesia and medically-directed anesthesia upon graduation.
Faculty members are dedicated to maintaining a supportive learning environment and consider resident education as one of the most rewarding parts of their careers. In addition to holding many leadership positions within Mayo Clinic, our faculty are highly engaged nationally with many in leadership positions.
I believe the Anesthesiology residency program at Mayo Clinic is the best in the country, and I am convinced that once you visit and speak with our faculty and residents, you will feel the same. As a graduate of our program, you will be amazed by the opportunities that become available to you!
Timothy Long, M.D.
Anesthesiology Residency Program Director
Vice Chair for Education, Department of Anesthesiology and Perioperative Medicine
Faculty
In addition to caring for patients in their clinical practices, our faculty is committed to teaching and facilitating the growth of medical knowledge. A considerable number of faculty members conduct basic science and clinical research, teach postgraduate and continuing education programs all over the world, and are leaders in anesthesia-related societies and communities.
Many of our faculty members have published and lectured extensively and are highly regarded in their fields. You have direct access to the anesthesiology faculty at Mayo Clinic throughout your training in the Anesthesiology Residency and future practice.
Our faculty are dedicated to maintaining a supportive learning environment and consider resident education as one of the most rewarding parts of their careers. In addition to holding many leadership positions within Mayo Clinic, our faculty members hold or have held many national leadership positions.
Advisers and mentors
You are assigned a dedicated faculty adviser who can provide comprehensive educational advice and personal support. You meet with your advisers periodically throughout the program to review your progress and career goals and ensure that your educational needs are being met. Your adviser also serves as a contact point for introducing you and your family to Rochester, Minnesota, and the Mayo Clinic system.
Visiting professors
Many prominent professors visit Mayo Clinic each year. They present their work during lectures, participate in hospital rounds, and have informal discussions with trainees. You are encouraged to take full advantage of these educational opportunities.
Additionally, many faculty members function as visiting professors throughout the world, delivering world-class lectures. Residents in the program have the opportunity to hear from these faculty members on a regular basis.
Facilities
The nature of multispecialty anesthesia services requires that anesthesiology team members be located at various locations throughout the Mayo Clinic campus.
Mayo Clinic Hospital — Rochester, Saint Marys Campus. This is one of two hospital campuses located at Mayo Clinic in Rochester, Minnesota. It is a tertiary care, Level 1 Trauma Center providing cardiothoracic, vascular, orthopedic, trauma, plastic surgery, ophthalmological, ear-nose-throat (ENT), neurosurgery and pediatric surgery services. The surgical suite consists of 69 operating rooms performing more than 40,000 anesthetics yearly.
Mayo Clinic Hospital — Rochester, Methodist Campus. This is a modern, advanced facility providing services in orthopedics, obstetrics and gynecology, plastic surgery, and general and transplant surgery. Unique to this hospital is the very busy elective orthopedic practice. Most patients in this practice receive regional anesthesia for intraoperative analgesia, postoperative analgesia or both. The surgical suite consists of 41 operating rooms performing more than 20,000 anesthetics yearly.
In addition to these two major locations, the anesthesia department provides services at several outfield locations, including the Gonda outpatient surgery center, the Cardiac Catheterization Laboratory, the neuroradiology, gastrointestinal endoscopy and interventional radiology suites, and the Jacobson Building for proton beam therapy. Anesthesiology residents and faculty are part of the emergency response and code teams that respond to crises throughout the Mayo Clinic campus.
I'm so thankful for the opportunity to work and learn in a culture where faculty truly invest in resident education with a continued focus on delivering exceptional patient care. It's easy to find remarkable mentorship in research, professionalism, and education. The faculty at Mayo Clinic strives to shape us into excellent anesthesiologists while fostering individual growth along the way.
Brittany Bryant, M.D.
Anesthesiology resident