Didactic and Research Training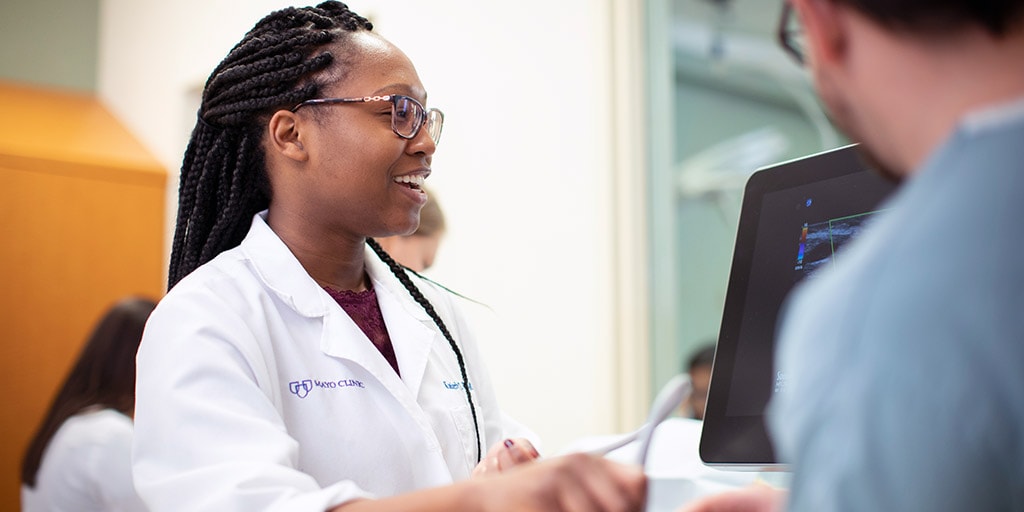 Didactic training
The Jacksonville campus offers a variety of didactic lectures and conferences, from an introductory Intern 101 series to highly specialized topics in all areas of medicine.
Case-based learning is achieved through dedicated ambulatory and primary care morning reports, as well as traditional hospital-based morning reports. We have regularly scheduled evidence-based medicine, journal club, and morbidity and mortality conferences. We also offer a unique integrated ultrasound curriculum and training in procedures and patient encounters.
Mayo Clinic's Medical Grand Rounds are weekly continuing medical education (CME)-accredited conferences in which you routinely present case reports and clinical images. As a PGY-3 resident, you attend board review one protected half day a week. This is a yearlong course designed and directed by a staff physician.
Research training
The Internal Medicine Residency offers a unique academic mentoring program starting in your PGY-1 year that creates opportunities and connections for future career success. Mentorship is tailored to your individual interests and goals.
In addition to traditional academic scholarship, residents are active in quality improvement, safety initiatives, and curriculum development. Our residents are very successful in producing peer-reviewed publications and national presentations. Mayo Clinic provides up to five trips (10 weekdays) a year per resident for trip time, in addition to regular vacation time, for you to present your research at national and regional meetings. Mayo also provides $1,750 per trip to cover costs in addition to registration fees.
All residents become bronze certified in Mayo Clinic Quality Academy with formal teaching of quality metrics and have the opportunity to become silver and gold certified.
Additionally, residents who have completed their PGY-1 year are eligible to apply for the Clinician Investigator Training Program for those interested in pursuing a career that includes research within a robust clinical practice.