Curriculum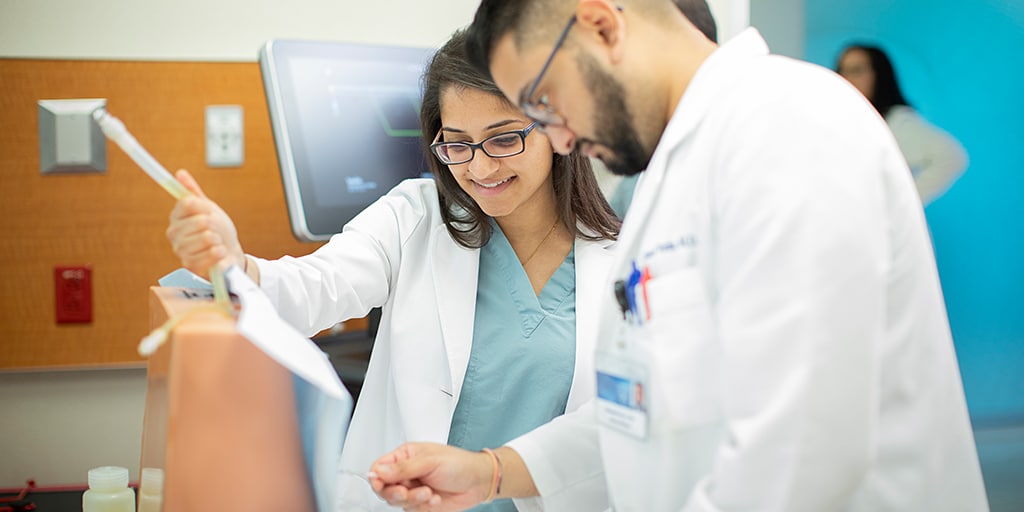 Our curriculum and commitment to education in the Internal Medicine Residency at Mayo Clinic's campus in Jacksonville, Florida, is unmatched. It offers a wide variety of clinical and hospital-based experiences, as well as incorporated simulation center learning and didactics presented by residents, fellows, and consulting staff.
As a resident, you'll enjoy a schedule that's well-balanced and allows ample elective and research opportunities early in your training process.
Clinical training
Your training takes place in state-of-the-art clinic and hospital facilities that serve patients with diverse socio-economic backgrounds, including local, national, and international patients.
You are very active in providing care for the underserved. All of our residents rotate through Mission House in Jacksonville Beach, which offers a free medical clinic for individuals affected by homelessness.
You may also pursue elective rotations in underserved international communities through the Mayo International Health Program.
During the ambulatory rotations, you rotate through the University of North Florida Student Health Services clinic. The geriatrics rotation includes rotating through hospice and several local nursing homes. As a senior resident, you have the opportunity to rotate through the Veterans Affairs' Jacksonville Outpatient Clinic.
Mayo has a world-class simulation center which helps make residents feel more confident performing procedures and allows us to run through challenging hospital scenarios before they are encountered in real life. We also receive ultrasound training that allows residents to develop a comfort with this imaging modality in order to utilize these skills for patient care.
Adam Kase, M.D.
Internal medicine resident
Rotation schedule
Our 13-block schedule of four-week rotations provides a well-balanced inpatient, outpatient, and consult team experience, with the option to rotate at Mayo Clinic campuses in Minnesota and Arizona pending approval from the Graduate Medical Education Committee.
You can also customize your educational experiences thorough a variety of clinical and research electives.
Teaching opportunities
Opportunities are available for you to teach medical students from the Mayo Clinic Alix School of Medicine, as well as visiting sub-interns from around the country. Mayo Clinic's medical students have the option of a 2+2 program, where they do their first two years of medical school in Minnesota or Arizona, and their third and fourth years at Mayo Clinic Florida.
All teaching faculty and senior residents undergo training to improve their teaching skills and become more effective educators. The interactive sessions, called "Residents as Teachers," are held each year and incorporate concepts related to learning climate, evaluation and feedback, and identifying individual learning styles.
Evaluation
To ensure that you acquire adequate knowledge and develop the appropriate technical skills to meet program expectations, your performance is monitored carefully during the Internal Medicine Residency. You are formally evaluated by supervising faculty members on a regular basis and meet with the program director to review these evaluations. In addition, you regularly evaluate the faculty to confirm that your educational needs are being met.
PGY-1 mentoring program
Career success begins with early mentoring and academic opportunities. Beginning in September of each intern year, we undergo a process to identify and best-fit mentors in residents' chosen specialties. The goal is to begin some scholarly work to help you be successful in securing an excellent fellowship, as well as to build a skill set needed for lifelong scholarly engagement.
Faculty are asked annually to submit proposals, then residents review the proposals and meet with faculty of their choice. Trainees then select their own mentors.
The mentorship model has allowed me to confide in a trusted advisor about all aspects of residency. Whether it's discussing performance evaluations, anticipated rotations, future career plans, or new local restaurants — the mentorship model has enhanced my training. I know my confidential advisor meetings are safe platforms to discuss my own growth as a physician learning both medicine and work-life balance.
Amanda McKenna, M.D.
Internal medicine resident