Overview
Program description
Minimally invasive gynecologic surgery provides women with innovative, leading-edge options when gynecological surgery is necessary due to uterine fibroids, endometriosis, ovarian cysts, cancer or other gynecologic conditions. This minimally invasive approach enables most women to return to their daily activities in less time and with less discomfort than with traditional surgery.
The Minimally Invasive Gynecologic Surgery Fellowship at Mayo Clinic's campus in Phoenix, Arizona, gives fellowship-trained surgeons the opportunity to use innovative robotic and laparoscopic hysteroscopic technologies to treat benign and malignant gynecologic conditions.
During the two-year fellowship, you are trained in performing and conducting research, in addition to acquiring experience in advanced operative robotic and laparoscopic procedures for a wide range of gynecological disorders.
You also have the opportunity to work with other faculty members in the Department of Gynecology, Department of Oncology, and the Division of Minimally Invasive Surgery in the Department of Surgery.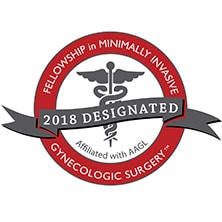 Accreditation
The program is fully accredited by the AAGL.
Program history
Since its inception in 1989, the gynecology department at Mayo Clinic's campus in Arizona has been dedicated to performing and teaching advanced minimally invasive gynecologic surgery (MIGS). The program initially began at that time as an advanced pelvic surgery fellowship to train gynecologic surgeons after OB-GYN residency.
In 2007, led by the efforts of Dr. Javier F. Magrina, our Minimally Invasive Gynecologic Surgery Fellowship, an AAGL MIGS fellowship, was developed. Originally geared towards teaching OB-GYN oncologists the use of robotics in surgery, the fellowship has changed its focus to benign MIGS surgery, since most oncology fellowships now have adopted robotics into their curricula. We emphasize mastery of all types of minimally invasive surgery, but also teach laparotomy when clinically appropriate.
We anticipate that two trainees will complete this program annually.