Choosing Mayo Clinic Alix School of Medicine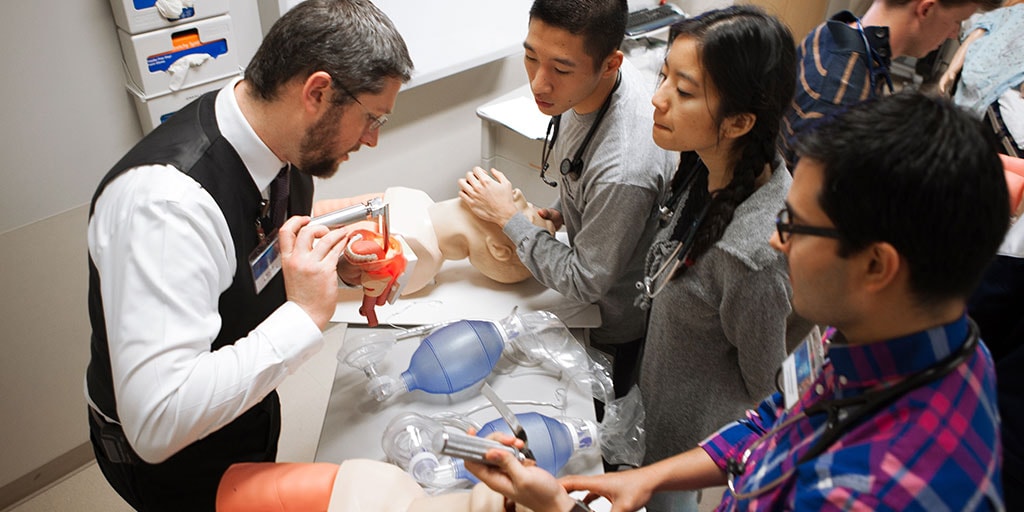 A national school for diverse learning opportunities
With three campus locations in Rochester, Minnesota; Phoenix/Scottsdale, Arizona; and Jacksonville, Florida; as well as more than 70 smaller, regional practices in Iowa, Minnesota and Wisconsin, you'll have options to experience a wide variety of practice settings and work with cases from the common to the complex.
Through a collaboration with Arizona State University (ASU), you'll also have options to complete your training with more than a medical degree. In addition to a medical degree, all medical students receive a certificate in the science of health care delivery that closes the gap between what you learn in your training and the challenges of the current healthcare environment.
Students also have the option to pursue a variety of dual-degree options. These programs give students the opportunity to prepare for every possible career aspiration while they complete their medical education.
Faculty members who know your name
Our 2.1:1 full-time faculty-to-student ratio is one of the highest in the country. Beyond full-time faculty, students have access to more than 3,700 other Mayo Clinic clinicians and researchers across all three campuses. This translates to faculty that cares not only about your education and success, but about you as a person.
We should also mention that our faculty includes some of the brightest minds in healthcare. You'll have open-door access to the authors of some of your textbooks and learn from the best physicians, researchers, educators, and scientists in the world.
Personalized curriculum and training
Medical school is not one-size-fits-all and we don't treat it that way. It's important that you graduate with a strong sense of the doctor you want to become. We help you accomplish that with a flexible curriculum that provides opportunities to explore your interests. As part of your curriculum, you'll have the ability to design your education through Selectives and choose what you want to learn and do.
Our programs are non-competitive and operate on a pass/fail evaluation system. This ensures students can focus on their well-being without worrying about rankings.
Leaders in scientific disciplines and technology
Healthcare isn't static and neither are we. We bring discoveries to the classroom as soon as possible and provide students access to some of the most cutting-edge technology available, such as 3-D printing, virtual reality, simulation, artificial intelligence, and robotics.
Motivated by diversity
We thrive on diversity. Not one of our students enter their program with the same background. Our diversity helps us approach situations with a variety of backgrounds that present different solutions to arrive at the best results.
Students are respected members of the healthcare team
Here, you have an identity that reaches far beyond the classroom. As a student, you are a respected member of the team. You're never "just a student." With our team approach to patient care, your input matters and your voice will be heard in every aspect of your education and training. Our goal is to ensure you feel empowered in your practice.
An inclusive community
We love our strong sense of community. Our small class sizes allow us to get personal. Starting on day one, you'll be paired with a MedSib family as well as a faculty mentor. These mentor relationships will help you get engaged and find answers to your questions, from what to expect in your first year to where to find the best sandwich in town.
Graduate outcomes
Our students graduate with a long list of accomplishments and excited about where they're headed next. Though the national trend for medical students matching to residency programs is declining, Mayo Clinic Alix School of Medicine students consistently match to top-tier residencies in their chosen specialties. About 98 percent of our fourth-year students report a match to one of their top three residency choices.
Education program objectives
Our education program objectives are based on Mayo Clinic's RICH TIES framework — respect, integrity, compassion, healing, teamwork, innovation, excellence, and stewardship.