Arizona Facilities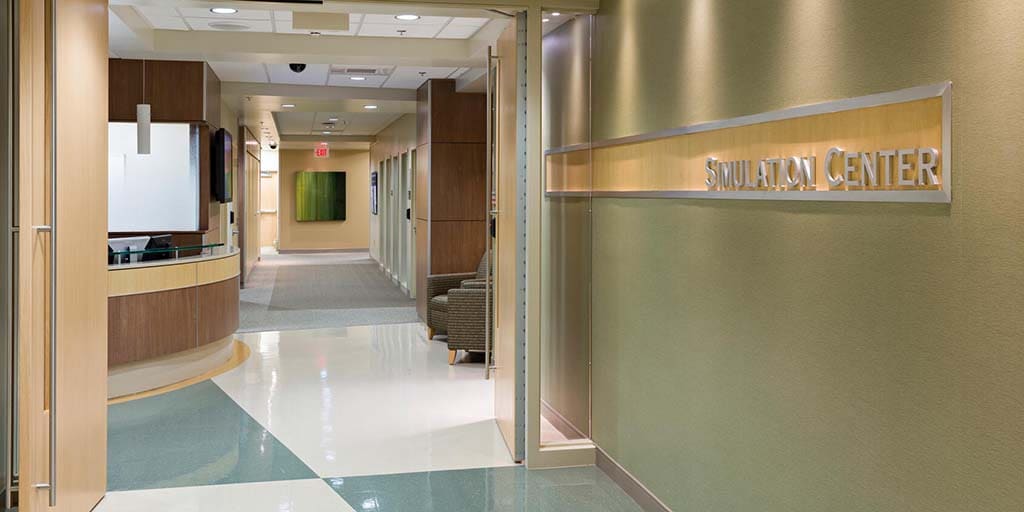 The Multidisciplinary Simulation Center at Mayo Clinic's campus in Phoenix/Scottsdale, Arizona, is one of several experiential leaning environments that together comprise more than 12,000 square feet of training space.
Unique features of Mayo Clinic's experiential learning environments in Arizona include a laparoscopic skills lab, a nursing skills lab, a procedural skills lab, a microvascular surgical training lab, a gross anatomy lab, and two simulation facilities.
Multidisciplinary Simulation Center
The 3,000-square-foot in-hospital simulation facility allows health care team members to train during the day or before or after regular hours.
Simulation technology includes SimMan 3G and Hal, which simulate patient conditions. SimCapture systems record the results of simulations performed in the simulation center and the clinical environments for use in debriefing.
One-way glass allows instructors to observe simulation sessions from the control room and manage simulators and audiovisual equipment. The control room houses:
Computer operating systems for each simulator
Audio-video controls and monitors for the simulation center and classroom
Simulation data and video integration, annotation, evaluation, and storage platform
Individual wireless microphones for simulation participants
The use of simulation practice footage to debrief participants is especially effective for adult learners.
Training rooms
Training rooms at the Multidisciplinary Simulation Center in Arizona include:
Classroom
Emergency department and intensive care unit
Operating room
Laparoscopic skills laboratory
Medical-surgical room
Procedural and outpatient room
Equipment
The Multidisciplinary Simulation Center in Arizona lets learners develop crucial skills on high-fidelity simulators, virtual reality equipment, and specialized task trainers.
High-fidelity simulation equipment includes:
Adult and pediatric high-fidelity simulator
Endovascular simulator
Virtual reality equipment includes:
3-D ultrasound trainer
3-D virtual surgical trainers
Gastrointestinal endoscopy and flexible bronchoscopy trainers
Virtual human dissection table
Task trainers include:
Auscultation trainer
Airway trainer
Blue phantom arm
Bronchoscope trainer
Central line trainer
Colonoscopy trainer
Cricoid head
Epidural trainer
Female and male catheterization trainers
Femoral vessels and nerves
Fire and fire extinguisher simulator
IV trainer (hand and arm)
IV trainer (whole arm)
Interscalene/supraclavicular block trainer
Intraosseous infusion
Knee aspiration trainer
Lumbar puncture trainer
Paracentesis ultrasound
Pericardiocentesis trainer
PICC line
Simulab thoracentesis ultrasound trainer
Vascular ultrasound blocks
Venipuncture pad
Mayo Clinic Alix School of Medicine — Arizona Campus
Arizona campus welcomed its first class of 50 students in July 2017. The medical school is implementing a blended learning curriculum including online, classroom, and experiential components. The school offers a Gross Anatomy Lab and six dedicated Objective Structured Clinical Examination Simulation Rooms. The experiential learning team plays a critical role in training this next generation of physician leaders.
Ayarza Laparoscopic Skills Lab
Residents in general surgery, urology, and gynecology utilize the Ayarza Laparoscopic Skills Lab to practice skills that they will utilize in real-world surgical events. General surgery residents participate in weekly training sessions led by staff surgeons and utilizing virtual reality task trainers to practice skills such as laparoscopic suturing, cautery principles, and knot tying.
Center for Procedural Innovation
The Center for Procedural Innovation is an educational space where health care professionals can learn, innovate, research, and practice surgical and procedural skills.
The center's customized education experiences range from catering to novice resident physicians to world-renowned expert surgeons. They include large courses with international participants taught by Mayo Clinic's highly experienced surgeons, and smaller courses where nurse practitioners can familiarize themselves with anatomical structures.
Hands-on sessions in the Center for Procedural Innovation have direct positive results in patient care, realizing Mayo Clinic's core value that the needs of the patient come first. Innovation and research of new surgical approaches also make the center an important and essential part of the education found at Mayo Clinic.
Microvascular Surgical Training Lab
The Microvascular Surgical Training Lab, adjacent to the Center for Procedural Innovation, offers an open, teacher-friendly space to practice and perfect microsurgical skills. This multistation lab was developed to allow direct teacher-student interaction in a realistic and safe environment. Specialists in plastic and reconstructive surgery, otolaryngology and others benefit from the lab's unique setup, eliminating the need to practice on the patient.
Together, the Center for Procedural Innovation and the Microvascular Surgical Training Lab create an all-encompassing educational environment that allows Mayo's health care professionals to excel and to provide world-class care to our patients.
Virginia Nehring Utz Nursing Skills Lab
The Virginia Nehring Utz Nursing Skills Lab offers a ward-style simulation and clinical skills room with a separate intensive care room. Nursing staff from a variety of specialties use the nursing skills lab to design and conduct training for specific patient care skills and scenarios.
Mayo Clinic also collaborates with the Arizona State University College of Nursing and Healthcare Innovations to utilize the nursing skills lab.