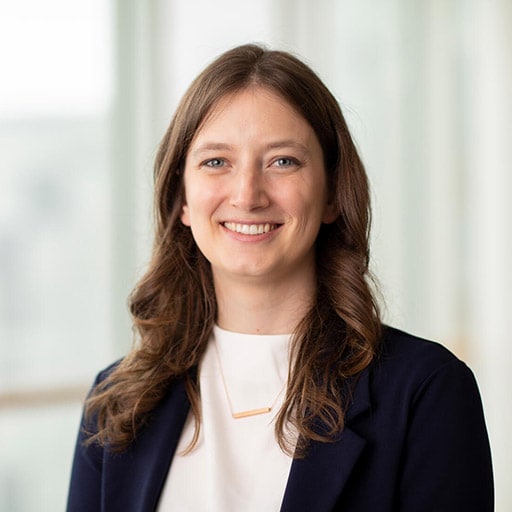 When selecting your career path in medical school, how did you come to decide on internal medicine?
During my third year of medical school, I rotated through various specialties and appreciated different aspects of each of them. In psychiatry, I enjoyed the opportunity to get to know patients from both a medical and social standpoint. In OB/Gyn, I valued the relationships with oncology patients as they navigated chemotherapy and operative interventions. In pediatrics, I came to understand the Herculean coordination of care provided by medical professionals and families to support and care for the medically complex children undergoing diagnostic odysseys. Ultimately, as I reflected on my rotation experiences, the thread of internal medicine connected them. I love this specialty because it allows me to develop meaningful relationships with patients and their families over time, interact with physicians in a multi-specialty environment, and diagnose and treat medically complex ailments.
What drew you to Mayo Clinic for your residency training?
I had the privilege of completing my M.D./Ph.D. training at Mayo Clinic. During my time, I saw countless examples of Mayo's core value, "the needs of the patient come first." At Mayo, this is not just a slogan but a way of practicing medicine. Everyone from the staff to the senior physicians go out of their way for patients in need. This core sense of community makes it easy to call upon other physicians in other specialties, even in the middle of a busy day, if it is in the patient's best interest. I could not imagine a better environment to continue my training and serve my patients.
Is there anything that surprised you about Mayo Clinic?
I first visited Mayo Clinic before I ever started medical school, not as a student, but as a family member of a patient. I had no idea what to expect, and I was amazed at the care we received. From the nurses to the residents to the staff physicians, every person on the team treated my family with kindness. The hospital itself is so large that I found myself lost multiple times. Within seconds, some kind person with a Mayo badge would stop and ask me if I needed directions and guide me back to where I wanted to be. I was so impressed by the experience and the people that several years later I applied for their Summer Undergraduate Research Fellowship and spent my summer working in a laboratory at Mayo.
Is there anything that surprised you about Rochester?
The thing that surprised me most when I moved to Rochester is how livable it is as a city. There is almost no traffic. Since I moved here, I find myself thinking that 15 minutes is a long car ride. In summer, there is a vibrant farmers' market with fresh produce from many of the local farms. The bike trails here are extensive and beautiful. In winter, many local parks are open for cross-country skiing. Overall, Rochester is a nice and easy place to live.
What are your plans following residency/where do you see yourself in 10 years?
In 10 years, I plan to be a practicing physician-scientist in internal medicine, serving patients in my local community while pursuing my research interests. I plan to continue doing research in mathematical pharmacology, studying questions of drug repurposing and dose timing.
What aspects of training at Mayo Clinic were most influential in your decision to start your career as a physician-scientist here?
In addition to the excellent clinical training that I knew I would receive, the program's flexibility for pursuing research has made it an ideal choice for starting my career as a physician-scientist. The ability to take research time as elective blocks during the first and second years of residency training is invaluable. It has helped me keep projects going that I otherwise would have had to delay. Furthermore, Mayo's program is unique by providing the ability to travel to conferences to present work and meet other scientists even during busy clinical rotations.