Application Process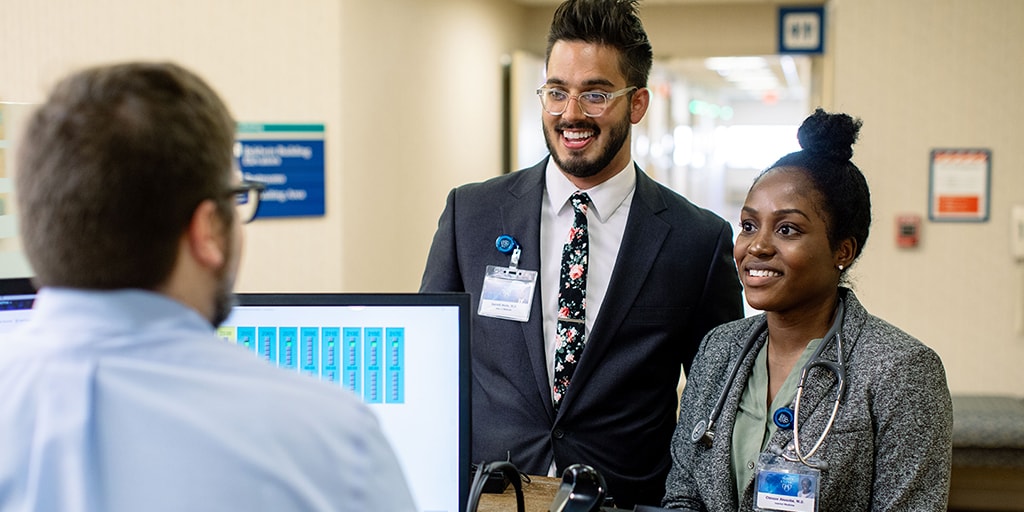 Positions
The Department of Internal Medicine at Mayo Clinic's campus in Rochester, Minnesota, offers 52 categorical positions (including three clinician investigator positions) and 26 preliminary positions each year. The majority of our preliminary positions are filled through our associated categorical programs in anesthesiology, neurology, dermatology, physical medicine and rehabilitation, and ophthalmology.
These programs have been carefully designed to maximize use of Mayo's educational resources and minimize service responsibilities. A limited number of categorical positions are sometimes available at the PGY-2 level.
Programs include:
Categorical Internal Medicine Residency (NRMP code 1328140C0)
Clinician-Investigator Training Program (NRMP code 1328140C1)
Internal Medicine Preliminary Residency (NRMP code 1328140P0)
Application process
You must apply through the Electronic Residency Application Service (ERAS).
The application and all supporting documentation must be submitted by Dec. 1 of the year preceding the program start date. The academic year normally begins on Monday during the third week of June and includes a two-week orientation.
To apply to the program, visit the ERAS website. All applications to Mayo Clinic School of Graduate Medical Education programs must include these application materials.

For clinical letters of recommendation, we ask for a minimum of two letters, in addition to the letter from the Chair and from the medical school dean (both are required).


Appointments are made through the National Resident Matching Program (NRMP). You must register through the NRMP website in addition to applying through ERAS.



The supplemental application features questions that will help applicants showcase their interests and experiences to Mayo Clinic's Internal Medicine Residency Program and help us better understand how your interests and experiences align with our program environment, mission, and goals.

For the 2023 ERAS® cycle, we strongly encourage applicants to our program to complete a supplemental ERAS application. For information regarding the supplemental ERAS application, see the related AAMC website.

Personal interviews are by invitation only and are based on the applicant's academic performance, United States Medical Licensing Examination (USMLE) scores,* letters of recommendation, and other accomplishments as detailed in the ERAS application.

*U.S. applicants must schedule USMLE exams and report their Step 1 and Step 2 CK to ensure that Mayo Clinic can download the results of these exams before the NRMP rank list deadline in mid-February. All pass-fail results need to be submitted to the program at the time they are obtained by the trainee.

Interviews are conducted on selected dates from October through January. If selected for an interview, applicants will be notified by email. We're unable to provide applicants with a status report regarding their application or selection for an interview.
Rotating at Mayo was a life-changing experience for me. I had heard many great things about the institution, but working here as a visiting student gave me the opportunity to witness first-hand the unique culture harbored at Mayo. I immediately felt like this was the program for me, and I was so happy and excited to come to work every day.
Frederique St-Pierre, M.D., C.M.
Internal medicine resident
International medical graduates
Particularly well-qualified international medical school graduates may be considered for admission. International medical graduates must be certified by the Educational Commission for Foreign Medical Graduates (ECFMG).
In order for international medical graduates to be considered for an H-1B visa, applicants must have completed USMLE Step 3 before December 31, six months prior to beginning residency training in June (unless there is a plan to be on a one-year visa during the PGY1 year, in which case Step 3 can be taken during the PGY1 year). Questions about visa sponsorship can be discussed after an interview has been offered.
Clinician Investigator Training Program: Research and fellowship interest statement and visa information
Candidates applying to the Clinician Investigator Training Program (CITP) are required to submit a brief paragraph outlining their specific research experience and stating their subspecialty/fellowship interest. This may be included at the end of the personal statement, or alternatively may be emailed upon program request within 48 hours of the notification.
Individuals requiring J or H visa classification are eligible to participate in the CITP. The J and H visa classifications, though, have certain limitations.
The ECFMG cannot provide J-1 visa sponsorship for individuals enrolled in Mayo's CITP unless the clinician-investigator training can be accommodated within the length of time of an Accreditation Council for Graduate Medical Education-accredited residency and combined fellowship program. For ECFMG J-1 visa classification, this time limit is usually seven years, which will accommodate most fellowship training programs. Individuals with this visa classification should discuss the opportunities for training in the CITP with the program at the time of their interview.
Individuals wishing to pursue residency, fellowship, and clinician investigator training in H-1B classification must have passed USMLE steps 1, 2, and 3 when they are appointed to Mayo's program. An individual can usually hold H classification for a total maximum stay of six years in the U.S. Anyone appointed to the CITP must be able to complete their residency, fellowship, and clinician-investigator training within six years. Prior time in H classification, such as employment or research, is counted in the six-year time allotment.